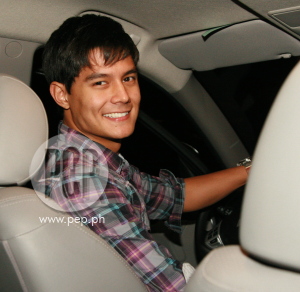 IMAGE 0
---
Daniel Matsunaga is undoubtedly one of the most-sought after male models in the country today. Barely two years after he first came to our land, the 22-year-old Brazilian-Japanese hunk is now enjoying leading man status in showbiz, countless endorsements, and a loving girlfriend to boot.
"Ang maganda sa kanya, hindi pa siya showbiz," says Maffy Silvala, Daniel's talent handler, in an exclusive interview on February 12.
According to Maffy, who handles the model-actor for Mercator Model Management, Inc., Daniel came to the Philippines only on September 2009. His personality has remained the same since then.
"He's very simple and humble," adds Maffy.
Here are ten more things you probably don't know about Daniel Matsunaga:
1. Daniel did not plan to become a model. When he was 15 years old, a friend of her older sister, who was already a model, invited him to try the profession.
"I said, 'Okay, why not?' Di ba? It's just like free job. When I'm not doing anything, why not?" Daniel tells PEP.
2. Daniel was already a famous model before he came to the Philippines. After starting his modeling career in Brazil, he moved to different countries to find success.
"Singapore, Thailand. Yeah, a lot. More than 20 countries," he says.
After a few years, he went to Hong Kong and became a top model there. That's why he did not want to come to the Philippines, at first.
Maffy explains, "He was hesitant pa nga to leave Hong Kong 'cause he's doing good. But he promised his sister na, 'Okay, let's try Philippines, for probably, two months. If the market is not good there, I'm going back to Hong Kong.'"
3. Daniel is very religious. He believes it was a message from God who sent him to the Philippines.
"In Hong Kong, my sister Vanessa told me God showed in her prayer that we should come to the Philippines. So we came here," Daniel says, adding that it was one of the wisest decisions he has ever made.
ADVERTISEMENT - CONTINUE READING BELOW
He now regularly attends Christian services in The Fort with his girlfriend, Heart Evangelista.
4. Daniel will do anything for his family. One of his happiest moments in the country, he says, was when he was able to bring his family to the Philippines from Brazil for his sister's wedding, last December.
He also sends money to his family from time to time.
"When my family need it, I just help them. So I always did, and my family always did it for me. So... When I was with them, at 16, they always help me with everything. My father gave everything he could to help me with my whole career, my study. My sister also. Everything. For sure, if I can, I will do everything for them too, you know?" he says.
5. Daniel likes speaking Tagalog. According to Maffy, Daniel instantly picked up Tagalog words in his first month in the Philippines. His favorite words?
"'Hay naku.' That's his favorite Tagalog expression," says Maffy.
The talent handler said Daniel also likes saying "Gutom ako."
6. Daniel is very frugal. Daniel says he has a lot of bills to pay, so he spends his money wisely.
"Because I'm really saving, I'm really saving. My car now, you have to pay a lot of things a lot of bills," he says.
7. Daniel does not like driving in the Philippines. Daniel learned to drive in Brazil, so he takes his home country's traffic rules to heart. This is why he finds it hard to drive in Manila.
In particular, he wonders why almost every driver in the country honks their horns every so often. "How would you know if it's an emergency?" he asks.
He also does not like the heavy traffic, and the seeming disregard for traffic rules. However, he thinks the situation is worse in India. "If you can drive there, you can drive anywhere," he says.
ADVERTISEMENT - CONTINUE READING BELOW
8. Daniel is kind and very, very patient. Walking around Greenbelt mall in Makati, Daniel did not refuse any request to sign an autograph, or to take a picture with him. He also remembers all the endorsements and commercial modeling he has done, and is grateful for them.
In particular, he showed PEP a stall inside the model that uses his picture to sell condominium units. The attendants there were surprised when Daniel said hello to them.
He also asked PEP not to write about an endorsement and modeling deal gone bad, that he continues to patiently follow up. "I don't want to put it out in the media," he says.
9. Who are Daniel's best friends in showbiz? "Marami," he says, but he particularly mentioned Machete actor Aljur Abrenica, whom he has worked with in The Last Prince.
10. Daniel will do anything to land the cover of Men's Health. Daniel tells PEP, "Bakit wala pa kong cover sa Men's Health o sa Summit?"
Men's Health, a fitness magazine for men, is one of the many magazines under Summit Media, also PEP's home company.
Daniel says it is a dream of his to grace Men's Health's cover, one of these days. "I will even work out for three weeks non-stop to be in the cover," he says.
The magazine's current cover is his friend Aljur Abrenica.