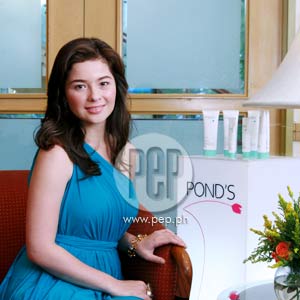 IMAGE 0
---
"I want that billboard."
It didn't take long—February 1, to be exact—before Andi Eigenmann's wish was granted by Pond's, which made her face very visible on Katipunan Avenue, Quezon City.
"I'm really happy," she exclaimed. "I'm so honored to be a Pond's girl because it's always been a dream of mine. And one of the reasons was, I wanted to get the billboard there, where I live. It started as shallow as that."
The shoot took place just before Christmas, and candidly she said, "Thank god, wala akong pimple nung araw na yun."
At 17, the daughter of Mark Gil and Jaclyn Jose sounds like an adult but talks like a teen at times. She can be both insightful and bouncy.
She was in high spirits when she related what happened during the shoot: "May taping ako nung the day before so puyat ako. Hindi naman pinabayaan ang mukha ko. Yung only problem lang, I was so sleepy in the morning because I was sick. Wala akong voice nun 'tapos inuubo ako 'tapos puyat. I had to take my medicine and it was drowsy so I was feeling so sleepy. Buti na lang, binigyan ako ni photographer ng Coke at nabuhay na ako. So yun, simula nun, buhay na ako, ok na."
But when we asked her to define beauty, she paused for a few seconds before giving a no-nonsense answer.
"Beauty is what we see in the inside and not on the outside, as simple as that. I believe that's true, what matters most is who you are, how good you are as a person and your credibility, your value as a person, and the values that you abide by.
"But physical beauty matters as well. It's part of the package. For a person to get to know you, who you really are in the inside, of course, you have to learn how to present yourself from the outside," she explained.
ADVERTISEMENT - CONTINUE READING BELOW
In an exclusive interview held at the Le Soufflé in Rockwell Center, Makati—where she was launched as the beauty product's endorser—she revealed what she does to meet the demands of her job.
BEAUTY REGIMEN. "I'm not the vain type," she began. If she can avoid it, "I will not wear makeup on a regular basis, not at all. As much as possible, I don't and I don't really put any other thing on my face besides to wash it."
Good skin is in her genes, so she doesn't have to go to a dermatologist. "I really don't. Siguro once a year lang," she said.
But she admitted to washing her face several times a day.
"As much as I can...When I wake up, before I go to bed, when I'm just at home and I feel like my skin's oily, I just wash a bit, that's all," said the lady who performed the role of Agua Bendita.
Just like most teens, the Kapamilya star revealed she had her share of breakouts. "I had a stage when I was growing up na I had pimples talaga. Takot akong magka-pimple."
But even when she became a celebrity, her regimen remains the same, washing her face more than four times a day.
Andi elaborated her ritual, "When I'm wearing makeup, siyempre mas mahirap...Pero usually... on a normal taping day when I wake up, of course, I wash my face with Pond's. And when I go there, I'll wash it again before putting on makeup. When removing my makeup, I use Pond's also, the cold cream. Then I wash it again before I go to sleep.
"Even on a normal day, when I'm just at home whenever I feel that my skin is oily, naghuhugas talaga ako..."
Pimples began attacking her face when she got active in sports.
ADVERTISEMENT - CONTINUE READING BELOW
FITNESS ROUTINE. Andi used to be a bit on the chubby side. To get rid of those unwanted pounds, she played Frisbee. She was 16 then.
"I'm kind of competitive. I played for two years. But I had to stop because I got an injury," she said.
Aside from the ultimate disc, "I was a swimmer and a basketball player. I was a swimmer since I was in 2nd grade and I was a basketball player since I was in the 1st grade."
But playing seems to be a luxury now, given her tight schedule. Andi is busy with her upcoming soap Minsan Lang Kita Iibigin, which will premiere on March 7, 2011.
Back to the topic on beauty, we asked her to name the celebrities she finds beautiful, and she answered, "Kristine Hermosa and Solenn Heussaff."
But on top of her list—"my mother, my mother, my mother!"
Before we could ask why, she threw in, "Of course, because she's my mother. But [it's] not only because of that...Even people who don't know her personally would be able to tell how beautiful she is because she has strong belief in herself, she abides by her own principles, she never lets go of who she is, and she's a good person with a good heart."
Andi's conviction about beauty must have come from Jaclyn Jose, not to mention her own fresh beauty and talent. All that led to Andi's billboard on Katipunan Avenue.