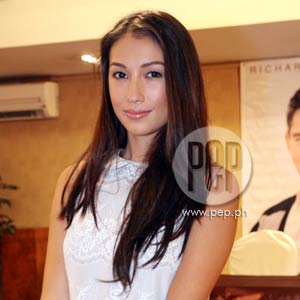 IMAGE 0
---
In the past, tattoo art was often associated with prisoners and gangsters. You'd keep your distance from these "pintados" who were a far cry from our tattoo-loving tribal people.
But thanks to some celebrities who proudly display their "ink," having tatoos is now considered a way of self-expression and a work of art.
Some designs depict one's philosophy; others mark cherished names, flowers or hearts—proving by their permanence that love isn't just skin deep.
Now, did you know that Solenn Heussaff has six tattoos in all?
"Yeah, it's six, but I was tattooed nine times," the 25-year-old model turned TV personality and actress informed PEP (Philippine Entertainment Portal) in an interview.
Solenn explained that some of her tattoos were done a few years back; and some were recently added with new designs.
"Like for example this one," she pointed to the tattoo on the lower part of her leg, near the ankle.
"One, and then, two years later I added this one. So, two, but it's still one," she showed the same spot, which has the tattoo of a rosary with a large cross.
PEP noticed that she and younger brother Erwan have the same cross tattoo (CLICK HERE to watch video, fast-forward to 2:30 to see the cross). Erwan's is on his inner right bicep.
Is the cross a family symbol or crest?
"That's the Southern Cross. It's a constellation of stars."
According to www.windows2universe.org, the Southern Cross or the "Crux" is a constellation of stars that explorers use to guide them when sailing at night. By looking at the Crux, they can figure out in which direction to sail without getting lost.
"That helps the marines navigate south. The longest point sa south. If they get lost, they just follow the south.
"And my dad used to be a marine. And then when he was a marine, the first thing he could afford to buy was this cross that he bought for his little sister, a pendant. And his little sister gave it to my sister when she was born. And my dad had two made for me and my brother which we lost. So, we ended up tattooing it on our body," related the French-Filipina celebrity.
ADVERTISEMENT - CONTINUE READING BELOW
If the cross represents her dad as a former marine, the rosary underneath reminds Solenn of her mother.
"Rosary from my mom. Because she's very Catholic," Solenn said.
Solenn is very proud to be a Catholic, too. She recently had a picture of the Virgin Mary tattooed on the left side of her body.
"I believe in her. She's serenity. Like, for me, she's the female of all females. Just for me, it's all about the Faith, and my faith in her also," Solenn explained.
The other designs on her body represent what she once wanted to be.
She elaborated, "I wanted to be a marine biologist before, so, I studied diving, and then saw all the different types of fish. I have four cards in diving, from a master divers' school. So, what it [tattoo] means is, whatever happens in the ocean is magical. I had it done when I was in Tahiti for my birthday."
When asked what got her into tattoos, she replied, "For me, it's an art, and I'm also an artist. I appreciate that kind of art. I appreciate it as long as it has meaning.
"And I like the pain. I like the feeling. That's why people shouldn't get tattoos because once you get one, you'll get addicted for sure."
Solenn related how her Virgin Mary tattoo artist, Chris Garcia (the same guy who did Miley Cyrus's "Just Breathe" tattoo) was impressed by how she endured the pain of the tattoo needle vibrating and rapidly going up and down the skin over her rib cage.
That part of the body is said to be very sensitive to pain, yet the cover girl of FHM Philippines' March issue said she didn't feel a thing.
"Sabi nga ni Jamir [rockband Slapshock's lead singer and Chris's brother], 'How'd you do it?'
ADVERTISEMENT - CONTINUE READING BELOW
"Ewan ko. Baka I have no feelings!" Solenn quipped.
She admitted, however, that she's not into guys whose bodies or limbs are covered with tattoos.
"I don't understand the cover your whole body up," she said. "If that's what they want, I'm not gonna go against them. Pero if it stops them from doing...like Jamir's okay because he's in music. Or if you're a tattoo artist, okay lang.
"But if my husband is a businessman, 'tapos he wants to get a tattoo? No, no, no," Solenn said, waving her finger.
She would also think twice if a tattoo would have an impact on her job.
"I wanted nga sana a new one here," she pointed to her right inner bicep. But, no endorsements pag ganon. So, huwag na lang.
"I still want to look normal with my clothes on. And I don't want my kids to see their mommy that way."