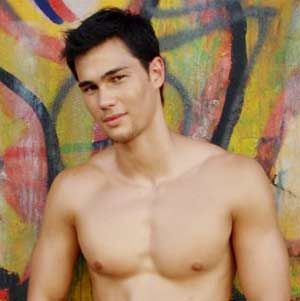 IMAGE 0
---
It is no doubt that Azkals striker Phil Younghusband has good genes to start with. But he gives credit to football for his nice physique.
"It's just football," Phil immediately said when asked about his fitness regime.
Phil continued, "The thing with football players we can eat anything we want. We train everyday so it's easy."
He also reveals a vital thing in starting a fitness regime.
GOAL SETTING. "We have a goal and I think everything is easy if you have a goal. You can lose ten pounds in a matter of weeks, and it's easy. [It's like] when you go to a gym, thinking how much you are gonna lose it or how long are you gonna lose it.
"You have to really set goals. But I'm thankful that my metabolism has always been fast and that I've always been active. I can eat whatever I want knowing that I can burn it off," he said.
ADVERTISEMENT - CONTINUE READING BELOW
Aside from football, Phil also plays tennis.
"I have played tennis before with my sister," he smiled.
He told PEP (Philippine Entertainment Portal) that his family had always been into sports.
"I love sports because you don't have a lot of time to think. It preoccupies you," he said.
SMALL MEALS. Phil also shared his diet.
"When I am not playing football, I try to guard well what I eat. I eat a lot of protein and vegetables, minimum carbohydrates and minimum fat, when I am not training," he said.
Smiling, he added, "But when I am not, I eat pretty much whatever I want because I can burn it, anyway."
He paused, grinned, and added a secret he does before a game, "The day on the actual game, I don't actually eat too much because I don't want to be bloated or throw up during the game," he said, laughing.
ADVERTISEMENT - CONTINUE READING BELOW
"I eat a lot of meals rather than three big meals a day. I try to have six small meals," the football star said.
FAVE FOODS. When PEP asked him about his favorite foods, he enumerated roast lamb, mashed potatoes, and vegetables.
Asked if he is fond of eating rice as practiced by Filipinos, Phil smiled shyly and said, "I don't like rice belly. You see, if you eat too much rice, you get rice belly. So I try to stay away...I eat more meats and vegetables."
What then is his favorite Pinoy food?
"Pancit bihon!" he exclaimed.
He said, "I eat that nearly every week."