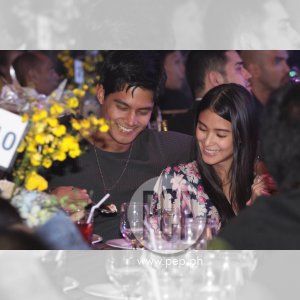 IMAGE 0
---
"It just happened, you know? It's like, happened. She's there, and she's super nice and everything. And then boom!"
This is how Brazilian-Japanese model-actor Daniel Matsunaga describes his experience of falling in love with girlfriend Heart Evangelista. It was a happy incident, he says, and it had nothing to do with Heart's celebrity status.
"Not really. I've met so many big stars, supermodels, top models. I have met so many of them from all over the world. Just happened," Daniel tells PEP (Philippine Entertainment Portal) in an interview last month.
Daniel and Heart met on the set of Langit Sa Piling Mo, a GMA-7 soap opera in 2010. Heart played the love interest of Mark Herras, and Daniel did not end up with her.
During tapings for this show, however, Daniel says he began to fall in love with the young actress.
Daniel says it was Heart who volunteered to help him memorize his Tagalog lines, because he always had a hard time understanding them.
"We start speaking with each other, like, she helped me a lot with my lines in Tagalog there. Everything, like, everything that I had most hard time, she was there, helping me. So the, I was like, oh my God, you know? Like, she's really famous, sikat siya. And then, why is she doing this, you know? She's really nice person, I was like, oh, she's really nice," he explains.
Pretty soon, he began going out with Heart's friends.
He continues, "And then, things were going well, then, start to hang [out] with the same people, you know. We have this group called Tomato Group. Tuesdays, we meet them. So everybody's always together, then we start dating."
The Tomato Group consists of Heart's "makeup artists, some of the hairstylists," and some people from GMA-7.
"I don't know why Tomato Group, but then, we call it Tomato Group 'cause every Tuesday, we get this group, then we go somewhere. We always meet, you know?" Daniel says.
ADVERTISEMENT - CONTINUE READING BELOW
Pretty soon, they started to date exclusively. Getting serious with each other came naturally, and so was introducing each other to their own families.
Daniel believes he's very lucky to have Heart for a girlfriend.
"Of course, of course. I am lucky, she's lucky, 'cause we always share a lot of things. Not just, you know, like hanging around, or something like that. We always do a lot of different things, and sharing with each other every experience."
Wedding bells, however, are not yet on the way because both are focusing on work. But this does not stop Daniel from thinking about the future. He knows how many children he wants to have with the young actress.
"Two. Depends. It's really up to God. Two, three maximum," he says.
Daniel believes marrying Heart is a possibility because he will never betray her.
"Never, never, cause I never did it in my life, and that's what my family taught me since I was young. I'll never do that to Heart, or anybody. I will never betray my friends, I'm very, very loyal," said Daniel.