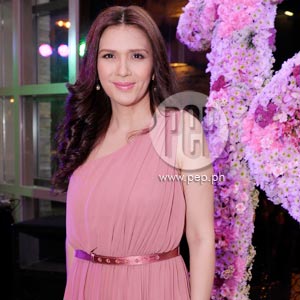 IMAGE 0
---
Her voice hasn't changed. It is—like what she is also known for—divine. But what is more remarkable is that she has maintained her divine look.
Asked about her beauty regimen, Zsa Zsa was quick to answer, "No makeup before I sleep," at the opening of Dra. Vicki's newest clinic recently at The Residences, Greenbelt 3 in Makati City.
Aside from that simple rule, the Divine Diva shares the different treatments she enjoys from Dra. Vicki's clinic.
"I'm actually at this branch once a week. Every other week for the facial, the every week is contouring facial. It's like massaging your face to make it a little bit smaller. It's a method daw that Marilyn Monroe uses, that's what Dra. Vicki says," Zsa Zsa told PEP.
She went on and explained the difference between a contouring facial and an ordinary facial.
"Para the artist would look fresh, walang tinatatanggal na pimples or whatever. It's just massaging the face for it to go up. I have that every week," she said.
As for her diet, Zsa Zsa said she has gone vegetarian for a couple of months now.
She also emphasized the importance of keeping active, which is also her family's lifestyle.
"Working out it has been part of my family. I love watching my dad...Everybody in the family works out. Ako sa gym, si Karylle naman she likes to run. I played volleyball for five years and baseball also in high school," she said. The singer frequents the gym three times a week.
Zsa Zsa also says moderation in food is important. "And of course, it is also food, e. 'Cause no matter how much you work out if you eat a lot... wala rin," she said.
Asked how she manages stress, Zsa Zsa smiled and remarked, "Hard, no?"
ADVERTISEMENT - CONTINUE READING BELOW
She then said in her calm voice, "I read the Bible. Ganyan na ako. Nadagdagan na nga, e. I actually get to attend mass now twice a week. I pray the rosary before I sleep, before I get restless."
It was her friend Angeli Pangilinan who told her about this habit. "Walang Bible before. It was Angeli Pangilinan who said, 'You need to read the Bible. You have to understand the Word of God para you have His word. 'Cause like now you have the faith and the shield, but you need a sword, so you have to understand it.'
"In the beginning it was difficult but is all worth it," she said, smiling.
She mused, "I have a Bible always. It's nice that the applications are also on your phone!"