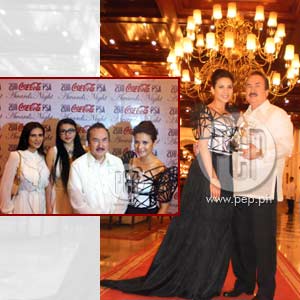 IMAGE 0
---
Singing meets boxing!
Singer-actress-TV host Karylle was asked to serenade this year's lifetime achievement awardee of the Philippine Sportswriters Association's Awards, which was held at the Manila Hotel last March 5.
It was a task she performed with much pride because the person who was flown in from the United States to receive the trophy was none other than the world-renowned boxing referee Carlos "Sonny" Padilla, who happens to her grandfather.
As a tribute to her lolo, Karylle sang Sade's "Safest Place," Ella Fitzgerald's version of "They Can't Take That Away From Me," and James Taylor's "You've Got a Friend."
Her renditions left everyone in the ballroom teary-eyed, including her mom Zsa Zsa Padilla, who tweeted: "Karylle singing for her lolo. So touching."
In one number, Karylle asked her mom to sing a few lines from a 1971 hit, which was written by Carole King.
The Divine Diva gladly obliged, and described the experience as "emotional." Her tweet read, "It was such a great night. Thank you, sweet Jesus. It's rare that I see my Dad teary-eyed, but when Karylle sang for him and they stood next to me, Karylle made me join the song and I got emotional. Thank you again, Philippine Sportswriters Association for giving recognition to my father. It was a great opportunity for him to come home to Manila."
PADILLA'S PRIDE. Carlos Padilla, aside from being a boxing legend, is known for his famous line, "Hindi lang pampamilya, pang-sports pa" in one of his endorsements.
He is now based in Las Vegas, and will be staying in the country for about a month.
The following day, Zia—the youngest daughter of Zsa Zsa—was launched in ASAP Rocks, where her mom and sister Karylle are mainstays. Zia also joins Karylle's management group, STAGES.
ADVERTISEMENT - CONTINUE READING BELOW