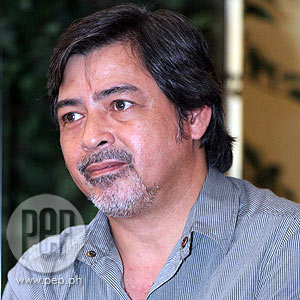 IMAGE 0
---
Doing an international film isn't new to Joel Torre. He leads the cast of Amigo, which is a co-production between Hollywood producer Maggie Renzi and a Filipino indie production represented by Mario Ontal and Joel himself.
"Well, every project is new, especially kung actor ka," said Joel in an interview with PEP (Philippine Entertainment Portal) last Sunday evening, December 5, after the closing ceremonies of the 12th Cinemanila International Film Festival and Competition at the Cinema 1 lobby of the Robinson's Movieworld Galleria.
The actor added, "As an actor, yeah, I appeared sa maliliit na co-production before.
"Before Amigo, I did one in South Africa, yung Surviving Evil. That was in the '80s naman."
Amigo is written and directed by John Sayles, an American who loves doing independent films, just like most of our local indie filmmakers.
The film involves a mixed cast of American and Filipino actors, headed by Chris Cooper, DJ Qualls, Garret Dillahunt; and Pinoy actors Joel Torre, Ronnie Lazaro, John Arcilla, Bembol Roco, Yul Vasquez, Spanky Manikan, Rio Locsin, Irma Adlawan, Susan Africa, among others.
The cast, crew and production staff is "90 percent Filipino," said Joel.
"Except for the American actors, the American soldiers, the director, the co-producers, the sound department; dalawa sa sound, and a still photographer, anim na sila from the crew. Tapos, [puro] Pinoy na."
According to several blogs and online posts, Amigo is the 17th feature film by John Sayles.
It tells the story of Rafael Dacanay, a village mayor from a remote Philippine barrio who is caught in the murderous crossfire of the Philippine-American War in 1900.
Friendship and betrayal, romance and heart-breaking violence—Amigo is a page torn from the forgotten history of imperialism and a mirror of today's unresolved conflicts.
UNIVERSAL FILM. Joel considers Amigo not only a Filipino film based on the Philippine-American war in the 1900s, but more of a "universal film."
ADVERTISEMENT - CONTINUE READING BELOW
"It has real, Filipino characters that are not only exotic bodies diyan, they're real," he stressed.
Aside from having good material, Joel said he accepted the lead Filipino role in Amigo because he felt the experience of doing this kind of war drama would be most fulfilling.
"Masaya...magical! I mean, it's magical!" he exclaimed.
Joel informed PEP about some aspects of the production.
"You work 14 hours a day; 12 hours on the set and two hours travel," he said.
"We shot the film for six weeks [in Bohol]. Pre-production to post-production took more than one year.
"The system is not mainstream," Joel noted further.
"We'd like to say it's a system where there's a union.
"So, it's partly union system we're trying to adopt and with that, they can also learn.
"Puwedeng matuto ang producer.
"It's a big production in the Filipino sense, in dollars, but relatively small compared to the budget for American productions."
PLAYDATE AND AWARDS. Will there be a commercial run for Amigo in Philippine theaters?
"That's the plan," answered Joel. "And outside [the Philippines] sana, if there are distributors."
The film isn't 100 percent Filipino production, but chances are it may also qualify for the local awardings next year.
"Most probably," Joel said.
"We're also looking at that, but it wasn't our intention [for producing the film].
"It has a very good material and that's the most important thing—the story has to be told."
So far, Amigo has had several international film festival screenings in 2010.
Among these are the following: 35th Toronto International Film Festival (Special Presentation) in Canada; 58th San Sebastian Film Festival in Spain; and the Rio de Janeiro International Film Festival in Brazil; and the recent 12th Cinemanila International Film Festival.
RETELLING HISTORY. Joel also said he's happy with the outcome of Amigo, particularly the viewers' feedback in filmfests abroad and in the recent screenings at the Cinemanila Filmfest.
ADVERTISEMENT - CONTINUE READING BELOW
"Oh, yeah! Ang importante sa akin is yung idea behind it," he said.
"Of telling this part of history, of retelling history in its right perspective, wherein there are no sides to take, but just present [the facts].
"Well, of course, may creative freedom naman siya, kasi it's a work of fiction that was based on real events in our history, na itinago sa atin.
"Dahil ang history sa atin, walang sinabi tungkol diyan," Joel explained.
ANTI-IMPERIALIST. Clearly, the "anti-imperialist" sentiment was established in Amigo and Joel, who plays the lead character sentenced to die by hanging, sympathizes with his fellow Filipinos in the forgotten war against the Americans.
"Libu-libong kapitan del barrio ang pinatay noon," he stressed. "They killed millions of Filipinos!"
Award-winning indie filmmaker Kidlat Tahimik, who was beside Joel after the closing ceremonies, commented: "It [Amigo] puts the Americans in the proper light. They deserve what they look like in the film," he said.
Joel concurred. "Just like what's happening in Pakistan, in Vietnam, it's still happening today, with the VFA [Visiting Forces Agreement], in Mindanao."