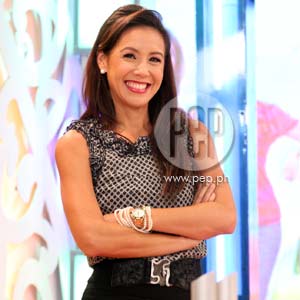 IMAGE 0
---
Christine Jacob-Sandejas has been hosting for two decades now, but..."I hate watching myself!"
From Eat Bulaga, which launched her hosting career in 1991, she's presently in the late-afternoon time slot doing a taped show for GMA News TV's Full Time Moms. And, believe it or not, she rarely watches herself on TV.
"I'd go, 'Oh no, what did I do,' and things like that," she exclaims.
But she must have been doing the right thing—with her baluktot na Tagalog and all—since the clamor for her name did not diminish even after she became Mrs. Paco Sandejas.
Her style, she says, is never influenced by anyone. "I try to be as natural as possible. So, whatever you see is what I am also in life, the same. I don't' really follow anybody's style," she tells PEP (Philippine Entertainment Portal) in a one-on-one interview on the set of her talk show.
Yes, she still gets nervous. "Pero eto, alam ko taped, so I can always cut it when I make a mistake, so okay lang," she relates.
It's a different story for live shows. Christine differentiates the mood. "Live is may katapusan, and the energy is always there, while with taped, like here, energy doesn't have to be like with Eat Bulaga! na talagang 100 percent all the time. Eto, mga 100 percent sa umpisa, and then depende na sa topic, sa guests, doon na lang umaakyat, bumababa."
So far, she is enjoying her tandem with Suzi Entrata. "It's great because we can feed off each other, bounce off each other...Whereas when I'm alone, like hosting for corporate events, in the beginning, I'd really get nervous. But after a while, depending on the crowd also, then you kinda loosen up. And those type of events are more serious..." the Fil-Am swimmer resumes.
ADVERTISEMENT - CONTINUE READING BELOW
To prepare for her hosting duties, she counts on having a free-flowing conversation with her interviewee.
"You know, I really had a hard time before with interviews. But lately, we've been having wonderful interviews, and most of the topics we have, I'm very interested in... So even if there is not much research on them, just with the answers [from the interviewee], I'm curious enough to go, 'And then? What happened? Why is it like that?' and so on," the 43-year-old celebrity elaborates.
But sometimes, she remembers laughingly, when she's stumped with a topic, she tells Suzi, "Ikaw na bahala dyan, I can't think of the next question!"
NEXT IN LINE. Surprisingly, her son Paolo Antonio, is very articulate even in Filipino.
Bibeth Orteza-Siguion Reyna, her director on the show, recounts one Christmas episode, where the hosts' children made a guesting on the show. "Minsan cute, minsan nahahabol naman niya [yung words]," says the daughter in law of Armida Siguion-Reyna about the host's Tagalog. But, "yung anak niyang lalake hindi nag-buckle kahit isang beses. Dire-diretso!"
It's Christine who caused the delay. "Yung nanay, siguro sa nerbiyos para sa anak, may mga take 4," direk Bibeth continues.
The son has a future in the business "kung papayagan ng magulang, kasi guwapo, very articulate, at marunong gumamit ng kamera at angles," says the award-winning writer.
Proud mommy grins from ear to ear as she hears the encouraging words of her director.
REUNION WITH FORMER CO-HOSTS. Aside from her children, the show had already invited the people she got to work with in Eat Bulaga!
She likes it that she was able to say, "O, kamusta? What happened na? What's the latest?" in a carefree and comfy environment. "That was fun and brought back so many memories. And parang ano, parang walang nangyari, parang we were still working together, and I really enjoyed that ep."
ADVERTISEMENT - CONTINUE READING BELOW
And if there's one dream project she'd like to get her hands on, her answer: "Fitness and nutrition."
"I guess maybe in the future, who knows, something with wellness and health, something with trying to go onto a diet and losing weight."
Given her active lifestyle, she's been hoping as well that people "will be encouraged in that area, because that would be fun."
And aside from two noontime shows and the cooking program Mobile Kusina, the mother of five eyes a "kiddie show" as well.
But for now, she wants to be of service to Full Time Moms. "I was really happy when they asked me to be on the show and, you know, this is really fun for me..."