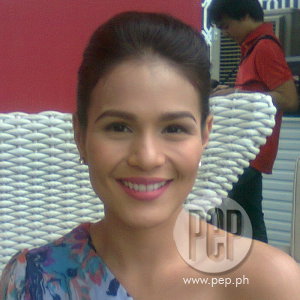 IMAGE 0
---
A blooming Iza Calzado faced the press this afternoon, March 18, at a restaurant in Quezon City to talk about what keeps her healthy and beautiful.
Wearing an off-shoulder dress and pink shoes, Iza listed five things that make her bloom.
Iza is the newest endorser of Myra 400E so it was no surprise this is at the top of her list.
"I'm very happy that I get projects like these, and I get to represent the brand," she told PEP during a one-on-one interview.
1. Taking Myra 400E.
The actress said she has been doing it for more than a year now and can attest to its benefits.
"Vitamin E is an anti-oxidant. It flushes out the toxins and free radicals from the body. It repairs cells, renews your skin.
"Myra 400E is made from natural products, that's why it stays longer in the body," she added.
2. Having an active lifestyle.
Iza is committed to keeping her body fit.
"When you work out, you're happy. You become more confident," she said.
The Kapuso actress said she exercises whenever she is free; it makes her feel good.
"I work out whenever I can. I run whenever I can. I mix it up. I also join a dance class. I am in Party Pilipinas, so we rehearse about once a week or twice a week. Ganyan."
3. Eating healthy food.
She said she tries to eat more fruits and vegetables.
"I think fruits and vegetables are the most powerful sources of vitamins and minerals which the body needs."
Are there are any types of food that she doesn't eat?
"Well I used to be a vegetarian, so before, there will be alarm bells sa chicken. But I started eating chicken again two years ago. And red meat, a year ago. But I don't eat pork! Or anything with pork. I also try to stay away from fast-food or processed food."
ADVERTISEMENT - CONTINUE READING BELOW
Sometimes, however, she indulges by eating junk food.
"Once in a while I cheat. Chips are my poison I guess," she said.
4. Loving what she's doing.
Iza is also happy with her blooming career.
"I've already reached a certain point in my career. And I look forward to doing more," she said.
"Recently, I took a five-day acting workshop, which is part of my career learning. I believe in growing as an individual, and improving one's craft."
Iza is also the newest co-host of Eat Bulaga!
"It's fun! Talagang Dabarkads na Dabarkads talaga, kasi masayang-masaya. It's like being part of a family, and I'm like, parang bago pa lang ako, so siyempre, nahihiya ako," she said.
"But what I really like most is yung segment na Juan for All, All for Juan. I get to go out with sina Wally and Jose, and reach out to people and make them smile."
5. Loving.
Last but not the least, love makes Iza bloom.
"Of course, there's nothing that can make you happier than love," she said.
Iza's boyfriend is Atticus King, whose family is in the drive-in motel business.
"I am with someone, and I've been with him for quite some time. He makes me happy. It's not a perfect relationship... I would like to say that I am blessed to be with someone that I really care for, and who cares for me," she said.
Iza also gets good vibes and support from her family and friends.
"My family and my friends have been good to me. They're very supportive. I'm happy that my dad is still here, my brother is still here. I get also good energy from my friends and the people I work with," she said.