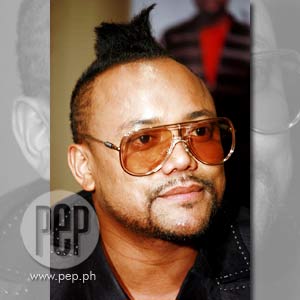 IMAGE 0
---
Grammy award-winning singer, record producer, rapper and DJ Apl.de.ap of the Black Eyed Peas holds a charity club tour this December to raise support for local charities and foundations in the Philippines.
Proceeds from the tour held in Cebu, Manila, and Pampanga will go to the Pearl S. Buck Foundation, Rotary Club of Rizal West, and the Philippine General Hospital.
The Party Light. Party Right. Club Tour 2010 was conceived by Apl.de.ap from his desire to give something back to the land of his birth.
Born Allan Pineda Lindo, Apl.de.ap shelled out his own money for this endeavor.
He explains that each beneficiary will get aid: "school supplies for the Pearl S. Buck Foundation, a feeding program for the Rotary like canned goods, rice and medicines for the cancer patients in Philippine General Hospital."
He has brought in several friends to help him with the tour. As he reveals: "DJ Ammo from the US and producer of The Time (Dirty Bit)," and some local DJs from the Philippines like "DJ Joker and DJ Buddha who are supporting me and helping out."
The first leg was in Club Vudu, Cebu. Apl.de.ap is full of appreciation: "It was a great turnout, I had a great time, I want to thank Cebu for helping out with a great cause."
The Pearl S. Buck Foundation is especially close to Apl.de.ap's heart since it was this same foundation that allowed him to be brought to the United States and eventually get adopted by Joe Ben Hudgens, the man who's been his father figure since he was 14.
PROUD TO BE PINOY. Now 36 years old, he's been coming back to the Philippines for the past decade to celebrate Christmas with family here.
He loves puto bumbong, bibingka, and Pinoy traditions.
ADVERTISEMENT - CONTINUE READING BELOW
He makes it a point to come home, because "It's so festive. I love bibingka and simbang gabi."
He shares a tradition he has with his mom, "Me and my mom, we make packages of food and clothing and we give it out on Christmas Day to the Aetas."
He's very proud of his roots and shares, "You can't really go forward if you don't know where you came from. I'm proud of my culture. Filipinos are hard workers, nice people."
He saya Filipinos have a lot of love to give and "the family is really together," which, he explains, "gave me the motivation and the drive to make it in the music business."
He can't help but smile again when he says, "I'm just proud to be Pinoy."
Apl.de.ap recalls that it wasn't easy getting to where he is now.
"It didn't happen overnight," he said.
And he reminisces his early days when he had several jobs, "construction jobs," literally back-breaking hard work.
He even worked at a movie theater where Apl says "I used to mix cheese and I was also the cashier." He smiles when he recalls the long gloves he had to wear so he could mix the nachos.
Memories like this show Apl.de.ap isn't one to shy away from any kind of job, as long as it's honest work.
FRIENDSHIP WITH WILL.I.AM. It was during his early teenage years that he met William Adams, popularly known as will.i.am of Black Eyed Peas fame, who, according to Apl.de.ap "came from the ghetto in east LA and we both had this dream that nothing was going to stop us and pursue our dreams of making it in music."
He relates the first conversation with will.i.am, the bandmate who would become his best friend.
ADVERTISEMENT - CONTINUE READING BELOW
"Will.i.am was the first friend I made in Los Angeles, and I remember a conversation we had: You're from the Philippines? So what do you guys like to do there?"
Apl shared that he likes to breakdance, which pleasantly surprised will.i.am. This love for breakdancing birthed a crew that would perform in Southern California and would later become Black Eyed Peas.
Apl talks about this close friendship with will.i.am.
"We became best friends, we shared the same interests, we used to breakdance and rap at the same time, and it just evolved from there..."
He says they told each other, "Let's form a dance crew, then let's form a rap group."
The two have been together since then. Coincidentally, it was also during a session with will.i.am that Apl formed his moniker—a play on his initials with an added beat.
HIS COMMITMENT. Apl.de.ap remains committed to the Philippines. It's a commitment that shows in his own label, Jeepney Music—which is an avenue for Apl to connect Filipino musicians with the rest of the world, to give them a platform to get their voices and talents heard and appreciated, to open the door for the world to enjoy Philippine culture.
His first collaboration with a group discovered through Jeepney Music is the Filipino band faircatch, a rock band Apl personally chose through a showcase he held last year. Their sessions are held during Apl's stay in the Philippines this December.
He says he is thankful: "God has blessed us and we just keep going with it."
Looking at Apl, one can immediately say that even with his fame, he's got his feet firmly planted on the ground, and Apl sees his success as a way to give back.
"It's why I do what I do now, like the charity tour, you know. You want to be able to provide back, help out other people. It [success] hasn't necessarily changed me, but now I'm able to support my family."
ADVERTISEMENT - CONTINUE READING BELOW
He was able to send a sister to school. She is now a registered nurse. He hails from a family of two sisters and four brothers.
He relates that his mom, "a smart girl, has got her own job now too, but that whatever they need from me, I'm always there."
Apl becomes emotional when he talks about the death of his half-brother, who was very close to him.
They were so close that, today, Apl has taken responsibility for this half-brother's daughter. Apl says, "She's like mine now. I just want to let him know I'm taking care of his daughter."
The topic still seems to pain Apl and he says of his half-brother: "He's always in my prayers, I have him in my heart, and unfortunately he's not here to enjoy the success...
'I just think about him a lot and pray for him. I didn't get to go home for about 12 years after I was adopted, but once I came home, we were still close."
Apl has thought of having an Apl.de.ap Center in his home province of Pampanga.
He says, "Before I came home, I called my mom, because I had an idea of building an Apl.de.ap school, so I brought 20 laptops with me."


That must have been a lot of luggage! He told his mom, "Look for a building because I want to put these laptops in there. Hire three teachers and it would be like an Apl.de.ap Center, and kids could go there and learn computers."
He's serious about this, and has already pushed through with getting the property for the center.
JUST LIKE A REGULAR GUY. The Apl.de.ap away from the spotlight is a regular guy. He announces, "I can cook!" And he names local Filipino dishes as his items of choice in the kitchen: "bistek, sinigang, chicken adobo."
ADVERTISEMENT - CONTINUE READING BELOW
He also says he likes "going bowling, playing pool, going to amusement parks, you know..."
One thing he'd like to do is go to a mall, but maybe not in the Philippines because, he grins, "It might get a bit crazy."
According to him, he still eats with his hands, and he still does everything, or nearly everything, a world-famous "regular" guy does.
One thing not every regular guy can lay claim to is having their album named as one of Oprah Winfrey's favorite things. Apl jokes that that's one thing he has in common with Charice.
"Yo Charice, Oprah likes us you know, us Filipinos!"
Charice is definitely another artist he'd like to work with as well, given the chance.
So who serves as inspiration for one as talented as Apl?
He names Manny Pacquiao, and says "I know I'm not the only one" when several people break into laughter. He adds, "I think I'm his favorite fan."
He also mentions Stevie Wonder, Bob Marley, "because they talk about social issues, about love, about uniting people." Plus his family, who give him the motivation to do what he's doing.
He'd be happy too if he got to do cartoons or movie voice overs, something he thinks is really cool.
Apl confesses to being single at the moment. He says he's right now too busy working and focused on his current projects. But he admits to checking out the local actresses, and while he doesn't name all of them, he does let slip one name: Angel Locsin.
Apl admitts that he prefers to have a Filipina wife, someone "malambing, beautiful, and someone I look up to, someone like my mom."


Mommy Cristina Pineda must be smiling really broadly to hear that.