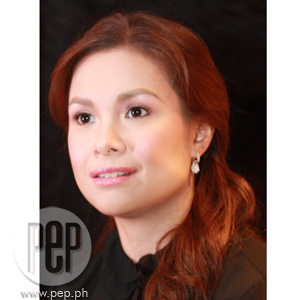 IMAGE 0
---
During a recent media launch, Lea Salonga had fun reminiscing about her December 2009 concert Your Songs.
A year after staging this concert, Lea is back on the recording scene through Your Songs on CD with bonus DVD. The album contains the songs performed by Lea at the 2009 concert.
The 2009 concert was unique. Fans worldwide were given the chance to choose songs from among her three-decade musical history and from her award-winning theater performances.
So many song requests came in that even during the actual concert's dress rehearsal, Lea recalls, "Another 45 minutes of songs were cut because we only had three hours. So we were cutting out from medleys, and cutting a medley is hard work because every key change is already there...It was heartbreaking, we even had to cut out full songs."
During the media launch of Your Songs on CD with bonus DVD last December 20, held at the Salon de Ning of the Manila Peninsula, Lea sang "Your Song" and "Thank You for the Music," both taken from her latest album.
ADVERTISEMENT - CONTINUE READING BELOW
Lea says that it wasn't originally the intent of the album to be launched a year after the concert, but as she explains, "It kinda worked out. It has coincided with the holiday season and it came out just in time as a great Christmas present for people."
Asked how she felt while watching and listening to Your Songs a year later, "Oh my God, my memories are so vivid and it was just so much fun and I got to work with some incredible people..."
She adds, "Working with Richard Poon for the first time was amazing."
The international singer laughed as she recalled her working experience with Ai-Ai de las Alas, one of her guests in Your Songs. "I got to repeat the experience working with her in her concert, and she was incredibly professional."
Ai-Ai surprised Lea.
Lea says, "The one thing I did not expect was how closely she would stick to a script, and even though we're given prompters and such, she's extremely professional. She will adlib but definitely use the script as a launching pad, but not in a way that would disrupt the flow of the show.
ADVERTISEMENT - CONTINUE READING BELOW
"I really, really respected her for what she brought to that segment of the show, and her being true, on the ball, with everything. I admire and really enjoyed the experience of working with her, she's amazing. She's incredibly funny with or without a script. She's fantastic."
Asked if she has any personal favorites from the Your Songs album now that she's gotten the chance to hear the songs again, Lea enthuses: "I love the Aegis medley, the power bands medley, the Pinoy Rock Medley.
"I enjoyed of course the Musical Theater Medley where I finally got to sing 'Defying Gravity.'
"I enjoyed, I think, the entire show. I don't think there was any one part or song that I could dismiss."
Fans will enjoy her spunk and renditions of "Pokerface," "Rehab," and "Halo," all of which she says she also enjoyed doing.
Lea thinks it's great when she's able to say that, because "That sort of fun does not happen that often to anybody and I appreciate it when it happens for me."
ADVERTISEMENT - CONTINUE READING BELOW
The Aegis song requests initially surprised Lea, but when she listened to them again, she ended up saying, "This is right, this is absolutely right."
Fans have to be given credit for choosing two love songs from the Aegis. Lea says everyone can relate to these songs in one way or another: "Everyone has had some devastating romantic situation that would fit those songs, and because I've had my share of devastating heartbreak, singing those songs felt kinda cathartic, and to be able to take it with the intensity and at the top of my lungs was fantastic."

DREAM PROJECTS. Lea dreams of someday being able to collaborate and record songs with both Martin Nievera and Gary Valenciano. "We still have to get that going because we've all been working in this industry for so long," she says.
As for collaborating with a foreign artist, Lea candidly reveals that if she were given a chance to sing a duet with Barbra Streisand, she'd be able to say: "I can die right now... and if I even just shook her hand or smelled her hair I would be happy..."
ADVERTISEMENT - CONTINUE READING BELOW
When told that Barbra can be reached on Twitter, Lea jokingly said she would post this there: "I would so love to sing with you."


NICOLE'S CRUSH ON RICHARD POON. Lea reveals that her daughter Nicole has a huge crush on the crooner Richard Poon. "It's so cute when she announced and said, 'when I grow up I'm going to marry Richard Poon.'"
Lea thinks it's great that her daughter picked him, saying, "I like her taste in music and in men."
Lea is thankful that Nicole, though only four years old, is starting to enjoy the Christmas season and the spirit. Lea says, "She really enjoys the dancing lights...and when she sees me wrapping presents, she'll volunteer to help out."
When asked about their own family Christmas traditions, she points out that they "kept things simple, not too fancy." That is how Lea likes to keep it with her family today. She's also slowly teaching Nicole the value of generosity by encouraging Nicole to set aside her old toys to give to underprivileged kids.
ADVERTISEMENT - CONTINUE READING BELOW
LOOKING BACK ON HER COLORFUL CAREER. As she looks back on the decade that was, Lea's top three things to be thankful for are: "My husband and daughter, that's one; work that I love to do, that's two; and three, financial freedom."
Lea has also put value to openly showing her mother love and appreciation now that she's a mom herself.
Asked what three things she wants to thank her mom for, Lea says she's thankful for Mommy Ligaya's "strength of character, for being strong and never docile, and never accepting second best for her or for us."
She considers her mom a "ball buster, somebody who, when she believed in something, really pushed for it."
She appreciates her mom "for being good with money and being frugal and putting us kids above all else."
Lea says that, today, she has patterned her life after her mom in many ways. Someone who has put family first, yet has been able to live her own life, with her own activities and friends.
ADVERTISEMENT - CONTINUE READING BELOW
Lea says admiringly of Mommy Ligaya: "She is independent and strong... outspoken and opinionated and honest."
Knowing that in 10 years Nicole will be a teenager, Lea jokes, "I'll be in deep trouble..."
She admits, "I'll obviously have to tell her of the birds and the bees and the reality about boys..."
Lea repeats this line for emphasis: "I'll have to talk to her about boys."
The international singer points out that Nicole has quite a few male cousins and a father to talk to "tell her the truth about boys... and daddy right now says no boys."
She sounds firm when she says, "We have to train her to not be docile, to not take a man's flowery words as truths, that courtship is just that, courtship, and the qualities in men she should look for."
She knows she got really lucky in having a good marriage with Robert Chien, a good partner. "When you're in show business there is this fundamental issue you have to resolve with your partner, trust," Lea says. "Is this partner with me because of who I am or in spite of who I am, or does this person love me for who I am or for what I can do for him?"
ADVERTISEMENT - CONTINUE READING BELOW
Tessa Prieto-Valdez made an appearance at the media launch and she chided Lea for not attending her Christmas party the night before. Lea explained that she had to attend to her husband's company party, wrapping presents and such.
When Tessa asked what Lea thinks of Nicole joining showbiz or singing, Lea says, "It's really up to her." She knows that Nicole has the taste for it, "singing around the house, and when she's on stage she loves having a microphone when I'm rehearsing."
The award-winning Broadway star knows that these things will happen on their own time, and wishes for her daughter, "to discover the joy of music and singing, on her own."