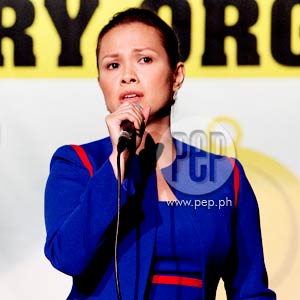 IMAGE 0
---
Although, it's an honor for Tony-winning actress Lea Salonga to be appointed United Nations Ambassador, she knows it's a big responsibility.
The singer-actress, along with Canadian singer Celine Dion and Hollywood actress Susan Sarandon, was appointed Goodwill Ambassador by the UN Food and Agriculture Organization late last year.
"It felt really good. To be appointed UN Goodwill Ambassador, it's always an honor," said Lea about her new job in an interview with PEP (Philippine Entertainment Portal) on March 28. She had just finished rehearsing for her concert with David Pomeranz slated the following day at the Newport Performing Arts Theater of Resorts World Manila in Pasay City.
However, the Broadway artist is aware that the appointment comes "with a big responsibility."
She said, "It's not something you say and just forget about. It's something you carry the rest of your life. You try to raise awareness for that particular thing for which you were appointed."
ADVERTISEMENT - CONTINUE READING BELOW
As an ambassador, Lea goes on field missions to educate people about the world-wide advocacy to fight hunger. The first place she visited was in Tarlac, where a small-scale irrigation was built by the European Union Food Facility Project. (CLICK HERE to view related video)
She recalled, "That was fun to do. Oh my goodness, if it's always gonna be like this, it's gonna be enjoyable."
She's already looking forward to her next field mission for the UN.
"I don't know where the next field mission is," she told PEP. "There are a few goodwill ambassadors, I think, who have the same responsibility."
'JUST BE YOU.' Meanwhile, even before Lea was appointed by the UN, the singer-actress has been a role model for the youth.
At the age of 17, the former That's Entertainment star performed the role of Kim in the musical Miss Saigon, in London and then in Broadway. Since then, Lea has continuously made her mark in the world of theater acting.
ADVERTISEMENT - CONTINUE READING BELOW
Because of her achievements, some of the young singers want to be like her.
Who does Lea think is following closely in her footsteps?
She replied, "It's hard to say. Honestly, I don't want anybody to follow any footsteps. I want people to blaze their own trail. Charice is doing her own thing, which is admirable and amazing.
"There are so many good singers in this country. However, each singer has something very personal to say... You just have to tap them to see what makes them unique and what makes them special," she said.
Instead of following her footsteps, Lea said the present crop of young singers should create their own name in the industry.
"Kasi, hindi naman din maganda na gumagaya ka sa yapak ng iba, na parang hindi ka special. It's much better when you're someone who stands for you being you. I mean, people know me as someone who is into musical theater, that's kind of my thing. People know that Charice is a belter. People know Regine Velasquez for her own uniqueness."
ADVERTISEMENT - CONTINUE READING BELOW
Lea also said the local music industry will always welcome talented artists.
She added, "The names that come up are so few, Sarah Geronimo, Rachelle Ann Go. We need more talents who are unique and different."
In the end, Lea stressed, "Although, it would be flattering for someone to say, 'I wanna be just like you.' I would probably turn around and say, 'I want you to be you. Don't be like anybody else.'"