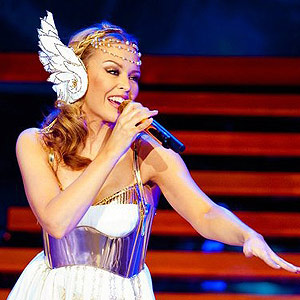 IMAGE 0
---
Pop icon Kylie Minogue has announced her visit to Manila for a concert at the Araneta Coliseum on July 5, 2011, dubbed Aphrodite Live 2011 World Tour.
Inspired by Greek mythology and culture, her first ever showwill bring in an array of especially-designed props, including a 14-feet-tall golden Pegasus, a golden Chariot, five video screens, and a sweeping staircase.
The Pinoy audience can also look forward to the performances of an entourage of aerialists and flying angels, and expect a superb choreography with spectacular lighting and video presentations.
The Australian singer-actresswill wear 200 glamorous outfits and 100 different pairs of shoes—some of which were made with over a million diamante crystals and nearly 1,000 feathers. The Aphrodite herself will also be carrying the bespoke Dolce & Gabbana costumes for the entire show.
Over the course of her extraordinary 20-plus-year career, Kylie has been a global force in pop music with more than 60 million albums sold worldwide and over 50 chart-toppers, including "Locomotion," "I Should Be So Lucky," "Got To Be Certain," "Especially For You," "Spinning Around," "On a Night Like This," "Can't Get You Out of My Head," "In Your Eyes," "Love at First Sight," "Come Into My World," "Slow," "I Believe In You," "Wow," "All I See," and her latest hits "All the Lovers," "Get Outta My Way," "Higher," which is a duet with Taio Cruz.
In total, the 42-year-old performer has released 11 studio albums, three live CDs, eight live concert DVDs, plus her Greatest Hits, Ultimate Kylie double album and several Remix albums.
Also known as The Showgirl, Kylie has been touring since February of this year, and here are some of the reviews:
UK's The Telegraph: "Kylie Minogue is not just a pop star anymore, she is a veritable goddess."
Irish Independent: "It is unlikely you will see a more lavish event this year!"


Tickets to Kylie Minogue: Aphrodite Live 2011 in Manila will be on sale starting May 6. For more details, call TicketNet at 911-5555 or Wilbros Live at 374-9999.
ADVERTISEMENT - CONTINUE READING BELOW