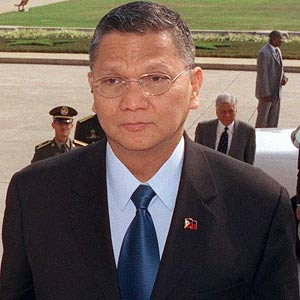 IMAGE 0
---
Former Armed Forces of the Philippines chief and former Defense secretary Angelo Reyes was declared dead earlier today, February 8, in an apparent case of suicide.
He was 65.
Reyes—who at the time of his death was in the middle of a controversy following accusations of corruption involving military funds—was reportedly rushed to the Quirino Memorial Medical Center at about 7:45 a.m.
Reyes, according to GMA News, suffered a single gunshot wound in the chest and was found at the grave of his mother at the Loyola Memorial Park in Marikina City.
Health Secretary Enrique Ona said in a press conference that attending doctors tried their best to revive Reyes but to no avail.
"[He] was brought here to the emergency room, wala nang pulso at di na humihinga. Nilagyan ng tubo at nag-resuscitation, swero, binigyan ng gamot. But after 45 minutes, which means that at 8:32 a.m., talagang wala na," relayed Ona.
Authorities, however, are still investigating the incident to determine if there was any foul play involved.
Reyes was scheduled to appear before a Senate investigation today but informed lawmakers through a letter that he would not be able to make it to the hearing.
Former military fund manager Lt. Col. George Rabusa accused Reyes, along with other high ranking soldiers, of receiving send-off money amounting to millions.
The practice of giving cash amounts to a retiring military officer is commonly known in the military circles as "pabaon."
Reyes became one of the key figures during the EDSA Revolution in 2001 or EDSA Dos after he pulled out the army's support to then President Joseph "Erap" Estrada, which led to the presidency of Gloria Macapagal-Arroyo.
Reyes had served as AFP Chief of Staff in 2000 under the Estrada administration.
President Estrada and his son Senator Jinggoy Estrada were movie actors before they entered politics.
ADVERTISEMENT - CONTINUE READING BELOW
During last week's Senate investigation hearing on alleged irregularities in the military involving Reyes, Senators Estrada and Antonio Trillanes were perceived to be bullies in their questioning of the retired military chief. The hearings were aired live over ANC.
William M. Esposo in his February 1 column in the Philippine Star even wrote: "It's well established that Senators Estrada and Trillanes both harbor their respective grudges against Reyes. Estrada never forgave Reyes for abandoning his father, the convicted former president Joseph Estrada, resulting in his father's ouster. Trillanes and his 2003 fellow Oakwood mutineers had directed their accusations of corruption against a Reyes-led AFP."
During the inquiry, Senators Jinggoy and Trillanes did not allow Reyes to speak and "were boorish and seemed more like spoiled juvenile delinquents instead of Senators of the Republic," Esposo added.
During her term, ex-President Gloria Macapagal-Arroyo appointed Reyes Secretary of Defense from 2001 to 2003, and later, Secretary of Interior and Local Government (DILG) from 2004 to 2006.
He would later on serve as Secretary of Environment and Natural Resources (2006-2007) and Secretary of Energy (2007-2010).
Reyes is survived by his wife Teresita and their five sons Pablo, Angelito, Marc, Carlo and Judd.