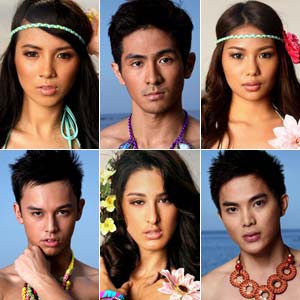 IMAGE 0
---
This year's installment of The Mossimo Bikini Summit carries a more meaningful theme as it integrates awareness, appreciation, and promotion of the country's ecotourism.
The special event titled Mr. and Ms. EcoTourism Philippines–The Mossimo Bikini Summit 2011 "promises to be a two-in-one spectacle of beauty, health, wellness, pageantry, and concern for the environment," according to its organizers.
The female candidates chosen from cities in the National Capital Region (NCR) are Kim de Guzman, Abby Monderin, Marie Martinez, Alexis Navarro, Hea Lee, Sabrina Watts, Melissa Tavora, Janelle Olafson, Aika Arcangel, Chill Torralba, and Nicole Kaufmann.
Representing places outside NCR are Rita Sarmiento of Palawan, Davao's Bianca Cadavas, Mira Mae Dimmerling of Cebu, and La Union's Hershey Montecastro.
Male candidates from NCR are Renzie Ongkiko, Nelson Banzuela, Mark Luz, Kevin Donelly, Kiko Matos, Charles Flores, Aaron Yanga, Russel Gooh, Benj Bolivar, Kyle De Ortega, JD Espinosa, and Martin Flores.
Palawan's Ryan Briese, Davao's Jolo Garcia, Judah Cohen of Cebu, and La Union's Alvin Haider, on the other hand, emerged as winners in the regional search conducted months back.
The thirty-two gorgeous candidates will embark on a series of activities, including swimwear and eco-wear pre-pageant events, ecotourism immersions in Laguna, Quezon, Puerto Princesa in Palawan, La Union, and Bataan.
TV guestings and radio visits to promote the pageant and its cause are also part of the itinerary.
The candidates attended lectures and seminars about ecotourism to fully understand the cause which they are representing and advocating.
Web-based encyclopedia defines ecotourism as, "responsible travel to fragile, pristine, and usually protected areas that strive to be low impact and (often) small scale (as an alternative to mass tourism).
ADVERTISEMENT - CONTINUE READING BELOW
"Its purpose is to educate the traveler; provide funds for ecological conservation; directly benefit the economic development and political empowerment of local communities; and foster respect for different cultures and for human rights."
Mr. and Ms. EcoTourism Philippines–The Mossimo Bikini Summit 2011 will culminate on June 18, 2011 at Canyon Cove Beach Club in Nasugbu, Batangas.