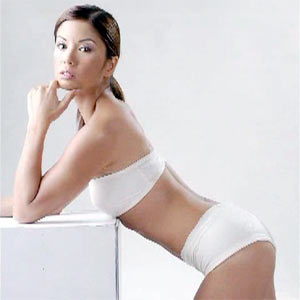 IMAGE 0
---
TV host Chinggay Andrada has always been connected with fitness.
Majority of her jobs here in the Philippines from 1998 to 2006 were fitness related.
When she became a part of Studio 23's News Central, she was known as the first female to host a sports segment on a primetime news program.
That led her to be one of the hosts of the sports talk show Sports TV, which aired as well in Studio 23.
And from there, a lot of projects came her way, from hosting fitness events to shooting a commercial.
IN THE FAMILY. Chinggay started getting in to fitness at the age of 15.
She told PEP.ph (Philippine Entertainment Portal) on an interview with her that it was her parents who keep her inspired in getting physically fit.
Though her parents' jobs are not at all sports-related, her family has always been active.
"I thinks it's just my whole family is always on the go.
We've always considered sports and moving our bodies parang ganyan, but I'm always been the one who instill that to them."
Even her parents are still active in their senior years.
"My dad is 82 years old, every other day magte-treadmill siya and every other day nagsu-swimming siya kasama ang mommy ko.
"My mom naman is 76 years old, she does [fitness activities] with my dad."
Staying healthy at their age is crucial because, as Chinggay says, "All the medical conditions are coming in, you can't do something, they're there but they choose to be fit."
KEEPING FIT. Now that Chinggay has a family of her own, she needs to take care of her body more.
ADVERTISEMENT - CONTINUE READING BELOW
Even when she was pregnant, she didn't stop from exercising. She even thinks that this made it easfier for her to give birth to her daughter who is now two years old.
"When I gave birth it was a very easy transition.
"Kasi I made sure the [exercise] routine is part of the whole pregnancy and healthy eating siguro more than what pregnant women would do."
It wasn't hard for her to lose weight after her pregnancy. In fact, she didn't gain weight at all.
"I was 150 [pounds] when I was pregnant. Sa likod, you couldn't tell that I was kasi, 50 pounds is her [the baby], my body stay the same."
At the present, Chinggay is in to a new type of exercise routine. Though she still has boxing as her sport, she's into two other exercises, one is crossfit.
Crossfit is a combination of different exercises that help improve some of your health aspects like your stamina, speed, and flexibility, to name some.
"Now I enjoy doing crossfit, it's a kind of workout where you do all kinds of things ranging from gymnastics and you lose the weight," says Chinggay.
But aside from that she also enjoys doing the plyometrics, which she described as "great."
"Kasi within a short amount of time you can already get what you usually get from 45 minutes cardio exercise."
Plyometrics, according to Wikipedia, "is a form of exercise, mostly for athletes, which concentrates on improving your muscle."
But among all other sports or exercises, her number one preference is boxing.
ADVERTISEMENT - CONTINUE READING BELOW
"I think that sport is the best sport to do and the best work out to do."
She thinks that this sport does not only improve you physically, but as well teaches you other things like discipline.
In boxing, you need a lot of discipline in achieving a certain weight you have or maintain for you to perform well. Also, good posture should be maintained while executing certain styles and techniques.
She also thinks that this sport teaches us another form of exercise that we can do anywhere we want—skipping rope, or known also as jump rope.
"The skipping rope, a lot of people give up in doing that but that's one of the best exercise too that you can take [everywhere]."
LOSING WEIGHT. Meanwhile, Chinggay talks about losing weight.
Now that she's one of the trainers for the Filipino version of The Biggest Loser, a lot of people would like to take her advice on shedding off the extra weight.
"Siguro the first thing that I would say is to be patient with your body and don't compare yourself with other people."
Another problem that Chinggay sees is that, we only decide to lose weight because of certain events like summer, and after that it's gone.
"Treat it as a lifestyle change," says Chinggay.
"Don't think about it as a chore, don't think about it as a project that you're just gonna do it one time, after that it's gone.
Aside from getting into sports and other exercises, Chinggay suggests that you learn as well to watch what you eat.
ADVERTISEMENT - CONTINUE READING BELOW
People have this habit of eating a lot after hitting the gym or having a good long run, thinking 'What's to lose? They've already burned a lot anyway'.
But for Chinggay, every food intake serves as fuel for your body. That's why she recommends having small meals for the whole day, just enough to sustain what your body needs.
"The more meals you eat in a day, the more your body absorbs and consumes and uses these foods as fuels," she explained.
Should eating rice be taken out of the diet plan then?
"Rice, in my opinion, when you eat it is like parang, number one, wala 'tong sustansya,
"Number two, people eat too much of it, thinking na 'wala naman mangyayari sa katawan ko, e.'"
That's why she advises, "Instead of eating six cups of rice, two cups na lang, tapos gulay."
She blames bad eating habits with the lifestyle we have nowadays.
"Kasi ngayon ang nangyayari people work buong araw tapos hindi kumakain ng breakfast, hindi kumakain ng lunch, tapos kumakain ng malaking meal sa end of the day."
Though she's careful with what she eats, Chinggay also has the so-called 'cheaties' or foods considered out of the healthy diet plan.
For her, it is Filipino delicacies, particularly puto.
"It's Filipino desserts!" she laughs.
"I can have puto all day long and I'll be fine,"
She says it's okay to indulge, yet it's also important that you know how to shed off the calories.
"You know, don't get me wrong, I know life is to be enjoyed and I do indulge in foods because it's right there and its yummy and masarap so I'm gonna eat it.
ADVERTISEMENT - CONTINUE READING BELOW
"But kung ano yung kinakain mo you have to burn it out...."
On top of all her advice on how to slim down the fitness guru says:
"Fitness, consider it as a lifestyle not something that you have to do."