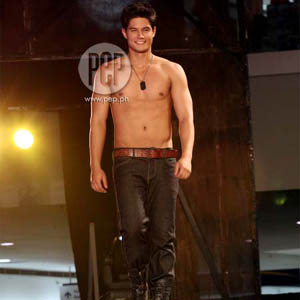 IMAGE 0
---
Last night was the fifth day of the celebration for Fashion Week held at SM Mall of Asia, which started last Sunday, May 8.
For this event, different brands of clothing participated—one of them was Wrangler. No other than the Brazilian-Japanese model Daniel Matsunaga modeled the famous brand.
This was the second time that he modeled the brand in celebration of Fashion Week and for him it has always been fun.
"I enjoy it a lot."
"It always makes me so happy because every time I do a show I meet a lot of different people, a lot of famous people and to see people, a lot of people, a lot of press, a lot of people watch me, a lot of people like they make me feel so happy."
THE "HUNK" WAY. Daniel has been one of the hunk model-actors that girls go crazy for. Aside from the guys' á la Adonis bod, women also admire their sense of style.
So how does a Daniel Matsunaga style himself?
"I'm a very simple guy, gusto ko simple clothes pero elegant, elegant always."
Jackets and shirts are two of his favorites for daily wear. But though he has his own style, his girlfriend Heart Evangelista still has a say.
"We [with Heart] always go shopping; we always go to buy stuff.
"If she doesn't like some clothes she'll be like 'Oh, can you choose the other one?' So yes, she does and I do also for her."
Though his girl has a say, for Daniel the classic-guy outfit is still in.
ADVERTISEMENT - CONTINUE READING BELOW
"Guys need that faded jeans, jackets—leather jackets, shirt, t-shirt," he says.
It's Brad Pitt he looks up to as his fashion icon. He most admires the Hollywood actor's manly demeanor.
Yet nice clothes are nothing if you don't have a nice body. So here's Daniel's advice for the guys out there: "[Know] what to do, you feel like you need to lose some weight, you need to do some cardio, so diet. I always eat less carbohydrates; of course, more protein."