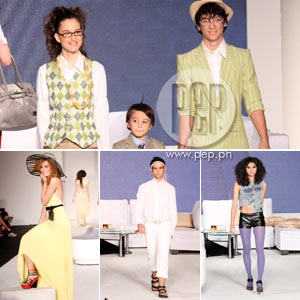 IMAGE 0
---
Rusty Lopez paid homage to the "modern family" in its series of footwear collection presented last May 15 at the SMX Convention Center in Pasay City.
The event was the 34-year-old footwear brand's participation in this year's Philippine Fashion Week.
Two segments, Day and Night, summed up the fashion show as models paraded wearing footwear ideal for daytime activities and evening rendezvous.
The Day segment was divided into three parts: "Weekend Wear," "Denim Wear," and the "Biker Look."
"Weekend Wear" featured wedged sandals, and casual or patent loafers that are best worn with casual clothes during weekend getaways.
Denim outfits were given a more stylish facelift as shoes and sandals complemented the popular "rugged" fabric.
The "Biker Look" saw models clad in almost all-black ensembles paired with denims, together with knee-high boots for men, and colorful stilettos and wedges for women.
"Color Blocking," "Suit Yourself," and "Black and White" comprised the Night segment.
Summoning the hip '70s groove were the basic pumps and trendy stilettos combined with bold and colorful outfits—making the pieces appear like an art canvass put together on the catwalk.
The "Suit Yourself" part of the program demonstrated how clothes can be tweaked to make them look hip, trendy, and even groundbreaking. Metallic shoes, interesting stilettos, and men's pigskin loafers showed how it could be done.
Formal footwear took center stage during the "Black and White" portion. Female models invaded the catwalk in black stilettos, wedges, and formal sandals, while men donned classy shoes that are best for formal occasions.
"The show creatively showcases our company statement on the importance of having the right footwear, that even if you are wearing something basic, you can dress it up or down with your shoes," said Nicole Lopez, the brand's merchandising and marketing officer, in a statement to the media.
ADVERTISEMENT - CONTINUE READING BELOW
Since 1977, Rusty Lopez has covered a broad range of footwear for every member of the family—dad's loafers, work and formal shoes; mom's sandals and classic pumps; trendy and edgier pumps, peep-toes, and strappy high-heeled pieces, boat shoes and boots for boys, and children's school shoes.