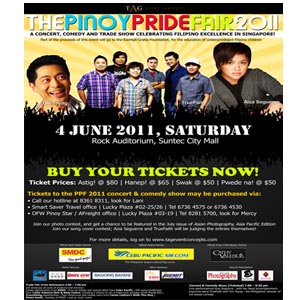 IMAGE 0
---
PRESS STATEMENT
On June 04, 2011, The Rock Auditorium of The Suntec City Mall comes alive with The Pinoy Pride Fair 2011: A Concert, Comedy and Trade Show Celebrating Filipino Excellence in Singapore.
Organized by TAG Event Concepts, the Pinoy Pride Fair 2011 aims to bring the best of the Philippines to all our hard-working kababayans based in the Merlion City.
The free-entrance Trade Fair—which will start from 2:00 p.m. to 7:00 p.m.—will showcase a variety of Pinoy-friendly products, services and promos, including real estate investment and ownership opportunities from SM Development Corporation, special deals on airfare and fun games from Cebu Pacific, franchising opportunities, a photo booth from MASP | Making Art in Singapore Through Photography, with a chance to win an assortment of cool prizes from Cathy Valencia Skin and Body Centre, Walk-This-Way Tours of Carlos Celdran, and so much more!
The concert cum comedy show will be a solid block of live entertainment for two-and-a-half-hours in an indoor venue with comfortable seats.
Performing for all their fans in Singapore are Aiza Seguerra (and her own acoustic band), Pinoy pop/rock favourite Truefaith, and the pioneer of Pinoy point-of-view wit-based stand-up comedy, Tim Tayag.
KEEPING THE FAITH WITH TRUE FAITH. Simply put, Truefaith is one of the most enduring, as well as one of the most prolific Filipino pop/rock bands.
The group traces its origins back to 1992, when Medwin Marfil (then a student of De La Salle University) teamed up with a couple of friends, and mustered the courage to submit an original song they put together to 99.5RT.
They called themselves Truefaith, which was inspired by the popular 80's alternative song of New Order, and their hit "Perfect" became an OPM favorite.
Since their 1993 radio debut, Truefaith has been extremely active in the Philippine music scene. To date, they've had more than a dozen albums released, with even more hit songs, including "Huwag Na Lang Kaya," "Muntik ng Maabot ang Langit," "Hi," "Alaala," "Sa Puso Ko," "Awit Para Sa Kanya," "Kung OK Lang Sa 'Yo," "Sumasarap ang Gising," "Dahil Ikaw," "Sayang Ang Lahat," "Araw't Gabi," and many more.
ADVERTISEMENT - CONTINUE READING BELOW
Truefaith's current line-up includes Eugene Marfil (acoustic guitar), Allan Elgar (lead guitar), Medwin Marfil (lead vocals), Benedict Esguerra (drums), Bimbo Yance (bass guitar) and Jake Lumacad (keyboards).
Their latest album The Love Parade is out under Viva Records, and features an eclectic mix of special guests, including Pinoy R&B star Luke Mejares, sax master Dix Lucero, Carlos Magno of the Out-of-Body Special, and Armi Millare of Up Dharma Down.
AIZA SEGUERRA: FROM CUTE TO PHENOMENAL. Aiza Seguerra was a very popular child actress who played cute roles and appeared in over thirty movies. She joined a contest on a noontime variety TV show Eat Bulaga! when she was only three years old. She became a part of that popular noontime variety program for ten years.
For years, she was a household name in the entertainment world, dominating both TV and movie industries by playing adorable child characters.
But like all child stars, she grew up and became less visible on screen.
She, however, triumphed over the fate that most former child stars succumbed to. Her movie career might have suffered a letdown, but she was headed for stardom in a completely new direction.
When her appeal and popularity as a child star had waned over the years, she transitioned into the music industry with a successful debut in 2001.
Her first single "Pagdating ng Panahon," was a big hit and won acclaim and accolades, and earned her the Best Performance by Female Recording Artist award.
As a recording artist, Aiza Seguerra has become a phenomenal success and in demand for her awesome acoustic shows. She has also performed shows in the U.S. and Canada, and did front-act performances for international singer-composer John Mayer during his concert in Manila in 2010.
Currently, she performs in a popular TV show, along with other famous singers.
ADVERTISEMENT - CONTINUE READING BELOW
ABOUT TIM TAYAG. His career as a stand-up comic owes its origin to his first ever onstage performance in a cafe in San Francisco way back in 1996.
In 2002, Tim Tayag performed stand-up comedy in a club called Comfort Room in Makati, and did his first big show at the Music Museum in 2005.
He had performed with comedians like Jon Santos and Allan K., and done shows in local venues like the Cultural Center of the Philippines, Music Museum, UP Theater, ABS-CBN, and many others.
Along with Allan Manalo, he formed The Comedy Cartel, a group consisting of stand-up comedians who deliver what Tim calls "point-of-view comedy."
The group aims for witty and shrewd comedy instead of the usual and predictable slapsticks. He described their style as "telling stories in a funny way."
As for his own ability to make people laugh, he attributes it to his knack for knowing what's funny. Tim Tayag draws from his own experiences, with some embellishment, for his jokes.
He's had a variety of jobs: a software engineer in the States, a host of a talent search reality show on MTV (Supahstar), host-writer-director of an international travel program on the Living Asia Channel (On Foot), co-host of the a late night show on Studio 23 (Men's Room), writer for travel and lifestyle magazines, radio DJ on Wave 89.1, and owner of a five-star mobile restroom.
While in the U.S., Tim had worked with popular Hollywood comedians Jamie Foxx, Sinbad, Rob Schneider and Margaret Cho. He also performed in prominent clubs, where big names like Drew Carrey, Chris Rock and Robin Williams polished their skills.
His major influences include Conan O'Brien, Dave Attel, Brian Regan, Arch Barker and Billy Crystal.
TICKETS!!! While entrance to the Trade Show component of The Pinoy Pride Fair 2011 is free, you will be needing tickets to watch the two-and-a-half-hour show featuring Aiza Seguerra, Truefaith, and Tim Tayag.
ADVERTISEMENT - CONTINUE READING BELOW
Tickets are priced at SGD80 for the Astig! seats, right up front, SGD65 for the Hanep! seats, in the middle, SGD50 for the Swak! seats, towards the back of the auditorium. Restricted view seats (Puwede Na!) are also available for SGD50.
Tickets are available via:
1. Our online facility: CLICK HERE.
2. Smart Saver Travel. The travel agency/office is located at Lucky Plaza @02-25/26, with telephone numbers 6736.4575 or 6736.4530.
3. Zagu Food & Drink. The Pinoy-friendly food establishment is located at Lucky Plaza @04-20.
4. Or through our ticket hotline at 8361.8311
For more information about the show, our special online contests, ticket details and other inquiries, check out the official website at www.tageventconcepts.com
The Pinoy Pride Fair 2011: a Concert, Comedy and Trade Show Celebrating Filipino Excellence in Singapore, featuring Truefaith, Aiza Seguerra and Tim Tayag is a TAG Event Concepts production.
It is made possible by the generous support of our sponsors and partners: SM Development Corporation, Cathy Valencia Skin and Body Centre, Cebu Pacific, PinoySG, MASP | Making Art in Singapore Through Photography, Bagong Bayani, Pinoy Star, and PEP.ph, the Philippine Entertainment Portal.
Ed's Note: When content falls under "Press Statement," this means that the material is fully and directly from the company itself. The use of open-and-close quotation marks to envelope the entire text shows as much. This also means that PEP is not the author of the statement being read. PEP is simply providing the information for readers who may be interested.