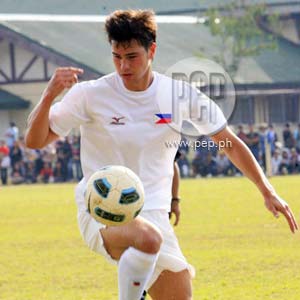 IMAGE 0
---
Due to insistent public demand, PEP (Philippine Entertainment Portal) has already spent not just one but two days with the country's football team, the Azkals, to chronicle their activities prior to the qualifying series of the AFC Challenge Cup.
The training was set in Baguio City, where our players can be trained under the same climate condition as Japan and Mongolia, where the next games slated for March 5 or 6 and March 15 will be held, respectively.
THE TRAINING. Yesterday, February 23, PEP was able to witness the team's game against Baguio's football players at the Benguet State University (BSU) Football Field.
In the middle of the game, James Younghusband got injured. It created quite a stir, but he ascertained that it was just a sprain, which is a normal occurrence while playing.
The older Younghusband sibling said, "I'm very much okay," so the game resumed.
After 40 minutes, the game finished with 8-1 score, in favor of the national team.
It was already past 5 p.m. when the Azkals had a meet-and-greet with BSU President Dr. Rogelio Colting.
More than three hours later, the team proceeded to the Baguio Country Club, where they are billeted, and called it a night.
THE CLINIC. Early his morning, February 24, the team assembled at the Brent International School field at around 9:30 a.m.
Three of them—team captain Ali Borromeo together with brothers James and Phil Younghusband—met with 25 local schoolchildren aged 4 to 11, and facilitated a football clinic.
In an interview, Phil asserted that football is not an elite sport, "Everyone can play. It just starts with knowing how to kick a ball."
The rest did their training routines, which included warm-up exercises jogging, tossing and kicking the ball, and a practice game among themselves.
At 11 a.m., the football stars gladly obliged the picture-taking and autograph-signing request of the fans.
ADVERTISEMENT - CONTINUE READING BELOW
The team had their lunch at the city office. According to media coordinator Jojie Ronda, they have plans of going out to relax this afternoon. Training will resume tomorrow at 8 a.m., same venue.