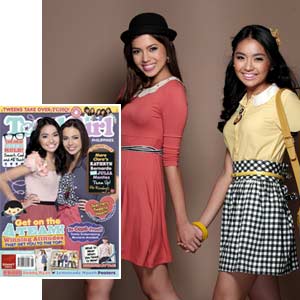 IMAGE 0
---
Teen stars Julia Montes and Kathryn Bernardo may have been bitter rivals on screen in the recently-concluded TV series Mara Clara, but nothing could be further from the truth in real life.
In the June issue of Total Girl, theytalk about their on-cam rivalry and their off-cam friendship, celebrity crushes, and more.
Kathryn says, "On cam, Julia and I may really hate each other, but off cam, we're really good friends. We're like sisters."
Julia also shares, "We don't feel like we're working after having a lot of fun on set and even after a shoot. In between takes, we make sure to spend time together."
Being real-life friends made it difficult for Julia to play mean girl Clara to Kathryn's Mara.
"I felt really anxious shooting every scene... But before we start shooting, I make it a point to talk to Kathryn and ask her if I should fake-slap her or not," Julia says, "But [Kathryn] always wants us to act naturally, so it's all right for me to slap her really hard. That way, we get to be more natural actresses."
Kathryn adds, "We don't get angry at each other because we know it's part of our job as actresses. Once the camera is rolling, it's Mara and Clara. As soon as we're done taping, it's back to Kathryn and Julia."
Julia and Kathryn also talk about balancing school with superstardom, and both say that it's all about time management.
Kathryn relates, "I go to a regular school at OB Montessori Greenhills [so I'm] always checking my schedule. Pag kayang pagsamahin, pagsabayin, pagsasabayin."
On the other hand, Julia went to school via computer. "It's like home study [and] I just graduated from high school. [Now] I'm looking for a [college] that has classes that can fit into my schedule," she says.
ADVERTISEMENT - CONTINUE READING BELOW
Find out more about these Mara Clara superstars by grabbing a copy of the June issue of Total Girl, available in bookstores, newsstands, and supermarkets nationwide for only Php 100.