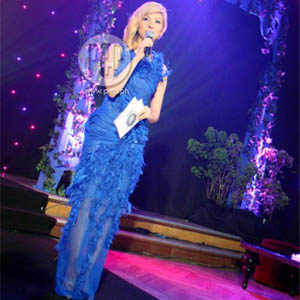 IMAGE 0
---
"After a hundred years of peaceful slumber and dreaming, a Princess finally awakens to the gentle kiss of a Prince."
A new chapter has began for the Japanese cosmetics brand, Majolica Majorca, with the launch of its Fake Sleeping line on June 1, 2011.
The spotlight was on the Aurora Tear Liner, which—with a few strokes on the lid or some dashes on the lashes—could give your eyes a pearl-like splarkle!
The room was filled with the sweet and fruity fragrance of Majoromantica, so tantalizing, even Sleeping Beauty would rouse from her sleep.
According to Yuko Hattori, brand area manager of the international marketing department, "Majolica Majorca products [work] like magic; they make you beautiful inside and out."
Hosting the intimate event, held at the Opus restaurant and lounge at Resorts World Manila, was a very blond Bianca Valerio.
"I wanted to be something different for Fash Season 2. I wanted to try something outrageous for once in my life. I did it (change her dark locks to blond) in April... [I went to] Danny Katalbas of Emphasis Salon at Rockwell," she said.
ADVERTISEMENT - CONTINUE READING BELOW
Bianca looked every inch a princess in her blue Joel Escober gown and her "I did it myself" make-up.
But before you bleach your hair blond or reach out for eyeliner to apply sparkle to your eyes, remember two things:
"Find a professional hairstylist," warned Bianca, "and fulfill your wishes."