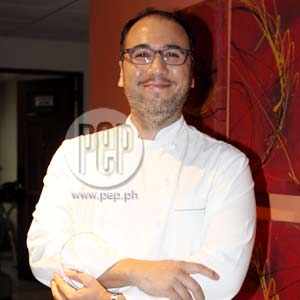 IMAGE 0
---
As a child, Fernando Aracama was already a regular "saling-pusa" at their home kitchen in Bacolod as he helped his parents prepare their family meal.
His mother Elvira Luna Cruz could cook excellent Filipino dishes, like sinigang and paksiw, but it was his father Jesus Ballesteros Aracama who inspired him to become a chef.
"Seeing papa cook in the kitchen was an affirmation that guys can also do the same thing," he recalled.
His childhood, he said, is full of wonderful stories about food but nothing awed him more than making pancakes.
"[It's] the whole idea that something liquid becomes solid, and it becomes the most delicious thing that you can eat. That was the first time I was in awe when it comes to cooking. And back then, we did not have pancakes for breakfast. We usually have it for merienda!" he exclaimed.
CELEBRITY CHEF. After several projects and TV exposures—most popular of which was his commercial for a milk brand—Chef Fern (his nickname) is no longer camera-shy.
He is perhaps one of the most candid chefs you will ever see on television.
But according to him, the best part of being in the limelight is that his mom gets to watch him on TV.
So far, he considers Junior MasterChef as his biggest project.
"It's not everyday that you get a call from a network. I'm flattered and honored," he said. It's an opportunity right there to hatch a talent. It can be a legacy."
When asked to describe Junior MasterChef host Judy Ann Santos, Chef Fern answered that he has always found her fresh and grounded despite being a superstar.
"She is like a cream puff," says Chef Fern. "Very pleasing sa mata. When you go deep inside, you see a softy."
COOKING FOR A CELEBRITY. According to Chef Fern, he wished he had the chance to cook for the late president Cory Aquino.
ADVERTISEMENT - CONTINUE READING BELOW
"I missed that opportunity," he said sadly. "It was my time when EDSA came. She was a beacon and she was what we needed during that time."
"I will cook ginataang labong na may saluyot at alamang for her," he told PEP.ph (Philippine Entertainment Portal).
The half Spanish-half Pinoy chef raved about the local dish, which brings him back to the place where he grew up.
"Pag kinakain ko ito, kilala ko sarili ko," ended Chef Fern.