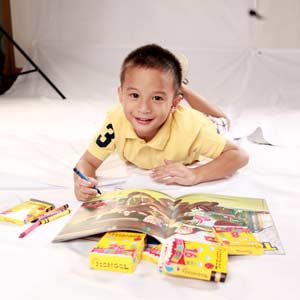 IMAGE 0
---
ADVERTORIAL
Kris Aquino's youngest son, who is fondly called Bimby, is undoubtedly one of the country's most famous kids today.
His mother, despite her busy schedule in showbiz, gives him only the best, especially when it comes to his school needs. And what does Baby James use to color his book or paper? Mongol Crayons!
For decades, Mongol has been providing Filipinos with superior writing implement, making it a tool to promote excellence in education and development of young minds.
This legacy has prompted Star Paper Corporation, the exclusive distributor of Mongol Pencils and Newell Rubbermaid products in the Philippines, to constantly innovate and improve. Coupled with the vision to provide families with quality supplies has led to the creation of Mongol Crayons.
Nica De Belen, Star Paper's marketing executive, shared, "Did you know that crayon is French for pencil? Mongol Crayons is a logical evolution in our commitment to child development."
Mongol Crayons are made with brilliant shades that offer the best color mixing experience. They also have longer lasting crayon sticks, which possess a reputation for smooth application. These traits make them ideal for kids who want to visualize their creativity in different hues, beyond a pencil's black and white.
Says Jeremy Tan, the company's senior marketing manager, "We want to give kids a head start at the youngest possible age, and Mongol Crayons easily does that."
Many agree.
That's why Gymboree Play & Music, a global leader in pre-school learning, has chosen Mongol Crayons to be their official crayon in the Philippines.
This is also why Kris has agreed to make Bimby the face of Mongol Crayons.
Tan added, "Mongol's affinity for quality makes it easy for people with the highest standards to swear by it. We always meet expectations and even surpass them."
In line with efforts to bring the Mongol Crayons learning experience to all Filipinos, Mongol tied up with National Book Store for the exclusive distribution of especially-marked Mongol Crayon boxes at selected outlets that entitle the purchasers to a 75% discount on Gymboree Art Classes. This is redeemable at any Gymboree branch, and is only valid in Metro Manila.
ADVERTISEMENT - CONTINUE READING BELOW
From pencils to crayons, Mongol continues to live up to its distinction as trusted learning and creative instruments that are a cut above the rest.