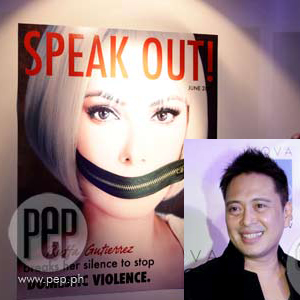 IMAGE 0
---
"You don't have to be a victim to care."
This was the sentiment of some of the celebrities who attended the opening of AVON Speaks Out Against Domestic Violence: A Photo Exhibit by Raymund Isaac, yesterday, June 16 at the SM Mall of Asia.
Raymund Isaac is one of the country's famous fashion photographers. He has been commissioned by local and foreign brands for their advertising campaigns. He has a long list of works for fashion magazines including foreign titles like Glamour & Beauty and Elle.
He was once called the "bad boy of Philippine photography" because of his preference for nude and risqué subjects. One of his famous works was a photograph of a naked and pregnant Wilma Doesnt in 2003.
At the exhibit's opening night, Raymund was all smiles as he unveiled his photographs to the public.
"I am thankful for being chosen to be part of this project. You know, whenever I'm given opportunities like this, I really try to extend whatever help I can.
"I [have always asked myself] when you have the power to do something right, would you actually do it? For me, I believe if you have the power and you don't choose to do right, that is actually very irresponsible of you.
"As a photographer, I feel it is my responsibility to reach out to people through my work. Together with celebrities I know, I can bring out the message that people should speak out against domestic violence," he said.
Showbiz personalities who served as models for the exhibit include TV hosts Boy Abunda and Amy Perez, comedienne Ai-Ai delas Alas, actresses Janice De Belen and Mylene Dizon and TV host Marc Nelson.
Other celebrities who supported the advocacy are socialite couple Rafa Alunan and his fashion designer wife Amina Aranaz-Alunan, models Wilma Doesnt and Karen Pamintuan, and former VJs Amanda Griffin-Jacob and Kat Alano.
ADVERTISEMENT - CONTINUE READING BELOW
RUFFA VS DOMESTIC VIOLENCE. The event was hosted by Ruffa Gutierrez, who is the Ambassador for the Speak Out Against Domestic Violence campaign.
The actress of Mga Nagbabagang Bulaklak gave an emotional speech saying it was her personal experience during her marriage to Turkish businessman Yilmaz Bektas that convinced her to support the advocacy.
She said, "I don't need to tell my story again. My life is an open book and [you all know that] I've been through a very painful separation. It was very painful for me to speak out [at that time] because of my celebrity status. Of course, I didn't want to be embarrassed in front of my friends and the Filipino people.
"But then I said, I think it's time for me to be truthful and honest and when I told my story, the truth really set me free."
Ruffa is hoping her story of survival would inspire other survivors of domestic violence to speak out.
The photos of Ruffa and other celebrities by Raymund Isaac are on exhibit at the SM Mall Of Asia activity area from June 16-19 and from June 20-23 at the SM Megamall.