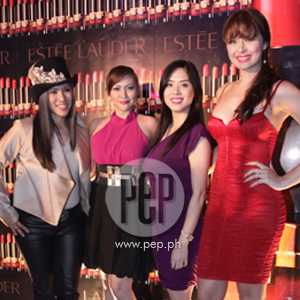 IMAGE 0
---
Estée Lauder—one of the world's most established makeup brands—held an intimate event at the Opus Restaurant & Lounge at the Resorts World Manila last Thursday, June 23, to unveil its latest collection of lipsticks called Pure Color.
The line boasts of 16 different colors—each suited for every type of skin tone and persona. And four ladies from the entertainment industry were invited to try them on!
.
Plum was the shade for radio and TV personality Grace Lee, nude for jazz singer and theater performer Isabella Gonzalez, pink for sports and showbiz news reporter Cesca Litton, and red for the former Miss Earth winner Priscilla Meirelles-Estrada.
NUDE. "[This is] wonderful. It's an honor and a privilege. I think that this is a great lipstick and I like using it," said Isabella.
The daughter of pop diva Kuh Ledesma admitted she has always had a hard time finding the right shade of lipstick because of her medium skin tone.
ADVERTISEMENT - CONTINUE READING BELOW
Although most beauty tips from magazines and the Internet say that deep pink and red shades are perfect for her complexion, they could be overwhelming to wear during the day.
Isabella, 26, spent her younger years looking for the color that best suits her. Five years ago, nude makeup became a fad and that's when she started wearing it on a regular basis.
"I actually use nude lipstick all the time. [Before], I just use concealer and lip gloss. But now, I have an actual shade that I can put on very quickly."
Aside from matching her skin tone, Isabella considers the shade a perfect description of her persona.
"Well, apparently, it's demure and alluring. So I thought, why not?"
PLUM. On the other hand, Filipina-Korean radio and TV personality Grace Lee is blessed with flawless, white skin.
Girls with pale complexions are lucky because they can wear any type of lip color. But more dramatic hues like wine reds, deep berries, and plums—which is what Grace represents—enhance the face.
ADVERTISEMENT - CONTINUE READING BELOW
She shared how she and the others were picked to represent the brand's latest lipstick line: "[I guess] depending on the personalities we project.
"They figured, 'Okay, I think this person fits this shade perfectly.' Mine is Plum. It's supposed to be romantic and very passionate. I guess that's the kind of image I give out there."
Does she consider herself a romantic person?
"Yes, I'm romantic—very romantic. Super. When I'm in love I am... I mean, [like] how all ladies are."
RED. Priscilla Meirelles-Estrada came to the Philippines for the Miss Earth beauty pageant in 2004 and won the crown.
Since then, she has never left the country except for the occasional vacation to her homeland, Brazil and other engagements abroad. Priscilla has also does TV and events jobs either as a host or a guest dance performer.
Now a resident of Metro Manila, her Filipino has much improved and she is happily married to Happy Yipee Yehey host, John Estrada.
ADVERTISEMENT - CONTINUE READING BELOW
"Well, I'm very happy. It's such an honor to be in the presence of these beautiful ladies," she exclaimed.
Priscilla represents the bright coral shade which exudes sexiness and seduction.
"[The color is] called Coral Fantasy, actually. I believe it's my Latin blood— that's why they picked me," she said.
"Red in general is a very alive color. I'm a very alive person, very passionate. Again, it's my Latin blood which is very sexy and it matches my dress [tonight]," referring to the body-hugging and slightly revealing red number she wore to the event.
PINK. Another woman known for her hosting skills is Cesca Litton, who represents the shade of pink.
Her yellow skin tone is perfect for deep pinks.
"My lipstick shade is actually called Wildly Pink. Hindi naman sa wild ako, ha."
"I think it's just the attitude you have, the face you put on in front of everybody. [You] feel positive, happy. I mean, what do you think when you see the color pink, di ba? Happiness lang, no nega."
ADVERTISEMENT - CONTINUE READING BELOW
Aside from her hosting work, Cesca recently made the headlines when she was rumored to be dating actor Jericho Rosales last year. But stories about their "budding romance" have since died down.
Who is making her happy at the moment?
"Everyone [makes me happy.] Alam n'yo naman [ako] ever since, di ba? Always no negative vibes, always happy, always positive."
She tried to evade the question but the press kept egging her to spill the beans. Again, she was asked if there was anyone in particular, a guy she's seeing, perhaps.
Cesca gave a simple, yet meaningful answer, "We shall see."