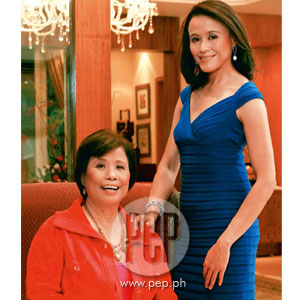 IMAGE 0
---
"I'm a brat!" shrieks the energetic Lily Monteverde when we asked her to describe herself. "I'm krung-krung, but lovable. Hahaha!"
This lioness—she's a Leo, born August 22, 1939—was born to a good life. She was the youngest of the 12 children of former copra king Domingo Yuchu of Marinduque, who sent her to good schools. But the brattiness manifested itself at an early age. She was eight years old when she fell in love, not with patintero or other childhood games, but with the flickering lights of the silver screen.
"During my grade school—I was in Crusaders School sa may Ongpin—tumatakas ako sa eskuwelahan," she recalls, laughing. "I cut classes. Hindi alam ng parents ko. Nanonood ako ng mga pelikula sa Majestic Theater, Republic, Dalisay, saka sa Life."
Those were among the popular moviehouses in downtown Manila from the '50s to the '70s, before the moviehouses migrated to malls.
"I bring my yaya na mataba. I watched mga local films, sina Pugo and Tugo. Meron ding foreign. Basta I love watching movies."
To finance her movie addiction, she pinched her school-bus money.
"'Yong monthly na dapat bayaran sa school bus na every day na sinasakyan ko, mga twelve pesos a month, kinukupit ko. 'Tapos, sasabihin ko sa father ko, nawala. Kaya pinapalo ako."
She continued to cut classes in her high-school days at St. Scholastica's College in Malate, even if it wasn't so easy escaping from the American nuns who ran the school. By then, she was a big fan of the Nida Blanca-Nestor de Villa love team.
"Noong araw, when they have a movie showing, they make personal appearance in the theaters. So, what I did, umaakyat ako sa gate ng school just so I could get their autograph sa sinehan."
She was such a big Nestor de Villa fan that, "when Nestor got married, I got angry," she recalls. "I'm thinking, 'Why didn't you marry me instead?' Hahaha! Alam mo naman ako, ilusyonada."
ADVERTISEMENT - CONTINUE READING BELOW
Her father didn't give up on Lily. For college, he enrolled her at Maryknoll (now Miriam) College, in Loyola Heights, Quezon City. She took up Bachelor of Science in Education, or BSE. "Kasi my father owns a school, e—Uno High School [in Tondo, Manila]. Malakas 'yon noong araw, so I thought I could be a teacher."
But she never finished her course, because she fell in love anew—this time with a basketball player named Leonardo "Remy" Monteverde, from Sariaya, Quezon.
"At that time, he was also playing for the team of my father. 'Yong Yutraco? Parang Crispa noong araw. 'Tapos, dinadala sila sa Southeast Asia. He is good in basketball. Maloloka ka. He was so guwapo. Up to now naman, di ba? So, what I did, I made takas na naman just to watch him sa NCAA [National Collegiate Athletic Association]."
She admits that it was she who pursued Remy, the half-Chinese (but non-Chinesespeaking) captain ball of the San Beda team.
"I courted him," she giggles. "It's true. Siyempre, nagpapa-cute ka, kasi ang daming ibang girls." And by pa-cute, she means? "Bigyan ko ng Chiclets, chewing gum, ganyan. Kalandian ko noong araw."
Soon they were going out on dates. "Pero patakas. I didn't want my father to know. Pag bayaran na, pag kumuha siya ng wallet, kita ko, five pesos sa wallet niya, naawa ako, kasi parang wala siyang pera."
Mother says she fell for Remy because he was a man of few words. "Saka matalino," she smiles. "And I can say now, he's a family man. He's very fatherly. Maano siya sa mga anak namin."
On April 16, 1961, after two years of dating, Lily and Remy got married.
"That's because I learned to behave so he will marry me," Mother Lily laughs. "Baka masulot pa!"
But because Remy was only half-Chinese and, worse, a basketball player who could not add to the family fortune (basketball players weren't paid in the millions back then), Mother Lily's father was opposed to the marriage.
ADVERTISEMENT - CONTINUE READING BELOW
"Ayaw niya! I was almost disowned. I didn't even have a dowry. Wala!"
And she didn't get a single centavo as inheritance when her father died. That didn't stop Lily and Remy from building their own business empire. Remy's father had various businesses of his own, and Remy, one of his father's 16 children by three different women, worked for the copra company.
To help augment her husband's income, Mother Lily decided to work as well, for her father-in-law's MonteMart Department Store on Rizal Avenue, Manila.
Her job? "All-around girl. Secretary, taga-bukas ng pinto, purchaser. At that time, I only received two hundred pesos from my father-in-law for my salary."
She found herself making use of whatever entrepreneurial skills she had inherited from her father.
"Mga four or four-thirty in the afternoon, tumatakas ako. Nagtitinda ako ng blouses sa Zurbaran [near Central Market, Sta. Cruz, Manila]. Let's say I get from the factory ng mga eighty pesos per dozen na blouse, o merong nagsu-supply sa akin, dinadala ko sa Zurbaran. Mga pasi-pasilyo doon, naku, kabisado ko 'yan up to now. I only get five percent of the commission lang. Lahat 'yan, sabay-sabay ko ginawa—chopsuey!"
The extra income she earned was later invested in three popcorn machines. "I put one in Good Earth Emporium in Avenida, another in Cherry Foodarama in Mandaluyong, and one near Podmon Theater in Claro M. Recto. That's how I started."
She earned an average of P30 to P50 a day—and a lot more, P150 to P250 a day, when a romantic movie was showing. "Kasi, pag may mga women's crowd, malakas ang popcorn. From there, ipon-ipon, ipon-ipon."
It was during her popcorn days that her love affair with the movies was renewed.
ENTER REGAL FILMS. When she was young, Lily Monteverde toyed with the idea of being a movie star.
ADVERTISEMENT - CONTINUE READING BELOW
"Movie fan ako, e," she laughs. "Di ba, pag bata ka, mailusyon ka? Gusto maging artista, ganyan? But every day, when I look at the mirror, I'm not qualified. Sabi ko, 'At least naman, I want to touch the movie world."
While engaged in the popcorn trade, she had the idea of investing in movie reissues. Since she didn't have enough money saved, she borrowed money from her brother Jessie, now deceased. From Jessie, she got a loan of P10,000. "Ay, nako, talagang I owe him a lot," she says of her late brother.
With the money, Lily and Remy traveled to New York in the latter part of 1961, stayed at what she calls a zero-star hotel, and went in pursuit of the 1957 tearjerker All Mine to Give, about an immigrant family whose oldest son is forced to give away his siblings when their parents die.
To save on expenses, Lily brought a bottle of Nescafe with her to New York. "Nanghihingi lang ako ng mainit na tubig para i-mix ang kape. Umiinom lang lagi ako ng kape."
Unknown to her husband, she wasn't eating much. "Sa pagmamahal ko sa asawa ko, I always pretend that I'm not hungry. Pero siya, I want him to eat. So, pag breakfast sa hotel, mag-o-order ng isang plate—merong bacon, itlog. So I let him eat. Later, pag wala siya, what is left in the plate, I eat. E, 'yong asawa ko, hindi naman marunong kumain ng mga lettuce—'yong mga garnish? Ay, sayang. Kinakain ko what is left. Iyan, hindi alam ng tao 'yan."
The Monteverdes got All Mine to Give from the New York office of RKO Pictures for 500 U.S. dollars. "At that time, it was only 1.2 pesos to the dollar," Mother Lily recalls. "But of course, if they sent it here, may mga taxes. So, siguro, the cost of that movie was around five thousand pesos."
ADVERTISEMENT - CONTINUE READING BELOW
Back home, another problem cropped up. It turned out that a TV station, what's now GMA-7, had already bought the film's TV rights and was about to show it.
"Si Bob Stewart—oh, my God, I owe him a lot!" Mother Lily exclaims. "He was the president of GMA at that time. I wrote him a letter. Sabi ko, 'Please help me, because I'm just beginning, gano'n-gano'n.' And you know what? He granted. He pulled out. I'm very grateful to him. Without him, wala."
When she released the movie in 1963 under the distribution outfit she called Regal Films, the movie that she had bought for P5,000 earned P500,000 at the box office. With that money, she and her husband flew to the U.S. and Europe to scout for other movies to show in Manila. They got the rights to re-issue Istanbul (1957), Solomon and Sheba (1959), and also some spaghetti westerns.
"Kasi at that time, sikat din mga Italian producers," she says. "'Tapos, ang mga cowboy movies, mura."
In 1974, she was ready to move on to another level—not just buying and selling movies, but making them. That was the year Regal Films went into production with its first-ever movie, Kayod sa Araw, Kayod sa Gabi, directed by Luciano Carlos and starring Elizabeth Oropesa and Gina Pareño.
When she released it two years later, it was a blockbuster hit, grossing P4 million. But while her Regal Films was growing, so was her family. Mother Lily admits she was not an entirely ideal mom.
"Sinasamahan ko naman sila sa eskuwela. Hinahatiran ng pagkain kahit hindi ako nagluto, hahaha! But most of the time, I was working. I try my best. I want to make them happy, I want to make them feel comfortable, but I'm also not perfect."
"But I'm so lucky," she adds. "Kasi, lahat sila, mababait. Lahat ng anak ko."
ADVERTISEMENT - CONTINUE READING BELOW
Regal reached its peak in the '80s with the creation of love teams among teen stars such as Maricel Soriano and William Martinez, Snooky Serna and Albert Martinez, Dina Bonnevie and Jimi Melendez.
"Those were the days talaga," she reminisces. "We were doing 52 movies a year. Sa isang buwan, tatlo, apat, sabay-sabay nagsu-shooting. But, of course, there are ups and downs, di ba?"
The downs, for Regal, included the emergence of Sharon Cuneta over at Viva Films. "Of course, Sharon is Sharon. Siyempre, palagi akong natatalo."
One instance was when Regal's Sister Stella L., starring Vilma Santos, went up at the tills against Viva's Bukas Luluhod ang mga Tala, starring Sharon Cuneta, and got a beating.
Still, Mother had other aces up her sleeve, such as Maricel Soriano, the TVJ team (Tito Sotto, Vic Sotto,Joey de Leon) and, later, Kris Aquino.
By the 1990s, Mother Lily felt that the movie industry was slowly losing its edge. "Pero siyempre, I still keep doing movies. Nagtitiis ka na lang. Because this is my passion, e. Minsan, may awa ang Diyos. Pag kailangan ng pera, may dumadating. Ako kasi, even if si Father is very supportive, I never ask for a single cent from him. Hindi ko ginagalaw ang investment niya. Gumagawa lang ako ng paraan. Alam mo naman, matapang ako, e."
When she thinks about it now, her husband's contribution in all these years was keeping her sane and giving her quiet comfort.
"Without him, I will not be what I am today naman," she says of her husband of 48 years. "Siya, he is a very quiet guy, who just lets me do everything, what I want. Those na mga ayaw niya, he will just tell me na dahan-dahan lang, without raising his voice."
"But in the beginning, when we were just starting, pag mali ang diskarte ko, he will say: 'O, gastos na naman? Where will you get the money?' But then, you know, that's past."
ADVERTISEMENT - CONTINUE READING BELOW
Was Father Remy ever jealous of her work and achievements?
"Hindi ko alam. Baka deep in him, meron. Hindi mo masasabi. Lalaki 'yan, ha. But he allows me to do my thing."
So far, Roselle says, Mother Lily has already produced over a thousand films. Mother gets teary-eyed when talking about her life as producer.
"In a business like this, you have to have a lot of sacrifices. But now, I don't want to call them sacrifices. They're part of life, a journey where you go through all these ups and downs. Siyempre, these are tears of joy. Now that I'm getting older, the more I focus on life, family, friends."
She is reminded of her friend, the late star builder Douglas Quijano, with whom she worked closely in the early days of Regal Films.
"Nakita ko, ang dami nagmamahal sa kanya. I'm aware I should also be nice, di ba? If I will not be loving people, I don't think people will love us. At my age, konti-konti na-realize ko 'yan. Kasi noong araw, di ba, medyo blinded ka sa mga ibang bagay. Pag gusto mo, gusto mo. Pag nagalit ka, galit ka. Gano'n-gano'n. But now, I can feel na I have to be patient. Pero hindi pa din. Kulang pa rin. It's still not perfect yet."
PASSING THE TORCH. Mother Lily Monteverde's Regal Films provided the ambiance in which Roselle Monteverde and her six siblings grew up.
"Mga eleven or twelve years old siguro ako noon when I remember my mom doing all those bold movies," Roselle recalls, laughing. "Of course, we were not allowed to watch. Later, nandiyan na 'yong mga teen stars, sina Snooky, Maricel, William. So, 'yon, puwede kami doon."
Because her mom established her office at home, Roselle and her siblings grew up knowing everyone in showbiz and witnessing how things were done.
ADVERTISEMENT - CONTINUE READING BELOW
"Nakaka-witness kami ng shooting kapag ang shooting nasa house namin," Roselle says. "And si Mommy, sa bahay din naman nagko-conduct ng mga meetings, while kami, right after school, nandoon din, nagpapa-tutor. Kaya doon namin nakikita."
In Roselle's mind, her mother was not remiss in her maternal duties at all, despite what Mother Lily herself says.
"Hindi ko naman na-feel 'yon when I was growing up. Maybe she felt lang talaga na she didn't have time for us. Siya lang ang nagi-guilty diyan. Maasikaso naman siya. Hindi naman kami nagutom. She made sure na may food kami always at saka 'yong grades namin are okay, although may tutor nga kami. It's just that sa morning hindi na namin siya nakikita, kasi busy na siya."
Roselle even recalls times when her mom would visit the kids in their rooms to make sure they were doing fine. "Saka nag-a-attend siya ng PTA [Parents-Teachers Association]. Active siya sa school namin at ma-PR siya doon."
But Roselle concedes that her mom is not the touchy-feely, malambing type of mom.
"Matapang siya. Saka strict, especially noong elementary pa kami. Saka kuripot," she adds, laughing. "Hihingi ka lang ng pera, 'Wala!' O, marami munang sermon bago iabot. At saka kung ano lang ang allowance mo, 'yon lang."
After her first year of college at St. Scholastica's in Manila, Roselle decided to continue her studies abroad. She and her elder sister Meme had always been adventurous, traveling to other countries by themselves even when they were still teenagers. Meme was 20 when she moved out of the family home to live on her own.
"Because a lot of my friends, doon sa Amerika na din nag-aaral, doon na rin ako. Parang feeling ko, dapat, it's nothing hard for me to do din."
Roselle enrolled at the University of San Francisco in California and took up Decision Science, which she describes as "parang combination ng business course with computer course."
ADVERTISEMENT - CONTINUE READING BELOW
Like her mother, she also practiced her entrepreneurial skills while living solo and studying in San Francisco.
"I became a promoter-producer of concerts there. My first was 'yong kay Gary V. noong 1987. Then, Apo Hiking Society."
Roselle financed these business ventures with money she had saved up since high school.
"High school pa lang, meron na akong time deposit na parang double your money? Nagawa ko 'yon. Na-double ko 'yong money from my allowance. Ever since kasi, mahilig akong mag-business. You put me into any business, okey sa akin. In fact, noong high school ako—I went to high school in St. Jude's College [in Manila]—nagbebenta ako ng mga handicraft necklace. Binibili ko sa supplier, 'tapos 'binibenta ko."
After finishing college, Roselle did not come home to Manila immediately. To gain experience, she worked for two American companies, which she doesn't want named.
"I worked sa isang clothing company na malaki, sa accounting side ako—cost accounting, which is parang the analytical part of accounting. And then, sa isang finance company. I learned from that. Kaya marunong akong makipag-deal now with employees, and self-motivation, because I've been there and I know how it is."
That's the same principle, she says, that she wants her kids Keith and Bridget to adhere to.
"I'm not going to force them to take part in the family business," she says. "But if they want, why not? But I want them to experience working outside para alam nila 'yong how it's going to be run. Para they know how to be an employee also and not just be the boss right away."
Roselle eventually managed the Regal video distribution company in San Francisco. It was in San Francisco that she married her boyfriend, Singaporean businessman Jeffrey Teo, and gave birth to two kids. She didn't realize that 21 years had passed since she left the Philippines when she got a call from her mom in the late '90s.
ADVERTISEMENT - CONTINUE READING BELOW
"Si Mother asked me to come back. Ano daw ginagawa ko sa Amerika? And feeling ko, I was ready na rin naman to do business—any business—in Manila. Kasi ako, kahit saan puwede mo akong ilagay, e. I'm passionate about work talaga. Not necessarily sa films lang but other things also."
She then made arrangements with her husband and came back to Manila with her daughter Bridget.
"Ang arrangement namin is half-half. Punta ako doon, punta siya dito. Ganoon. And it's been like that for how many years na. My son naman was high-school graduate na when I left."
Once in Manila, Roselle found herself gravitating to the family enterprise, just like two of her siblings, Meme (who produced the TV cult classics Palibhasa Lalake and Regal Shockers) and Dondon.
"Si Meme, mahilig pa rin siya sa TV. Kilala pa rin siya ng mga artista. But she can't handle the business, kasi sa Dagupan na siya naka-base. Nag-relocate na siya. And since ako naman ang nag-relocate dito, ako na."
"Si Dondon naman, nagsubok-subok din [sa film producing], but he's more concentrated on pag-produce ng commercials. He's running our production house and studio, and produces commercials."
Her siblings do not mind at all if it's Roselle who's at the helm of the film outfit now. "Saka ako, hindi ko rin naman kasi ipinagyayabang na, 'O, ako na,'" she explains. But of course, Roselle consults everyone in the family, her mother especially, when there are major decisions to be made.
"Project-wise, they give suggestions. And I'm open to that also. Pero 'yong daily operations and how it's done, hindi na sila masyadong nakikialam."
Roselle says even her father, who used to produce the Lito Lapid action series in the late '70s, is always welcome to say his piece. "Alam mo, up-to-date 'yan," she says of her dad. "He's just shy, but if you talk to him, you'd be surprised, marami rin siyang masasabi."
ADVERTISEMENT - CONTINUE READING BELOW
The passing of the torch has been gradual—almost unnoticeable, in fact—because Mother still takes part in a lot of transactions. But slowly, Mother has been loosening her grip on her movie-making machine.
"Parang pinabayaan na rin niya sa akin," Roselle says. "Every day, I tell her what's going on. As far as finance is concerned, I still have to consult her. She's like my auditor, e. She advises. And I listen talaga. I'm a good student. If I did something wrong now, expect it in the future I won't do it again. Kasi ma-analytical ako, e. We discuss. Hindi kami nag-aaway. Sometimes it's hard. But at the end of the day, she's still my mom. Tinatanong pa rin niya ako, 'O, kumain ka na ba?' Tipong gano'n."
These days, Mother Lily's energies are being diverted to her rekindled love affair with real estate. "Kagaya kahapon," says Roselle, "galing na naman pala siya sa Batangas." There, Mother bought a piece of property that she plans to develop into a low-cost resort community. "Parang diyan siya mas excited ngayon," Roselle notes.
For her part, Roselle is now in charge of providing work for Regal's 40-plus contract stars, signing up new ones, reading scripts or conceptualizing stories, sitting in production meetings at lunch and at the editing table by night, while leading her group in her effort to archive all of Regal's 1,000-plus films, and more. But she isn't complaining. After all, she has already fallen in love with movie-making. And she has so many things in mind for Regal's future.
"I shouldn't stop here. I want Regal to be more of multimedia talaga. Kasi marami kang puwedeng gawin, especially now. It's happening na through Internet and mobiles."
Roselle says she can't help but be proud of what Regal has become through the years.
ADVERTISEMENT - CONTINUE READING BELOW
"There's a sense of accomplishment siyempre, di ba? Marami ring nagawang pelikula si Mother, different types of movies. Regal and Mother, they're part ng culture in many ways talaga. Kaya kami, we're generous about our movies, e. Pag may humihiram, we give it, especially if it's for a cause. Hindi na namin pinapabayad.
"Like, example, sa movie about battered women [such as Ikalabing-Isang Utos: Mahalin Mo, Asawa Mo, 1991, starring Gabby Concepcion and Aiko Melendez; Sagad sa Init, 1998, starring Jomari Yllana and Ara Mina; and Tuhog, 2001, starring Ina Raymundo and Klaudia Koronel]—if they want to show this movie do'n sa isang organization for battered women to have an inspiration, we can share with them."
So far, Roselle is happy with her own accomplishments at Regal. But she admits that there's one area of show business her mom has mastered and that she still has to learn.
"She has better PR," Roselle laughs. "I'm still working on it!"