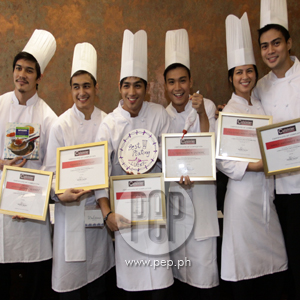 IMAGE 0
---
Showbiz personalities Luis Alandy, Lara Quigaman, Marco Alcaraz, Rainier Castillo, Edgar Allan Guzman, and Lucky Mercado became instant chefs after finishing a six-day culinary program on July 4, under Chef Mafe Seva, an instructor at the Center for Culinary Arts (CCA).
A simple graduation ceremony, hosted by TV5's Mr. Fu and Shalala, was held at the Cuisinier Brasserie restaurant on Timog Ave., Quezon City. The two hosts also joined the culinary program, which they never got to finish due to conflicts with their respective schedules.
The occasion showcased the newfound talent of the six graduates in the kitchen. They prepared, cooked, and served a three-course meal for a bunch of showbiz press that were invited.
Included in the menu were mushroom soup, fish Normandy with mussels and shrimp served with rice pilaf, and a mouthwatering chocolate trio dessert.
"I had a lot of fun working with these celebrities," says Chef Mafe, who has guided them through all eight course modules.
Within six days, the stars had to learn the basics of kitchen aide and techniques, short-time preparations for appetizers, main course, dessert training, art of service, and the culinary repertoire.
Mafe added, "Despite their busy schedules, they have shown genuine interest and enviable commitment to learn new things and excel. They have shown real improvement in their culinary skills."
Luis, star of the upcoming GMA 7 fantasy series Iglot, was named best friturier for his exceptional deep-frying skills. As a reawrd, he received a cookbook on spices.
Marco got a fillet knife for being the "nastiest fillet man." He was also named the best entremetier for making the best beef medallion entrée among the batch.
Meanwhile, Marco's fiancée Lara won the most organized and best legumier (vegetable cook) awards. Her prize: a cookbook on herbs.
Rainier got a fish scaler for bagging the best fish monger award. He was also called the "turtle man" for being the slowest cook among his batchmates.
ADVERTISEMENT - CONTINUE READING BELOW
Edgar Allan, on the other hand, was given two contrasting awards. He was called the nastiest potager for creating the worst-tasting soup among the group. According to the chef, his first soup tasted like water.
But he was also hailed as best potato masher for creating an almost perfect mashed potato recipe. He got a piping bag, which he could use when serving mashed potato.
Lastly, Lucky won best in plating and the Mr. Rowdy award for being the naughtiest student.
All graduates were awarded with a certificate of completion by talent manager Noel Ferrer. Except for Lara who joined the program for the love of Marco and her passion for cooking, the guys are all wards of the PEP blogger.
Proud of their latest achievement, some of them, particularly Lara and Marco, are actually considering putting up a restaurant/food business.
Noel also revealed that his talents will soon undergo a disaster preparedness and management course from the Philippine Red Cross.