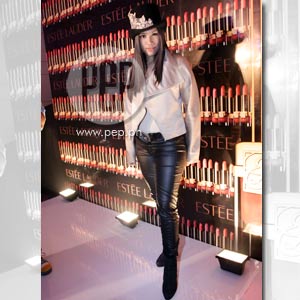 IMAGE 0
---
To stand out is something quite effortless for Isabella Gonzales.
While most ladies are into dainty dresses and girly accessories, she sets herself apart by putting "a little bit of update" into her clothes "every now and then."
She grew up loving the style of Hollywood icon Audrey Hepburn, "but as a rock star," she quips. "That's my look now."
At the launch of Estee Lauder's Pure Color Collection, she dons a fashionably funky garb. "This is Tyler," she says pertaining to her beige coat. Her inside-shirt is from Banana Republic, while her pair of boots is from Zara. The leather pants are from Thailand.
"I just love the 70's look, and I also like Bianca Jagger [a Nicaraguan-born actress and fashion icon in '80s]," the daughter of Kuh Ledesma exclaims.
And the highlight of her style: Top Hat!
"I made it," she beams. The embellishment came from a "fabric sold by my mom."
She relates, "That's my way to express myself. It's a hobby of mine. I love hats ever since I was a kid. My first, like, favorite hat was the hat that my lola gave me.
"It was a baseball hat, and then she put the word 'Izzy,' my nickname.
"And then, I love that hat I gave away to someone during a show in the countryside...
"The Fedora hat that they used for the Diva 4 Divas poster? They're mine."
At present, she doesn't have plans of turning her hobby into a business venture. "It's something too personal for me," she says.
RULES IN FASHION. The topic returns to her style.
"Simple," she say, is the first must-do when choosing an outfit. Her advice: "Don't over conceptualize."
When she's in a hurry or she doesn't want to spend much time planning her wardrobe, she sticks to the basics.
ADVERTISEMENT - CONTINUE READING BELOW
And when she's not sure about her choice, "Do ask your mom advice 'cause second opinion and third opinion are always the best.
"They say that people benefit from having many counselors, from getting lots of advice."
Next, "Don't try too hard."
She says one can go overboard if it's just her way of expressing herself. "If you just so happen to love lots and lots of accessories and everything, go ahead wear them."
Lastly, "Be true to yourself."
With those words to live by, it's not hard to spot Isabella in a roomful of fashionistas. Her hat alone is attention-grabbing, and her "This is me!" attitude stands out.