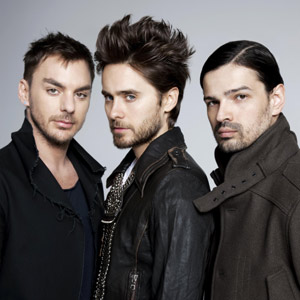 IMAGE 0
---
This July 29, Futuretainment and MMI will be bringing a world-class American rock band called Thirty Seconds to Mars.
Hollywood actor Jared Leto is the band's vocalist while his older brother Shannon is the drummer. Tomo Miličević is the band's lead guitarist-bassist-keyboardist.
Says Marvin Agustin, the producer, "Thirty Seconds to Mars's 'Closer to the Edge' song and music video is my favorite now. Listen to their songs and watch their videos then you'll never doubt why they are called one of the best rock bands today."
Catch the band and their epic one-night concert on July 29, Friday, at the Trinoma Open Parking.
Thirty Seconds to Mars Live in Manila is brought to you by Music Management International (MMI) and Futuretainment.
GOLD (Php4,212) and SILVER (Php2,025) tickets are available at TicketWorld 891.9999 and SM Tickets 470.2222.
ABOUT THE PRODUCERS. Marvin Agustin and his partners are thankful for the success of Miley Cyrus' concert in Manila, her only stop in Asia.
The international pop star's concert is deemed to be the country's first big concert for the second half of 2011. It also happens to be Marvin and his team's biggest concert to date.
Thirty thousand Filipino and Asian fans partied and sang along with the girl who made us fall in love with Hannah Montana.
Less than half a year since his break as a concert producer, Marvin and his company Futuretainment Inc., with the help of Rhiza Pascua's MMI, has been conquering the local entertainment industry with excellent music and outstanding concert experiences.
The actor's venture broke records as he has produced three consecutive successful concerts in three months!
First was nationwide hit two night-concerts with Grammy Award winner and Filipino-American Bruno Mars last April 7. More than just having an enchanting evening with Bruno Mars' music, 20,000 enthusiasts are now anticipating their favorite artist's return concert.
ADVERTISEMENT - CONTINUE READING BELOW
The young music superstar promised his Filipino fans that he will be serenading more people very soon.
Filipinos then again experienced a different level of anticipation with the second visit of yet another Grammy Award winning band: Maroon 5.
The band which was deemed most talented and influential did not disappoint.
The evening of May 23 was oozing with hotness as the band continued to mesmerize with their live performances. Fans remained standing as they jammed with their favorite songs such as 'She will be loved' and 'If I Never See Your Face Again.' Frontman Adam Levine and the rest of the band owned not just the stage but the entire concert hall filled with 12,000 people.
"Futuretainment will continue to bring Filipinos happiness with the concerts we produce. I experience a different sense of fulfillment whenever we are thanked for bringing most talented and loved artists here in the country!" says Marvin.
For inquiries, call Futuretainment at 577.3265 • 586.7275. For updates, follow @futureupdate on Twitter.