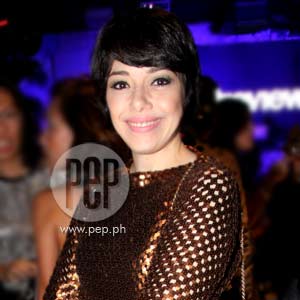 IMAGE 0
---
Single parenting is a daunting task—especially for a widow left with eight children to look after.
After she lost her husband—master rapper Francis Magalona—to cancer in 2009, Pia Arroyo-Magalona did her best to cope and raise the kids by herself.
Pia says she and Francis have always been "cool parents," meaning they treated their kids like barkada and would often hang out together.
And contrary to the popular belief that "cool" parents end up spoiling the kids, Pia is a disciplinarian.
"I am very strict, that's why nga I'm cool," she says.
"I'm cool because I'm open. I speak my mind. But I'm very conscious about not offending anyone."
Pia says she teaches her kids respect by example. She treats them like adults, and in turn, her kids treat adults with courtesy and respect.
"I also tutok them about their manners.
"Really, it's more about [building] their character, how they treat other people and making good friends.
"Other than that, the everyday nitty-gritties, I don't make pakialam to that."
FREE TO EXPLORE. Pia and Francis also gave their children freedom to explore their talents and ideas.
They did not dictate to their kids, they guided them.
A thin line separates being friends with your kids and being their parent, Pia says. You maintain this line by setting rules.
"Yeah, we have rules. The rules were set when they were young.
"They should [obey but] not follow [rules] blindly," she says.
Another important lesson Pia taught her kids is how to remain humble despite the family's celebrity status.
Long before her kids Maxene, Saab, Elmo and Arkin entered showbiz, she was already reminding her brood not to "have an attitude."
They should also think about other people, not just themselves.
"So I really tell them off when they're being shallow because it's for their own good.
ADVERTISEMENT - CONTINUE READING BELOW
"I always tell them, 'I'm gonna be me and you're gonna be you, and the best thing I can do for you is raise you well.' So that's it."
Pia says she is proud her kids are in show business, just like their dad Francis and grandparents Pancho Magalona and Tita Duran, who were matinee idols in the '50s.
"I'm proud because they deserve to be in showbiz," she says.
"They grew up in the entertainment business. They're very aware. We didn't hide anything.
"Si France [Francis] had a different upbringing.
"His parents were actors, but they kept it from their children. That's why, out of nine kids, Francis was the only one who became an actor."
Pia says even though some of her kids are already celebrities, she reminds them of the importance of family values.
"I tell them, 'You should use your celebrity [status] for the good.'
"I don't like them to be shallow. I don't like them to be frivolous."
More than anything else, Pia wants her children to learn the value of hard work.
"I think it's a good experience for them to be in the business. Some people think it's all about glamour, but it's actually a tough job. It entails [a lot of sacrifice] and you have to give up your privacy.
STAYING CONNECTED. Now that the kids are older, it's hard to keep the family together. But Pia uses Twitter to stay connected with her children even if they're in different places.
Right now, Pia lives with Elmo (17), Arkin (11), and Clara (10).
Her eldest, Unna (28) lives with her husband Brian Lu and their three children.
Nicolo (26), Maxene (24), Frank Jr. (23) and Saab (22) are all living independently.
"We still try to be together on Sundays, of course. But Elmo has his noontime show on Sunday, so after that [we meet].
ADVERTISEMENT - CONTINUE READING BELOW
"We changed our [schedule]. We go to church in the afternoon or evening, when he's available, so we can still do things together."
Pia also notes the importance of keeping the age-old Filipino tradition of having meals together.
She says, "We were raised to be together during meals; it doesn't have to be a special occasion."
The Magalonas love dining out. Although Pia cooks at home from time to time, she says they enjoy going out because they have more time to talk and bond.
"We're like 'Hey, you wanna go try this?' Most of our activities center on food. You eat and open up to each other. You talk about things, everyday things."