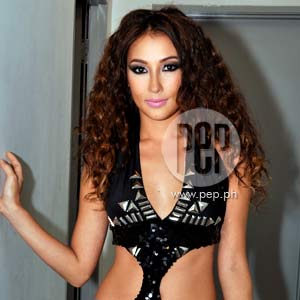 IMAGE 0
---
Fashion is her passion. This is what Solenn Heussaff would love to tell people who ask her anything related to fashion.
She has always been into anything related to art, even before she entered showbiz.
The half-French, model-actress took up fashion design in Paris for four years, then later took a short course in cosmetology and prosthetics. She fell in love with painting, too.
In an interview with PEP.ph (Philippine Entertainment Portal) last Sunday, July 24, while getting ready for Showbiz Central, Solenn shared some of her insights on fashion.
HER STYLE. Just like other celebrities who grew up abroad, Solenn has particular preferences when it comes to clothes.
She reveals that the clothes she wears for her shows, like the ones she used for Party Pilipinas and Showbiz Central, are her personal clothes.
Not one to dress conservatively, Solenn goes for comfy clothes: loose tops, shorts, and a pair of sexy heels.
"I really like to be very comfortable," she enthuses. "(I like) loose tops and pants.
"Kahit I go out at night, oversized T-shirt, tapos high heels and pants."
But now that she's in showbiz, she needs to be extra careful with what she wears.
"Now I need to be presentable at all times, just in case, so I always have an extra pair of heels in my car.
"(I wear) something tight or short, and then something really chill on top."
Being a designer herself, some of the clothes she wears are her personal designs. She would sketch it, give details and have it done.
FRENCH FASHION SHOW. Just this July, Solenn has been busy in sketching designs for a French event here in our country.
What transpired during that event?
"Yes, it went well!" she exclaimed.
"We have a fashion show, a fusion of Filipino and French, so I have eight outfits there that I designed.
ADVERTISEMENT - CONTINUE READING BELOW
"Sabi ko, it's been a long time since I designed, sobrang tagal na dahil sa trabaho."
In her interview before with Nelson Canlas in the "Chika Minute" segment of 24 Oras, Solenn said that it has been hard working on the designs for the show.
She was used to doing on her own, the details for her designs. For this event, she had to work with several people.
"It was harder to work this time," she said.
"Kasi dati, like I'm the one doing the samples, the beading, yung lahat.
"Pero ngayon, since I'm working, while taping for Captain Barbell, if I have to wait for two hours, I'll just sketch, sketch and send it to the office.
"She sends me back the corrections, I send back with technical sketches, so it's been parang back and forth."
Having a background as a fashion designer, and stylist as well, how would she style a typical Filipina?
"I noticed, no matter how hot it is they're always wearing jeans," she remarked.
"A Filipino, they wear jeans and polo shirt, girls or boys.
"Like when you go to the MRT, ninety percent of the people are wearing that.
"So, I'll probably give them, shorts and a loose top."
Now that her showbiz career is doing well, Solenn is enjoying her moment.
Yet when everything's over, she knows where to go—back to the world of fashion.
"I'm enjoying right now. Pero I know it won't last forever.
"So when I'm done with showbiz, I'll probably be going there (fashion)."