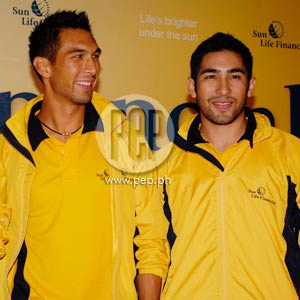 IMAGE 0
---
"An uphill battle."
That's how Armand del Rosario, who used to be an active member of the national team, puts the chance of the Azkals making it to the Federation Internationale Football Association (FIFA) World Cup in 2014.
Filipinos should take it from Armand and his brother Anton del Rosario, who have seen the rise of the sport from when it had little or no support at all from the country.
Before rocketing to national fame by its historic 2-0 win over Taiwan in the quarterfinal leg of the ASEAN Football Federation Suzuki Cup in late 2010, most Filipinos were oblivious of the Azkals.
Football back then was dead if compared to basketball and boxing.
Last Sunday (July 24) witnessed the defeat of the national team from the Al Azraq Kuwait. Suffering a 3-0 deficit, the Azkals must make a huge comeback by scoring at least four goals in its second leg match slated on Thursday (July 28).
Win or lose, Filipinos should be reminded that Philippine football is undergoing a process.
"A lot of people don't understand that there are several steps to get there," says the 29-year-old Anton who currently plays centerback for team Azkals.
"So, what it is right now, getting past our first game against Sri Lanka was a big step. It's the first time in history that we've actually made it past the first round in the World Cup. And that was just a baby step."
"If we just beat Kuwait, it opens a whole new door to different levels of soccer."
At press time, the FIFA ranking of Kuwait's national football team is 102.
The Del Rosario brothers are nonetheless happy with the recent happenings in football, or "soccer" to both men who grew up in the United States.
"It's... the best team we've played in the history of the Philippine football," says Anton.
ADVERTISEMENT - CONTINUE READING BELOW
"I'm not going out there saying that we're gonna be beat. It's always nice going in as an underdog 'cause you know the pressure's really on you, the expectations are really on you. And we play a lot better when we don't have our backs to the wall.
"So now, I mean, it opens up anything. And for football, anything can happen."
PRE-ROCKSTAR STATUS. Much happened five-or-so years back, before the Azkals achieved rockstar status.
Asked what changes the national team has gone through, Armand relayed, "For me... from what I see now, 'cause I've always been there also from the beginning to now, when I started playing, you were supposed to get allowance for maybe five thousand pesos a month. It never came.
"We were really playing for the love of country, for the love of the sport, for our teammates. Now you have a manager like Dan Palami that comes in and really supports football. You've got other companies that are coming in supporting football and guys are being flown from Europe to here so that's the biggest change."
Not only has the team recently received financial backing but, as well, "fandom" and support from the Filipino people.
How exactly did this change transpire?
Anton, who played his first game for the national team in a 2004 match against Myanmar, recounted how the Filipino-British players came to be a part of the Azkals.
"Actually we found them in England in 2005. One of the players found them and they ended up coming out here, trying out for the team, making the team, and then they've been with us ever since and they liked it so much that they went back here [sometime] 2007, 2008. They've been here a while."
Anton also added team manager Dan Palami's efforts for the Azkals.
"Dan Palami came in 2009. He was just a football lover."
ADVERTISEMENT - CONTINUE READING BELOW
"There wasn't really anything going on in football in the country in 2009. And he came out of nowhere, picked up, paid for everything out of his own pocket, supported the team, and then... boom! We ended up doing well, being successful in the Suzuki Cup which led to what football is now."
Anton wants to think of it as Philippine football's "Cinderella story"
He jokingly says, "I guess Dan Palami's our little fairy."
ARMAND'S INJURY. Two years ago, Armand played midfield. Unfortunately, a car accident damaged his knee tendons, forcing him to go on early retirement from the field, but not from the sport.
"I'm done. I'm not playing on the national team. After my knee operation, I'm too slow. There's no way I could get back," he says.
Although it would have been ideal for Armand if the Azkals' recent success happened two years ago, "it's [still] all good" for him. He is happy anyway for what the team has achieved.
He now manages the Kaya Futbol Club, a football association responsible for pioneering the United Football League (UFL), a semi-professional football tournament in the country.
Asked if such accidents or injuries affect his younger brother, Anton replies, "No. I mean, that's the way you get hurt."
"If you get scared, if you're scared of getting hurt, you can get hurt, you know? That's athlete's mentality."
"You can't go playing thinking you're gonna get hurt. You always wanna play. Focus."
"If you lose focus, that's when you get hurt."
Armand adds, "Exactly. So if I'm playing and I know it's gonna hurt, there's no way I will be able to compete with U.K. No way."
CELEBRITY ATHLETES. Being recently launched as the new faces of Sun Life—together with Bam Aquino, Pia Magalona, and Piolo Pascual—the Del Rosario brothers are now official athlete-endorsers alongside their teammates, Phil and James Younghusband.
ADVERTISEMENT - CONTINUE READING BELOW
Asked what their thoughts are on the entertainment business and the notorious intrigues that might come with it, Anton says, "Showbiz is showbiz. We're athletes."
"We can do endorsements here and there, but then it's not what we're working towards. We're focused on being athletes.
Armand likewise adds that sharing in the limelight will guarantee people "who will try to pull you down in one way or another, be it in the U.S., be it here."
"It's part of being a celebrity," he says.
"Inevitably something's gonna come out or something's gonna happen. We're just gonna have to be managed properly."
Armand acknowledges that people look up to his brother Anton, especially now that playing for the Azkals entails the responsibility of role modeling. "He's now an icon... He's definitely gonna be that icon for the younger generation."