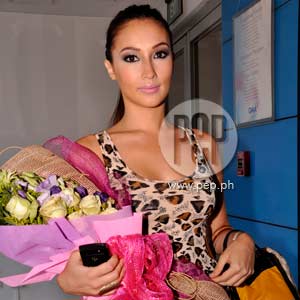 IMAGE 0
---
Solenn Heussaff is at the top of her game juggling modeling, fashion design, painting, acting, and even singing.
Everyone dreams of being in her shoes, but would they still want to if they knew what her typical work day was like?
PEP.ph (Philippine Entertainment Portal) accompanied Solenn one Sunday and found out this is one busy lady.
PRODUCTION NUMBER. On Sunday, Solenn is a regular on the noontime variety show, Party Pilipinas.
She's awake by seven and has breakfast.
Unlike other celebrities, she's not really into working out. "I'd rather catch up on my sleep," she says.
But when she has time, she does Bikram yoga, she runs and swims.
After breakfast, she gets ready to leave and arrives at the GMA Network studio by 10 a.m.
This particular Sunday is special as she is celebrating her birthday on the show. Later, she's scheduled to promote her first album.
She heads straight to the studio and does a run-through of her first number.
At 10:30 a.m., her makeup artist, Paolo Maranan, and hair stylist, John Valle, arrive and start prepping Solenn for the show.
Paolo says Solenn books her own hair and makeup people. She meets with them ahead of time to discuss the look she wants for a show.
Rehearsals over, outfit chosen, hair and makeup done, she's ready to go live at 1:00 p.m.
Family members and friends drop by the studio to lend support and watch Solenn perform.
And after a few numbers, she's off to her next appointment.
INTERVIEW. Solenn has been invited to the "Correct or Reject" portion of Showbiz Central.
Paolo and John touch up her hair and makeup.
Her hair in a pony tail, she wears a body-hugging, mini dress with animal prints.
Solenn says when she's invited to guest in a show, she brings her own outfits. She designs some of her clothes which she sends to a tailor.
ADVERTISEMENT - CONTINUE READING BELOW
Before heading to the other studio, she meets with her manager, Leo Dominguez.
She goes to the pantry where she finds cupcakes sent by her sponsors. She snaps a picture of the pastries and uploads them on Twitter.
She arrives at the studio, has a late lunch, and gets ready for her interview.
Her interview is aired at 5:00 p.m. Her siblings and friends wish her a "Happy Birthday."
Birthday greetings over, three VTRs start rolling. Family members and friends reveal some trivia about Solenn. Her job is either to confirm or deny the information.
AUTOGRAPH SIGNING. At 5:30 p.m. Solenn hies off to SM Mall of Asia to promote her new album and to sign autographs.
When she arrives at the Astrovision record bar, there is a long line of people waiting for her to sign her CD and poster.
Some have brought with them past issues of Preview and FHM magazines with Solenn on the cover. Those needed to be autographed as well.
A crowd has formed outside the store; some take pictures of Solenn with their cellphones. Others are happy just to catch a glimpse of her.
Autograph-signing over, Solenn decides to do some shopping for her family.
She has one more appointment in her schedule—the Captain Barbell wrap party. In the series, Solenn played the role of Janna Esquive, a reporter.
She has dinner with her family before going to the party.
Her family is only too happy to spend time with her, especially since she has brought them some goodies. After dinner, Solenn heads off to the Captain Barbell farewell party.
And that's a typical work day for Solenn Heussaff.
With a positive outlook and proper time management, she can accomplish a lot and still squeeze in some time for family and friends.