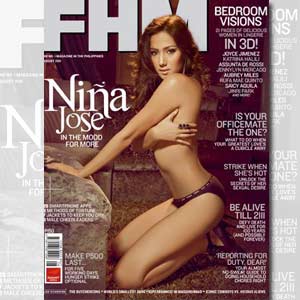 IMAGE 0
---
When Niña Jose first shared the cover of FHM with Hazel Ann Mendoza back in March 2008, she made it impossible not to want more of her.
She returns to the cover this August, making temperatures rise with a sexier and more daring photo shoot.
A more confident Niña faces the cameras, and there is no trace of the girl that once battled anorexia.
She tells FHM, "I think I've accepted myself already and I'm happy with who I am."
Her pictorial shows just how comfortable she is with her body, as she says, "There's one back shot with nothing on and I'm comfortable with that. I can do more, as long as I don't show any private parts."
Still, Niña's FHM photo shoot did not ensue without parental authority.
"My mom says I'm naïve, na wala pa talaga akong alam. [But] they said that I can do whatever I want when I reach 25," she tells FHM, "That's three more years!"
See more of Niña in the August issue of FHM, which also features a 3-D Lingerie Special. Put on those 3-D glasses and see classic FHM babes like Joyce Jimenez, Assunta de Rossi, Maureen Larazabal, and Francine Prieto like you've never seen them before!
SHARE THIS STORY whatever I want when I reach 25..."" data-url="https://www.pep.ph/lifestyle/25341/nia-jose-i-can-do-whatever-i-want-when-i-reach-25" data-desc="The Pinoy Big Brother teen alumna sizzles in her second FHM cover." data-image="https://contents.pep.ph/images2/writeups/eb5fdcb89.jpg"> whatever I want when I reach 25..."" data-url="https://www.pep.ph/lifestyle/25341/nia-jose-i-can-do-whatever-i-want-when-i-reach-25" data-desc="The Pinoy Big Brother teen alumna sizzles in her second FHM cover." data-image="https://contents.pep.ph/images2/writeups/eb5fdcb89.jpg"> whatever I want when I reach 25..."" data-url="https://www.pep.ph/lifestyle/25341/nia-jose-i-can-do-whatever-i-want-when-i-reach-25" data-desc="The Pinoy Big Brother teen alumna sizzles in her second FHM cover." data-image="https://contents.pep.ph/images2/writeups/eb5fdcb89.jpg">
SHARE THIS STORY
whatever I want when I reach 25..."" data-url="https://www.pep.ph/lifestyle/25341/nia-jose-i-can-do-whatever-i-want-when-i-reach-25" data-desc="The Pinoy Big Brother teen alumna sizzles in her second FHM cover." data-image="https://contents.pep.ph/images2/writeups/eb5fdcb89.jpg"> whatever I want when I reach 25..."" data-url="https://www.pep.ph/lifestyle/25341/nia-jose-i-can-do-whatever-i-want-when-i-reach-25" data-desc="The Pinoy Big Brother teen alumna sizzles in her second FHM cover." data-image="https://contents.pep.ph/images2/writeups/eb5fdcb89.jpg"> whatever I want when I reach 25..."" data-url="https://www.pep.ph/lifestyle/25341/nia-jose-i-can-do-whatever-i-want-when-i-reach-25" data-desc="The Pinoy Big Brother teen alumna sizzles in her second FHM cover." data-image="https://contents.pep.ph/images2/writeups/eb5fdcb89.jpg"> whatever I want when I reach 25..."" data-url="https://www.pep.ph/lifestyle/25341/nia-jose-i-can-do-whatever-i-want-when-i-reach-25" data-desc="The Pinoy Big Brother teen alumna sizzles in her second FHM cover." data-image="https://contents.pep.ph/images2/writeups/eb5fdcb89.jpg">