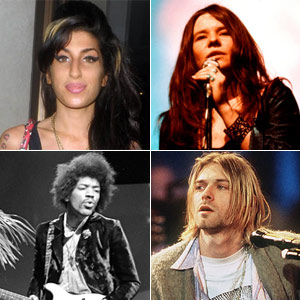 IMAGE 0
---
Music legends come and go.
While a lifetime can witness a cornucopia of musicians, there are those whose talent and craft make them stand out from the bunch.
We call them prodigies, rock stars, or divas, depending on their prowess, be it on bass or the power of their vocals. We call them legends because they become icons of a decade or definitive of a generation.
They do not just make music. They create music that can revolutionize the current scene (i.e. The Beatles) or represent an ideology (i.e. Bob Marley).
Remarkable and stellar however their lives may be, they are not immortals. They rise and fall, they come and go. Nonetheless, their songs remain.
Less than three weeks ago, the music industry mourned the death of jazz and blues singer with the fragile frame and signature jet black beehive hairdo.
Amy Winehouse's affair with alcohol and drugs is not clandestine to the public. Rehab, her world renowned single, speaks of the fact that her music and life are one.
Despite dominating the 2008 Grammys (with Back to Black) wherein she won 5 out of 6 nominations including best new artist, song of the year, pop vocal album and female pop vocal performance, Amy Winehouse's stardom ended tragically.
She "did not go out looking to be famous" as she once told the Associated Press when the album was released in March 2007. Amy Winehouse was "just a musician."
Her death at 27 grants her instant membership to the notorious 27 Club which includes the music greats such as the left-handed guitarist Jimi Hendrix, The Doors vocalist Jim Morrison, the raspy-voiced Janis Joplin, and Nirvana's Kurt Cobain—all of whom were gone too soon at 27, mostly due to abusive drug and alcohol intake.
ADVERTISEMENT - CONTINUE READING BELOW
The enigmatic death of these music wonders underscore the glaring, glamorous lives they lived as rock stars—the drama and mystery of their charmed lives.
While much of the related literature on the 27 Club offer explanations behind the "statistical anomaly," as commonly phrased, the attempts are mere speculations.
Stephanie Sarkis, Ph. D., of The Huffington Post points to a psychological theory called "causal attribution." People naturally "attribute outcomes to particular causes." The attribution theory describes how people explain social behavior through common sense explanations.
The 27 Curse is thus nothing short of "chance deaths at 27" among famous musicians. It is only part of being human to grasp at reasons or causes behind such coincidences.
A point to consider is that there are other musical greats who lived beyond 27: Bob Marley died at 36, John Lennon at 40, Sex Pistols bassist Sid Vicious never even reached 27. He was 21 when his body gave in to heroin overdose.
When legends die young, what really outrages or shocks the public, both fans and non-fans, is mostly because such legends could have produced more music if they had seen their prime.
However, their influence on music during their brief stay in the industry highlights an old rock 'n' roll expression: "Live fast, die young." And their passing while in the pinnacle of their careers in truth adds charm to the extraordinary lives they lived.