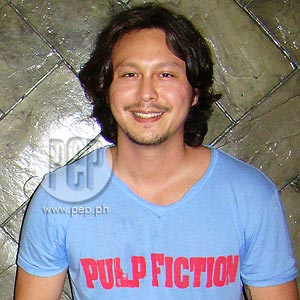 IMAGE 0
---
"Yeah, mag-e-extend ako. I will finish the six months."
Baron Geisler said this with conviction when PEP.ph (Philippine Entertainment Portal) asked about current showbiz talk that he has decided to stay longer in a rehabilitation facility.
The 28-year-old actor submitted himself to a 90-day rehabilitation program last January in response to the demand of the Professional Artists Managers Inc. (PAMI).
The order was given after his former Noah co-star Cherry Pie Picache filed a harassment complaint against him. (CLICK HERE to read related article.)
PEP visited Baron at the Penuel House in San Juan City yesterday, May 3, for this exclusive interview.
The three-month rehabilitation period that Baron subjected himself to ended last month.
However, the former child actor said he has decided that the time he has spent in rehab has not been enough for him to learn what he needs to learn.
"You know, kulang pa ang three months. So, I decided to stay longer," said Baron.
REHABILITATION METHODS. Penuel House actually functions like a retreat house for men.
It uses biblical principles to help its "students" deal with their addictions.
This type of teaching was evident when PEP visited the facility.
Penuel House director Tony dela Paz told PEP, "We believe that addiction—be it alcohol or drugs or gambling—is just a symptom of a deeper problem.
"Naniniwala kami na lahat ng tao ay may void sa puso and ang puwede lang magpuno noon ay si Jesus Christ."
The residential program of Penuel House in fact lasts around six months. Baron is on his fourth month now.
ADVERTISEMENT - CONTINUE READING BELOW
TYPICAL DAY INSIDE. According to Baron, during his three-month stay in the facility he has become more disciplined.
This is engineered by the facility's strict daily program.
"Lahat de oras," he related.
"I wake up at 6:30 a.m.
"At 7 a.m., we're having breakfast already.
"After that, we have quiet time at 8 to 9 in the morning. That's where we get to meditate and read the God's word, the Bible.
"From 9 to 10:30, we do our chores.
"A while ago, ako 'yong in-charge sa conference room and sa water station.
"I'm proud of my work.
"The other day, I got to floor-wax 'yong foyer area namin."
Initially, Baron admitted, he did not want to do these household chores.
He recalled, "At first, parang, 'What is this? I don't clean at home. I pay you guys my monthly here to clean the house for you?'
"Parang may gano'n pa noong umpisa.
"Then, they teach us here that there's wisdom behind everything.
"So, 'yon, tinanggap ko na.
"I clean just to get organized, makakasanayan din namin.
"It becomes a habit.
"Here, parang you don't get pissed off with the cleaning."
With this newly formed habit, Baron said he realized that, "This place is a preparation for the outside world kasi.
"So, they teach us to be organized and do what is right.
"They also teach us good character, and 'yong character is to do what is right as God defines right, whatever is the cause."
INITIAL CHANGES IN BARON. The air inside the compound is simple and relaxed.
ADVERTISEMENT - CONTINUE READING BELOW
After doing their morning devotion and the assigned household chores, the residents of Penuel House are given the chance to interact with fellow residents during seminar hours, Bible study period, and free time.
This may be one reason Baron did not have a hard time adapting to the new environment.
He said, "At first, parang I just wanna get this over and done with kasi 90 days lang ako, di ba?
"Then, eventually, you'll learn to get convicted.
"You know, kasi here, they teach us to be truthful and to do what is right.
"Iyon ang pinaka-important dito."
Did he share his past experiences with other residents?
Baron replied, "Yeah. Kasi we're same addicts lang, e.
"Dito, we don't discriminate na 'you're a gambler, a shabu addict, or alcoholic.'
"We share the same experiences din, e, na parang we've gone through ups and downs rin sa buhay.
"Now, we're seeking for hope again, to have better lives when we get out."
If he could be objective about it, would he say he was given special treatment?
"Wala. Pantay kami lahat dito," Baron answered right away.
In a separate interview with Dela Paz, the facility director said Baron never flaunted his celebrity status.
"Humble naman siya. Wala naman akong problema sa kanya.
"Wala siyang star complex kahit artista siya," he said.
HAPPINESS IN SMALL THINGS. Like other residents, Baron follows strict rules with regard to visitors.
He can only be visited by his family twice a month.
"You will miss them very much, and then you will realize how important they are to you," the actor said.
ADVERTISEMENT - CONTINUE READING BELOW
This has also led him to realize that he had taken many things for granted in the past.
As Baron put it, "Small stuff makes you really happy in this house.
"Like, peanut butter makes us happy.
"Sliced bread makes us happy.
"Simple things make us happy here.
"And it's very ano—ang sarap ng feeling."
"I'M MORE PATIENT NOW. KALMADO NA." Certainly, when Baron completes the rehabilitation program, he will still be greeted with this question: Is he a changed man?
Nagbago na ba siya?
Baron smiled, then answered, "Definitely, yes."
But Baron said that is not something he would go around announcing to the public. It is not his place to do so.
What he wants to do, he said, is: "I just wanna stay sober and continue my recovery.
"Kasi, after my stay here, that's not the end of my recovery, e.
"It's the beginning pa lang.
"Siguro, I'll be more focused when I get out.
"Kasi, iba na ang kalaban natin doon, e, totoong kalaban na 'yon.
"It's a really a good challenge, you know."
The controversial actor then added, "I hope [I've changed].
"I don't wanna say stuff kasi baka people might find it corny, e, you know, the Godly thing, e.
"Pero I'm baptized already, you know, my old self has died with Christ in the cross, so I believe I'm a new creation.
"That's all I can say."
Baron was recently baptized under the Christ's Commission Fellowship (CCF), which runs Penuel House.
OLD ANGERS FORGOTTEN. The actor also added that the program of the facility helped him forget his old angers.
ADVERTISEMENT - CONTINUE READING BELOW
He related, "Dito, tinapyas namin isa-isa—shame, guilt, anger.
"Kasi, all of these emotions that we do not deal with, na pang-araw-araw, kasi nga fast-paced na ang life natin, minsan nakakalimutan na natin na nababaon ka na nang nababaon.
"But dito, we slowly and gently stripped all of them away.
"Kasi, you cannot be baptized, you cannot praise and worship, unless you're totally cleaned and you're guilt-free."
In connection with this, Baron said that once he's out in the public eye again, "I have no reason to mess up anymore.
"And if I do, I'm stupid na lang.
"I don't have any reason, kasi I know my purpose now."
PEP then asked him lightly: What if he's given an alcoholic drink after the rehabilitation program?
Baron shook his head and said, "A, wala na.
"You know, this is my longest sober—for three months or four months.
"I don't wanna waste that and my learnings here, I don't wanna waste that."
RETURNING TO SHOWBIZ. Baron admitted that he sometimes thinks about show business, the industry that led him to the retreat house.
He said, "I miss it, pero hindi rin. I'm really focused on my program now.
"You might find this corny na naman—pero I leave it all, I'm aligning my will, to God.
"So, everything happens for a reason.
"Now, I'm just patiently waiting if ever there are any blessings.
"So now, I'm meant to be here. God wants me to be here.
"I'm taking care of myself."
ADVERTISEMENT - CONTINUE READING BELOW
Will he go back to showbiz after the rehabilitation program?
"Yeah, definitely," the actor replied.
"That's a talent, 'no? Kung talikuran ko 'yan, that's a sin.
"And the good thing about this nga is how will I build my career again with the new me.
"It's exciting, it's very exciting."
As of now, Baron said, there were no definite plans for his return to show business.
But according to him, "God will provide things that are, you know, good para sa akin.
"Siya na ang bahala. Siya na ang gagawa ng miracle na 'yan.
"I'm not really worried about those things because He will really provide.
"And ako, unti-unti, nakikita ko ang mga blessing ni God. It really pays to be patient."
As we ended our visit, we asked Baron, "Paano kung may mag-offer ulit ng kontrabida roles sa 'yo, tatanggapin mo?"
Baron laughed and said, "Okay lang naman ang kontrabida roles, e. I just have to... huwag lang ako magpadala.
"'Yon talaga, aaminin ko na, minsan nadadala ko.
"Nadadala ko 'yong 'I'm a bad guy. I'm cool. It's good to be bad.'
"But it's not."
Before PEP left the facility, we asked the facility director how Baron was doing at that stage.
Mr. Dela Paz was hesitant about giving his personal opinion, but he did say: "Malaki na ang pagbabago niya.
"But to guarantee his recovery, I cannot do that.
"I would like to believe that he's on his way to recovery."