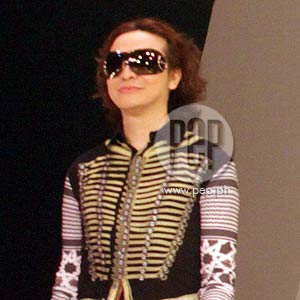 IMAGE 0
---
Another Filipino pride has taken off to foreign shores to showcase the amazing talents of Filipinos.
Michael Cinco, a Filipino couturier running his own couture house in Dubai, was invited to create designs for the popular reality-model search, America 's Next Top Model: Cycle 16, hosted ang produced by one of the top supermodels today, Tyra Banks.
In search of the best model, ANTM's aspiring models were given tasks from appearing in a TV commercial to striking a pose in different photo shoots.
Cinco was contacted by Michael Carandang, a Filipino producer from ANTM, to ask if he would be interested in creating the designs for their aspiring models in one of the photo shoots.
"It was Michael Carandang, a Filipino producer from ANTM, who phoned me and asked me if I'd be interested to participate in this cycle. He asked me to submit sketches through my website for Tyra's review and approval," said the Filipino fashion designer in an interview.
After that, Cinco created sketches and posted it on his site. He then received another phone call asking him to design dresses using eco-friendly materials for their high-class photo shoot with professional photographer and resident judge of ANTM—Nigel Barker.
After the phone call, the designer said that this opportunity has given him a surreal feeling.
"In my profession, I always see amazing and beautiful things around. There are times that nothing fascinates me anymore—as if everything is normal, ordinary. But when they called me, I felt so ecstatic. The moment was surreal that it felt far from being normal," he said.
ADVERTISEMENT - CONTINUE READING BELOW
WORKING ON ANTM. In an interview with La Moda Dubai, a fashion and luxury lifestyle magazine website based on Dubai that was established last year, Cinco shared some details of how he came up with his designs for ANTM contestants.
"I was introduced in the show as the couture designer for the shoot of the remaining six finalists. The theme of the photo-shoot was eco-couture using recycled materials. So, I designed couture dresses using safety pins, rubber bands, broken mirrors, cellophane, garbage bags, and old parachutes," he said.
According to Cinco, he designed the dresses based on some points from the host, Tyra, and the photographer, Nigel; though he was given the privilege to let his creativity work on the pieces as long as it follows the eco-couture theme.
"Tyra wanted me to create huge and voluminous dresses to overpower the massive landfill. She even gave me creative freedom to do the collection as long it would abide the theme. Also, Nigel preferred a high fashion with big hair and fierce makeup."
ON HIS CAREER. After working on ANTM, Cinco has surely enjoyed the company of the show's staff. He even gained a new fan as guest judge Andrè Leon Talley of Vogue Magazine commented that his work could be a "red-carpet glamour."
"I also couldn't forget that US Vogue's Andre Leon Talley raved about the clothes I did for the shoot. He even exclaimed upon seeing one of the dresses, and told that even if it was made from recycled materials, it would still be red-carpet glamour for any famous Hollywood celebrity," said Cinco.
ADVERTISEMENT - CONTINUE READING BELOW
After his stint with ANTM, Cinco doesn't have any lineup yet of his next projects. But then, the designer believes that this opportunity given to him will help his career further while still holding on to his own dreams.
"To be in one of the most watched reality shows in the world is a rare opportunity. I am very thankful to the people who gave me the chance to be part of this show. This international exposure will definitely help my career move to another level. But, I am what I am—I will keep on dreaming with my impalpable dreams," said Cinco.
Michael Cinco is one of the popular couturiers at present, born in the island of Samar. He graduated from University of the Philippines in 1988 taking up Fine Arts. He started pursuing fashion courses in 1991.
Encouraged by a friend, he started working in Dubai and studied fashion in different countries before he went back to Dubai to try his luck with couture designs.
He put up his own couture house with a business partner that caters particularly wedding gowns and dresses named "Michael Cinco Haute Couture."