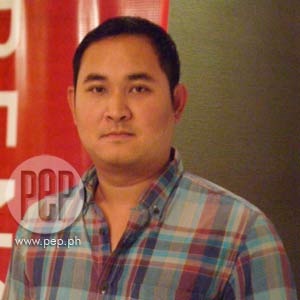 IMAGE 0
---
Robin Tomas started making waves after he won the Best Reinvention of the Men's T-shirt award in the annual Supima Fashion Contest in New York last year.
His work was also launched as the special edition design of Bloomingdale department store in Manhattan, New York.
What, really, is his style? How did his passion for fashion start?
PEP.ph (Philippine Entertainment Portal) together with other media outfits were able to get to know Robin more during his contract signing with Penshoppe last August 15, at Dusit Hotel, in Makati city.
SMALL STEPS. Robin admits that even in his youth, he had always been into art.
It started with small steps like drawing stuff, until painting came up, and the rest is history.
"I grew up as an artist, I really love the art," admits Robin.
"Growing up I would already draw at a young age and paint. My love for fashion, I think, came in my college years.
"I think it started when Fashion TV was in the Philippines already on a regular basis, and when we went out to bars. I guess it was really the exposure here in the Philippines, which is you know, is full of wealth and culture.
"I think that was the time that I realize, yeah, I really like this, I love watching it [Fashion TV]. I think I can be able to create that somehow."
As his love for fashion grew, he decided to take up courses abroad. He studied at Parsons School of Design and graduated in 2002.
ADVERTISEMENT - CONTINUE READING BELOW
He started practicing what he'd learned by applying as an intern at Valentino and Anna Sui, and then worked under several designer clothing brands.
Robin recalls some of the memorable pieces he made, how he would design only gowns.
"The first dress that I did for school was when I was studying in New York, kasi I think, it's really the fact that I can actually make something.
"Prior to that, before studying, it was sketches, and now it's more like actually making something out of a piece of fabric."
FINDING HIS NICHE IN NY. Robin Tomasstresses two things about The Big Apple. There he gradually learned all the ins and outs of fashion designing. And, two, he had to face cutthroat competition in satisfying the tastes of the fashion market.
"In terms of fashion I really learned a lot of it in New York," he recalled with a smile.
"Maybe in the thinking or perception, maybe I had to kind of get out of the idealistic or the traditional ways of designing.
"When I got to New York I was like [when I] start sketching, it was all gowns, one kind of gown, ball gown. Then you'll realize, there's other silhouettes there, you have the cocktail [designs].
"So, it broadens your knowledge of silhouette, approach on learning the merchandise, more than just the inspirational or the airy part of design."
As he adapted to the changes and trends in fashion, Robin discovered his advantage over other designers in New York.
ADVERTISEMENT - CONTINUE READING BELOW
"Maybe the combination of where I come from, what's in my heart, and culture, I guess gives that, maybe my edge.
"It's a very competitive city, but I think, the combination of different things—where you come from and your origin, your personal style, your experience, makes you unique, or [you] meet the edge above others."
HIS INSPIRATIONS. Like any artist, Robins gets inspiration from different sources for his designs.
But what inspires him the most are the things that make him happy.
"I really love beautiful things!" he exclaimed.
"In the bottom line, I love to travel, I love to see other cultures, I love to see a lot of human behaviors.
"That's why I love New York City because it's a mixture of different people in one place, and they behave differently but they have to work, to live together and deal with it.
"So, as architecture inspires me, I love architecture, I think I'm a frustrated architect, that maybe someday I'll do a big building.
"I love beautiful places; I love beautiful people, that they're stylish without them knowing it."
Other fashion designers look up to Robin, and the admiration is mutual.
He named some foreign and local designers he admires most.
"Well, lately I've been looking at Alexander Wang. I think maybe, the catch of Asian kinda inspires me.
"[Alexander] Mcqueen I just love, the exhibit explodes my mind, it's art more than fashion for me.
"For American designers, Mark Jacobs. I thinks he's fun.
"[Locally] I really look at Inno Sotto and Pepito Albert. In terms of aesthetics, it's just the right balance of chic and simplicity and luxury."
ADVERTISEMENT - CONTINUE READING BELOW
RETAIL OR HIGH FASHION? Now that he has gained popularity with his T-shirts, does he prefer to design more for retail or for couture clothes?
"As much as possible I want it to be balanced," answered Robin.
"But because of my training in New York, on how the business and industry run, we're very retail-oriented, and I think a lot of designers in New York eventually do retail. I think I want to represent that balance here."
Robin continued, "It's because I just can see Philippines as very couture- centered, and New York, flashy as well as doing retail, and they're able to do that, to balance that in a way.
"So, technically that balance, I don't want to totally shy away from couture at all, and I don't want to shy away from retail."
Now that he's going his way up, it'll be soon that people and fashion designers from different countries in the world would follow the trend he is starting.
This idea, Robin admits, warms his heart.
"It's not easy being a designer in a big city like New York. But it would really, really warm my heart with all the support that I get in the Filipino community in New York alone.
"Of course, on the personal level, it's very exciting where I can go, but at the same time I always think of where I come from. I'm Filipino, I love being a Filipino, and I'm proud to be a Filipino, and the support I get justifies that emotion."
ADVERTISEMENT - CONTINUE READING BELOW
Yet there is one thing he would like people to see in his designs, "That its... I don't know how to explain this, but it's inspiring. And its kinda pushes me forward, and became more excited about it.
"Kasi, I'm not only thinking about myself, I also think of where I come from, and what the Filipinos could do. So, I used that to propel, [and] to encourage."