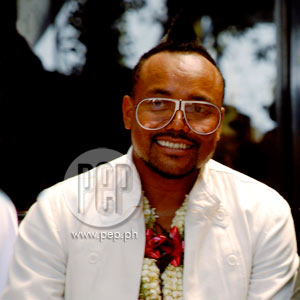 IMAGE 0
---
His bitter past didn't stop him from gaining sweet success. This is how one can describe the career of Apl de Ap of the Black Eyed Peas band.
Apl—Allan Pineda in real life—is the son of a Filipino mother and African-American father. His father was an airman in Clark Air Base, Pampanga, but he left them after Allan was born.
Being different in complexion and abandoned by his father brought about a lot of struggle in his life. Yet Allan didn't stop dreaming until he fulfilled his dreams.
PEP.ph (Philippine Entertainment Portal) and other reporters were able to interview Apl when he visited Sapang Bato National High School in Angeles, Pampanga last Tuesday, August 16, .
HIS FATHER. Apl told us that up to the present time, he still doesn't have communication with his father.
"I think its Robert Yielder," he revealed his father's name.
Being careful with his words, he added, "That's his name, but I don't know, I haven't given that thing a thought yet.
"Not yet. I don't know, I haven't thought of that."
Apl's studies were sponsored by an American named Jo Ben Hudgens.
Apl studied for some time in Holy Angel University, and then left to pursue his studies in the United States.
He is grateful to his foster dad, saying that wherever he is right now, he owes it all to him.
"Of course my dad, Jo Ben Hudgens, I owe it all to him," he affirmed.
"We're really close. We have dinner whenever we have a chance."
ADVERTISEMENT - CONTINUE READING BELOW
JEEPNEY MUSIC. Just this year, Apl de Ap put up his own music company called Jeepney Music, Inc.
As its website states, Jeepney Music aims to "give back to the Philippines and provide Artists and DJs the opportunity to be recognized and work with Apl.de.Ap."
So far, how's it going?
"You know, I'm just still developing artists, and looking for artists," he answered.
"That's why it's important for me to do this thing, this program, so I can see what's going on, music-wise."
Aside from signing them up and promoting their songs, he has also thought of collaborating with them to help them get exposed to the music industry.
"I'm always open to collaborations, and you know, part of my ignorance is I don't know them yet. But, I'm always looking.
"That's why it's important for me to give them access to information, and a place to express their talent, a place to go and give them opportunity because you'll never know what's going to happen."
ARJAN GILBERT. Presently, Apl says he's interested in working on Arjan Gilbert. He is the Pinoy YouTube sensation who comes from Angeles, Pampanga, like Apl.
Apl told the press, "I've seen the YouTube videos, he actually sang for me at the front of my house.
"I was like, oh, my god! You know, I want to produce for you [Arjan], and I actually have a song for him and I can't wait to work on it."
How does he feel that this child said he looks up to him?
ADVERTISEMENT - CONTINUE READING BELOW
"I'm grateful, honored, and he's very talented!" Apl said enthusiastically.
"Everybody loves to look up on him, and he has a talented voice. He sound really great, very natural, and he's gonna be a star in a making.
"I really want to collaborate with him, he's from my neighborhood. I really want to be the guy to work first with him."
And for his advice, Apl says: "You know, keep doing it, [and] surround himself with great friends.
"I could tell to him that ayos 'yan, and if he needs help I'm here."