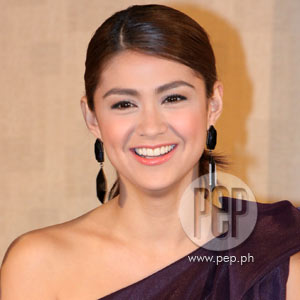 IMAGE 0
---
Carla Abellana is undoubtedly more than just a pretty face.
In a situation where one could have easily succumbed to tears, the 25-year-old actress showed what it is like to conduct oneself with grace under pressure.
She was accused of being ungrateful by no less than Mario Bautista—a formidable figure in the local entertainment scene—at the presscon of her upcoming movie My Neighbor's Wife.
The veteran entertainment columnist, intoned sternly, "I've been writing positive things about you that you never even acknowledge it or even said thank you..."
Moreover, he compared her to movie co-star Lovi Poe: "She has more manners than you."
But Carla neither shed any tear during the actual confrontation nor raised her voice.
Explaining the context of her email that provoked Bautista, she stated, "In a way, ako din po, I was just reacting because na-misquote po ako. So I hope you will understand me, coming from my end po kung bakit po ako nagre-react. But it was not my intention to make you feel bad."
This earned a "Bravo!" from majority of the PEPsters, about 71.27% of 323 unique voters.
THE LETTER. However, the email she sent to Bautista sounded "maangas," as described by some PEPsters. (CLICK HERE to read related story).
It was very straightfoward, and did not seem like the actress was addressing a person that even her dad Rey Abellana would call "Kuya Mario."
Here's how Carla opened her letter (published as is) :
"HI Mario! This is Carla Abellana. I just read your Journal August 21 article entitled 'Geoff Won't Watch Carla's Daring Movie' and was shocked.
ADVERTISEMENT - CONTINUE READING BELOW
"First off, I don't remember being interviewed by you recently.
"Second, not a single word you supposedly 'quoted' from me is true. Those words never came out of my mouth..."
Though Carla obviously had a point, the castigation could have been prevented if she only got in touch with Regal Films before approaching Bautista, and if she only used a more polite tone.
THE PULSE. The incident is an indication that the symbiotic relationship between entertainment writers and the stars is changing.
Unlike the pre-Internet era, any star can readily refute a thing or two about any writer on her Twitter or Facebook account.
And any writer can brazen out his issues in public forums such as a presscon.
But the best policy will always be politeness which, according to a proverb, can win even the "confidence of princes."