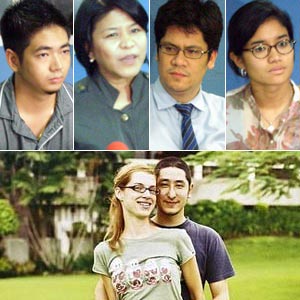 IMAGE 0
---
In the night of September 1, 2009, a crime was committed at 39 Times St., Brgy. West Triangle, Quezon City.
It was the night when, after being robbed of jewelries and cash, the film critic Alexis Tioseco and his girlfriend, Nika Bohinc we're killed in the Tioseco residence. (CLICK HERE for related article)
It's been two years now, yet the family and friends of these two victims are still calling out for justice.
Thus, not many know about Alexis. Some may know that he's a film critic, but for his closest friends and family, there's more to him than that.
PEP.ph (Philippine Entertainment Portal) got the chance to know more about Alexis through an interview with some people who know him by heart.
We chance upon them last August 26, during the presscon they held to announce the one million pesos reward for the informant that will lead to the arrest of the alleged suspect, Criselda Dayag, and her three other companions. (CLICK HERE for related article)
AS A COUSIN. Nathan Tioseco, the cousin of Alexis, was the one who is in charge of filing the case here in the Philippines.
As Alexis's family resides in Canada, Nathan was the one who gives them updates on the progress of the case.
"His whole family is in Canada, and it's something they follow up on everyday with me, with the NBI, with their friends.
"More than justice, we really want the answers first, just to give us the peace of mind and closure."
Nathan and Alexis got to become close when they were still younger. Though Alexis is older than him by five years, that didn't hinder the closeness they have.
"Well, I was sort of part of the younger generations of Tioseco's," Nathan mentioned.
"Not to say that he was old, but you know, he's five years older than me.
ADVERTISEMENT - CONTINUE READING BELOW
"We're living in different countries, but whenever, we only see each other for Christmas every year, and the whole family would get together.
"And of course, being first cousins, there's a sense of closeness there on its own being a Tioseco."
Even though they were close, there are some things that Nathan didn't know- not until Alexis died.
"Actually after he died, that's when you really find out about everything," he blurted.
"At the time I was living in Canada, he was here, I found out a lot after he died, and he was a really influential Filipino.
"He was the nicest guy. He was just really, really [the] nicest guy that anyone could meet, that's all I can say."
AS A FRIEND. Alexis, aside from being treasured by his family, is treasured by his friends.
Among those friends is Erwin Romulo, the guy who sees Alexis as his brother.
"Mas malapit pa siya sa akin kaysa sa kapatid ko, e," he says with a smile.
"Si Alexis, ano, e, sobrang bait niyang kaibigan sa akin.
"So, nung pinakamababa ko lagi siyang nandoon, I mean everyday lagi niya akong tinatawagan, kinakausap."
Another close friend of Alexis is Mia Sebastian.
They have been classmates in college at University of Asia and the Pacific, the same school where Alexis used to teach.
Alexis was described by Mia as a very caring and sincere person, especially as a friend.
With a smile she said, "Well, Alexis, I've known Alexis for a long time and he's very caring, he's really attentive, he always wants to know what's going on with you.
"He's very sincere and he's always there for his friends. He's friendly, he has many friends, but hindi siya yung parang plastic na 'how are you!?' yung parang PR, not at all.
ADVERTISEMENT - CONTINUE READING BELOW
"He has a lot of friends and they really mean a lot to him, and he's the first one there if you need help and really sincere."
This idea about him made it hard for her to think that there will be anyone, who would like him to be killed.
"I can't imagine" she blurted out.
"He's always very fair, he's so friendly and he's also very fair, that even his friends, if they did something wrong he's saying, 'you shouldn't do that.'
"He treats people fairly, with respect always. He never shouts, never raises his voice to anyone, [even with] people he works with."
Now that two years has passed, it's still hard for Mia to accept the fact that Alexis and Nika are already gone.
Though she knows that it will never bring them back, she still hopes that their death will be given justice.
"Well, definitely less anger, less frustration, I mean, maybe I just have to accept it," she pointed out.
"I miss them a lot, especially when I read kasi both of them are writers. So, I read about things that they wrote, or I talk to our old friends, I really miss them a lot.
"But, I mean somehow, I accept that it happened, it happens to a lot of people not just us. So, we just have to accept it, at the same time we don't like to forget that they were wrongly killed.
"So, somehow, justice sana should be served, we just can't forget about it just because, ganun talaga, e.
"It's very important to remember them, and to always push for their case to be solved somehow, especially for the family."
AS A FILM CRITIC. The most common fact that people know about Alexis is that he's a film critic.
ADVERTISEMENT - CONTINUE READING BELOW
Alexis's friend and colleague, Gang Badoy, chose to describe him as a film critic.
She admits that, "He's very known in the small circle of film makers, of course. Pero, in the bigger movie going population, hindi siya masyadong kilala sa Philippines."
Thus, she sees him more than just an ordinary film critic.
"Alexis is very aggressive when it comes to film," she remarked.
"Soft spoken siya in social interaction, pero when it comes to film he's really aggressive, mage-email talaga siya, magte-text talaga siya.
She also added that, "This is a fact, no one can dispute this- he really constantly pushes Filipino films overseas, sometimes on his own expense.
"He would go in film festivals and he would bring DVD's of Filipino film makers. So, alam mo yung hilig niya sa films, he really took it three steps more.
"I think, nasa baba nun, other than the hilig sa film, I think the bottom line of it is he really believes that the Filipino film makers has a space in the international film.
"He did everything, in his power, to actually push that. And I think that's very admirable."