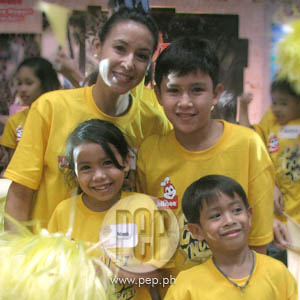 IMAGE 0
---
(WITH PODCAST)
Last August 6, 2011, PEP.ph (Philippine Entertainment Portal) was invited to participate in the launch of Jollibee's newest food product, Chicken Nugget Crunchers, at the Ronac Arts Center in Greenhills. (CLICK HERE to view photo gallery)
It was a fun-filled Saturday morning with parents and kids playing a giant board game and going through obstacles that challenged the body and mind.
One of the celebrity participants was Christine Jacob-Sandejas and her three kids Paolo (11-years-old), Nina (7), and Luis (5).
Her two other kids, Gabby (9) and Jaime (2) were not at the venue that day.
The kids actively participated in the challenges and were very energetic in cheering for their team, which eventually won the game.
Christine says that she is really training her kids to have an active lifestyle.
"I want them to get used to a busy lifestyle now pa lang. So, after school I make sure they have something to do every day—sports or arts or something."
Her kids are currently enrolled in soccer, swimming, gymnastics, tennis and art classes, which they attend to twice a week after school and during weekends.
PARTY OF FIVE. With all the talks around about family planning, it's quite surprising to know that Christine has her own brood of five children.
While most women prefer to have just one or two kids, Christine says she finds it easier to have five. She explains why:
"When you have one, I think it's mahirap because you have to really pay attention to that one child. Hindi mo puwedeng iwanan kasi kawawa naman, mag-isa lang siya.
"When I had two, I felt that was also hard for me. I didn't know how to divide my time with two kids.
"When I had three, then four, then five, it gets easier. Parang you already know your routine. You know what can wait and what can't wait in terms of the needs of the child.
ADVERTISEMENT - CONTINUE READING BELOW
"[Also,] they get to learn how to share with each other. They learn how to deal with different personalities because all of them are different—I have a bossy child, I have a tahimik child, I have a bahala na child—yung gano'n.
"They also learn how to solve their own problems. I can leave them at home and I know they're okay because they're playing with each other.
"So, parang it's not as bad as it seems to have five kids."
Christine added, "Yeah, [I prefer having more kids]. For me, it's really easier. Yung mahirap lang pag scheduling when they have to do so many things.
"Like weekends, my daughter is in a seminar in school so I have to make sure she gets home on time.
"May soccer kami at 2 o'clock, may tennis kami at 4, so that's the hardest thing for me—trying to have the driver bring them everywhere.
"Tapos mahal na rin," pertaining to the financial expenses of having to fend for five children—feed them, buy them material needs, send them to school, etc.
KIDS' DIET. Most parents always struggle to find a way to feed their kids healthy food especially vegetables.
Christine, on the other hand, seems to have resolved this issue for herself.
"My kids don't like veggies. I haven't really found a way [to feed them veggies] but little by little I'm putting it into juice. They seem to like it better.
"I just put a lot of orange juice then I put spinach and cucumbers and I mix it all up and they drink it. So, that's my way to get them to eat their veggies."
Unlike other parents who are quite strict about giving their kids junk food, Christine is more linient.
"When it comes to snacking or junk food, I allow them as long as they eat their main meal—breakfast, lunch, and dinner."
ADVERTISEMENT - CONTINUE READING BELOW
"They can eat their chips for merienda. I don't totally take them out of their diet. I don't deprive them of their junk food as long as they eat their food.
"For me, as long as they eat, I'm happy because it's so hard sometimes if they don't like to eat or pihikan."
Christine also allows her kids to eat and indulge in their favorite fast food.
"They eat everything there. I don't have to worry about them."
Although some health experts would raise their eyebrows at the idea, Christine says she'd rather see her kids eating fast food than not eating at all.
"For me, my main thing is they get to eat. As they grow up, they'd be able to choose if they wanna eat vegetables or if they want to eat something.
"I also grew up not eating vegetables. But now, all I eat is vegetables. So, parang gano'n.
"I guess after a while, they will realize the importance of [healthy] food.
"I choose my battles [at home]. I don't fight over food. I'll fight over something else like sa values or something. Iyon away talaga 'yan. Pero kapag sa pagkain, as long as they eat food [I'm okay]."
HEALTHY AND ACTIVE MOM. After five kids, anyone would be amazed at how Christine was able to maintain her figure.
She credits that success to a lot of exercise and a healthy lifestyle.
"I think it helps that I was very athletic growing up that's why I want my kids to be busy with sports.
"Hopefully, once they're older, hahanapin nung katawan nila, they'll look for that wanting to exercise. So, until now I play tennis, I run, I swim with them."
Christine was first known, of course, as a champion swimmer before entering show business.
Are any of her kids following her footsteps?
ADVERTISEMENT - CONTINUE READING BELOW
"No, they're not so into [swimming]. They all know how to swim but I haven't found any one of them that has that desire to wanna really excel when it comes to swimming.
"But, they do gymnastics, they do tennis, they play soccer, they swim twice a week. Basta expose na lang to as many sports as I can tapos bahala na silang mamili what they want to [do later on]."
How about showbiz, will she allow her kids to be part of the industry?
"I have no problem as long as they finish school. Once in a while, they do commercials or like mga guestings and functions. It's okay with me.
"But a full-fledged artista type, not until they finish school. And the schools now are so strict, they also don't allow a lot of it."