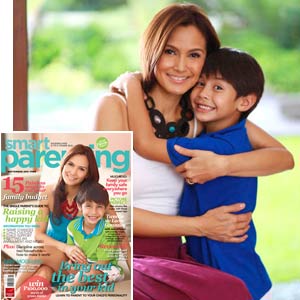 IMAGE 0
---
People know Tweetie de Leon Gonzales as a supermodel, product endorser, actress, and even entrepreneur.
But in the September issue of Smart Parenting, she gives us a glimpse into the most important role in her life: being a mother.
With 16-year-old Sabina, 14-year-old Lorenzo, 11-year-old Nicolas, and six-year-old Alfonso, Tweetie's parenting style adjusts according to her kids' ages.
"I have the teens to hang out with. We talk like friends do, and I try my best to engage them in a level they can relate to," she says, "And still, I have the little ones to smother... My older ones understand enough to be patient with the younger ones."
No parenting style is the same for every child.
As Sabina is very sensitive, Tweetie says, "I watch my words, my tone of voice, and my facial expressions."
Lorenzo is easy to reprimand because "he'll never reason out" and "he understands right away."
But it is the complete opposite with Nicolas, who will "reason out and give excuses."
Alfonso, being the youngest, likes catching up to his older siblings. "He tries to be more independent and grown-up than he actually is, which is sometimes funny, sometimes not," she shares.
Despite having a very successful career behind her, Tweetie takes pride in the accomplishments of her children more than her own.
"Their achievements weigh a lot more than whatever I've done in my life. They are a testament to what my husband and I and everyone around them who loves them—are doing to mold them," she tells Smart Parenting, "When people say, 'Your kids are very well-mannered', I guess it's the greatest crown a parent could ever enjoy."