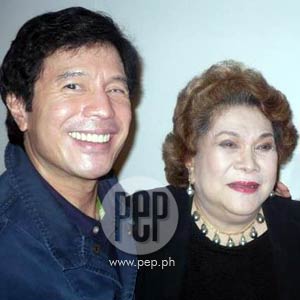 IMAGE 0
---
Internationally-known singer-actor, Victor "Cocoy" Laurel still remembers with great fondness his team-up years with Nora Aunor. And now that the Superstar is back, he said he wanted to see and talk with her.
"You talked to each other, with Ate Guy? I want to see her, too!" Cocoy excitedly told PEP.ph (Philippine Entertainment Portal) in a recent chance encounter.
The lovable singer and stage actor who once played The Engineer in the hit Broadway musical, Miss Saigon was with his mom, Mrs. Celia Diaz-Laurel, during the special repeat performance of the musical play Noli Me Tangere at the CCP Little Theater, last Friday night, September 9.
Mother and son were in a huddle with the play's leads, Cris Villonco and Gian Magdangal and some other friends and celebrity guests, when PEP approached them.
As soon as they were finished talking and taking photographs, PEP greeted them and asked a few questions.
The chance meeting was most welcome for both Cocoy and Mommy Celia as they were both excited to know about Nora since she came back a month ago.
"How is she now?" Mommy Celia asked PEP.
"I saw her interview with Boy Abunda [in The Buzz]. But is she leaving again?"
PEP informed Cocoy's mom, Nora might leave for the U.S. before the New Year, as she is scheduled to finish a movie with Regal Entertaiment for the Metro Manila Film Festival this December.
"Ah, matagal pa," Mommy Celia smiled. "When you see her, tell her I would love to see her before she leaves again."
NORA'S PORTRAITS. When Nora Aunor was younger and during the early '70s when they were a tandem on TV and the movies, Cocoy Laurel painted Nora's lovely portraits which used to hang by the staircase and sala of the Superstar's beautiful homes.
ADVERTISEMENT - CONTINUE READING BELOW
This time, Cocoy said he's painting another portrait of Ate Guy.
"I'm busy coz I have to give her the portrait [soon]. I miss her too, and I want to give it to her.
"Sabihin mo, kumusta. Lots of love, ha? Of course, I would love to see her, very much!"
The love team of Nora Aunor and Cocoy Laurel is best remembered for three memorable movies in the 1970's: Lollipops and Roses (1971) and its sequel, Lollipops and Roses at Burong Talangka (1975), and Impossible Dream (1972).
PEP also told Cocoy and his mom Celia, that in one of our interviews with Nora she mentioned Lollipops and Roses at Burong Talangka as a favorite among the many romantic comedies she did years ago. And that Nora also regards Cocoy as among her best buddies ever.
Cocoy simply smiled on hearing such endearing words from one of his most loved artist-friends,
ARTIST AND PHILANTHROPIST. PEP asked Cocoy about the things that keep him busy these days. His preoccupations vary, as he is more of a visual artist than singer now, and he is also a philanthropist.
"Aside from finishing her [Nora's] portrait, lately, I've been busy with these occasions like the Zonta Club.
"And then, I did some [undertakings] for friends of the CCP (Cultural Center of the Philippines) fund-raising for their children's year also."
In fact, the latest musical Cocoy appeared in, Simon's Way, was a fund-raising project, which toured many provinces, particularly Iriga, Camarines Sur and Naga, in the Bicol Region.
"We went to Iriga, Nora's hometown, right?" Cocoy said.
Like the Guy-Pip and Guy-Boyet [Christopher de Leon] tandems, the Guy-Cocoy team-up in the '70s was well-loved by the public and adoring fans of the superstar.
Before the year 1999 closed, Cocoy even guested in Nora's concert, Handog ni Guy Sa Bagong Milenyo held at the Araneta Coliseum.
ADVERTISEMENT - CONTINUE READING BELOW
Fans were delighted to see Guy's three top leading men , Pip, Boyet and Cocoy , together in one major concert.
COCOY'S BELOVED MOM. Celia Diaz-Laurel was a reknowned celebrity in her prime. She was an excellent character actress in the movies. And as one of the pioneers of Repertory Philippines, she appeared mostly in musicals and stage plays in English.
But now she can't do these anymore. Her feet were injured and she now has to be carried in a wheelchair.
"I had 18 operations," related Mom Celia, "I can't do other things [anymore]."
Yet she's still the gracious lady who raised her talented son Cocoy, and he's now taking good care of her.
"I take care of Mama... and she takes care of me," smiled Cocoy.
As for her "love affair" with Philippine theater, Ms. Celia Diaz-Laurel has accepted it's now over but hasn't any regrets at all.
"I miss more than forty years [of my life] in the theater. And I'm grateful for those 40 years!" she said.
NORA'S ROOMMATE. Like Cocoy, Mommy Celia, has fond memories of the Superstar, especially in 1975, when they did the movie, Lollipops and Roses at Burong Talangka, directed by Elwood Perez.
The romance-comedy was produced by Cocoy and his mom's own movie company, VL Productions, Inc.
"Naging roommate kami, once upon a time while doing Burong Talangka (in Los Angeles, California)," relates Celia.
When Nora was in the States, they didn't see each other—to mom Celia's regret.
"I wanted to see her in LA because her [Nora's former] lawyer [Atty. Claire Espina] was my sorority sister.
"I was the guest of honor in the sorority [reunion] there," mentioned Mommy Celia.
"So, we wanted to see her, sana . But she's busy. Cocoy wanted to see her."
One of these days, a reunion with Ate Guy may just happen.
ADVERTISEMENT - CONTINUE READING BELOW
"Oo, in God's time. There's always time for everything," Mommy Celia hopes.