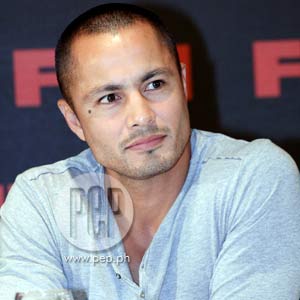 IMAGE 0
---
From a hand-me-down sedan, Derek Ramsay now has several cars in his garage.
The TV host-actor says ever since he was a kid he was fascinated with cars.
"It's always been my thing," he told PEP.ph (Philippine Entertainment Portal) in an interview after the media junket prepared for his newest auto loan endorsement with East West Bank recently.
"I don't know. Ever since I was a little boy, I've been into cars and watches.
"When I was in college abroad, it wasn't a priority to have a car but I still wanted one.
"And the allowance that I got from my dad, I used to save and purchase a car."
Derek's first car was a used Mitsubishi Lancer from his dad when he was 19. A couple of years later, the game master of The Biggest Loser Pinoy Edition was able to buy his very own car.
"My first car was a BMW na second-hand 1989, 525 na BMW," he recalled. "The first time I bought a car with my own money was, I think, 21 or 22.
"I'll never forget that feeling of excitement that my car is arriving."
INTEREST IN VINTAGE. Right now, Derek owns seven cars and most of them, according to him, were vintage cars.
And when PEP asked him about his favorite among his collection, Derek mentioned his fully restored 1961 Volkswagen Kombi.
"That's my favorite car," he said proudly. "I actually put it in a competition. I even have the original plate but it's all kalawang na rin.
"I think that's the car Angel dreads kasi, it's slow, it's mainit.
"But it's got so much personality and character.
"It took a while for me to find it.
"It took me about four years to find that specific model.
"Now, I'm happy to say that I found it and it's in my garage."
ADVERTISEMENT - CONTINUE READING BELOW
When buying new wheels, how much do you allot from your earnings?
"Too much," Derek hesitantly answered. "But the seven cars, most of them are vintage cars, so, they just sit in the parking lot.
"You have talaga to go shopping, parang ukay-ukay.
"The money invested is more on restoring the car.
"So, I look for cars that are beat up and cheap, and then I restore them.
"It's also a project. That's where I get the excitement and thrill, bringing these cars back to life."
As a vintage-car enthusiast, Derek says he really goes to different places to find the model he likes.
In finding his precious Kombi, he told PEP, "I've been everywhere in the country.
"I've seen some that are already rusted, nakapatong na nga sa hollow block, ayaw pa rin ibenta. They know the car's value and nakatsamba ako!"
INFLUENCING HIS GIRLFRIEND. In 2009, many ladies envied Angelica Panganiban because her boyfriend Derek surprised her with a Mini Cooper for their 3rd anniversary. (CLICK HERE to read related article)
Does she still use the Mini Cooper?
Derek admitted that it's seldom used because of her busy schedule.
"She rarely drives it because, you know, she's always working.
"She only drives it to the grocery store or go shopping.
"The only time she drives it is when we're going on a Sunday drive, which is very rare because of her schedule.
"The Mini Cooper is a great car, a lot of character.
"But it's not the safest car to be in.
"It's really a small car and I don't feel comfortable when she's out driving on the highway with it.
"The only time it gets used is when we're together."
Derek said he didn't have to spend much for the Mini Cooper, contrary to what others thought it would cost.
ADVERTISEMENT - CONTINUE READING BELOW
"The car wasn't expensive kasi magaling akong humanap ng car.
"And, like I said, I'm kuripot. I really made another price and negotiate."
During the presscon, Derek mentioned that Angelica wishes to get another Mini Cooper.
However, he quickly added, "Regalo na niya sa sarili niya 'yon!
"I think this is her gift for herself because she works hard."
Looks like Derek has somehow influenced his girlfriend about cars.
"It's was out of the blue nga, e," he said.
Then, he recalled, "She always gets mad at me for buying cars.
"My deal with her actually, for this year, is no more cars."
Has he been able to keep that promise?
Derek said he has no plans of getting a new car any time soon.
He even said, "I'm very happy with my garage now."
Derek told PEP that he always lets Angelica use his cars, especially now that "she has eyes" after a LASIK surgery.
"I trust to her my cars. She drives my cars. She's a decent driver."
DREAM CARS. Right now, Derek is pretty much satisfied with his Volvo V60 for his daily routine.
However, when asked what else his dream car is, Derek joked that he wants to get an auto loan from East West Bank to buy a DB7 Aston Martin (which costs about P12M or higher) or a Mercedez Benz SLS AMG Gullwing (which costs about P15M or higher).
Knowing the prices of these cars, Derek admitted, "Malayo pa ako bago makuha ang dream car ko na 'yon!
"It's very rare and it's very expensive car."
Still, he hopes to have these cars in his garage.
"You know, there's no harm in dreaming. Hopefully, one day I can get to that level where I can get that car," Derek ended positively.