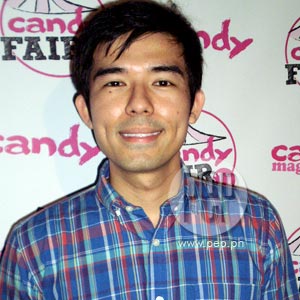 IMAGE 0
---
After the smashing success of its monster hit, "The Day You Said Goodnight" in 2005, Hale made its mark in the local alternative rock scene.
But despite the mainstream success of its first two albums, the band went on a self-imposed ten month hiatus before coming up with its third effort in April 2008, and its swan song, Kundiman, in 2009.
Last August 6, 2010, Hale frontman Champ Lui-Pio formally announced the band's breakup—a controversial decision which his bandmates allegedly knew nothing about. Since then, Champ has been focusing on his 'reinvention' as a solo performer, actor and talent management.
While at the Candy Fair event, PEP.ph (Philippine Entertainment Portal) bumped into Champ backstage.
Here, we grabbed the chance to confirm as to why Hale really disbanded, and what keeps him busy these days.
"Hale? Well, we just came to a point where we've been together for so long, and we all realized that we still had different goals to achieve," Champ explained.
ADVERTISEMENT - CONTINUE READING BELOW
"It just happened, it happens when you've decided to explore what's out there, because seven years has been a long time and we know we have nothing else to prove.
"We just wanted to share our music and I think we were able to do that.
"So, for now I think we're all doing our own things separately."
Champ didn't totally leave the music industry, however. He actually released his solo album titled Synergy, late last year.
But what keeps him busier these days is his own music label, Mecca Music.
"Now, I have my own indie label it's called Mecca Music, and I am managing Somedaydream [his latest discovery, touted as the first local electronic pop artist].
"I have a solo album up, so I have a lot on my plate right now."
Though they've gone their own separate ways, Hale's band members continue to inspire their fans, who continue to look forward to the day when their idols would get back together and reprise their distinct style of OPM alternative rock.
ADVERTISEMENT - CONTINUE READING BELOW