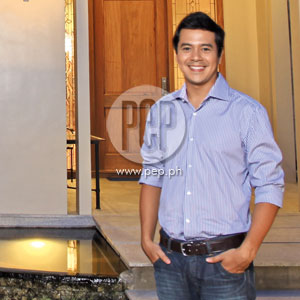 IMAGE 0
---
From a quiet corner in his expertly tended garden, John Lloyd Cruz gazes at his new 1,100-square-meter home in Antipolo City.
He has anointed this quiet corner, with its little patch of grass-covered land in the area between the guesthouse and the pool area's shower room, as his favorite spot in the entire property.
From here, seated in one of the outdoor steel chairs, he can see everything—the pool, the lanai whose glass-door backdrop offers a faint view of the main living area, the second-floor balcony that leads to his room, and the guesthouse. From here, as any romantic would admire a breathtaking sunset, John Lloyd takes pleasure in the fruits of his 13 years of hard work.
Thirteen years into the business that he never dreamed of ending up in (as a boy, he wanted to be a pilot), John Lloyd's career has reached top-flight level. Just consider his box-office showing in the last three years alone.
ADVERTISEMENT - CONTINUE READING BELOW
One More Chance (2007), his fifth movie with perennial screen partner Bea Alonzo, earned P156,577,763 million at the local box-office.
A Very Special Love (2008), which tested the fresh pairing with singing sensation Sarah Geronimo, then raked in P176,451,302 million, not counting screenings abroad.
That double whammy earned him the title Box-Office King from the Guillermo Mendoza Memorial Foundation for two consecutive years—but it proved only a patikim for what would come next.
On June 22, 3010, two days before his 27th birthday, he's again set to be crowned Box-Office King—making him three times triumphant, three years in a row. You Changed My Life (2009), the sequel to the John Lloyd-Sarah teamup, earned a staggering P208,851,149 million at the local box office, making it the highest-grossing Filipino film of all time!
Of this honor and hype, he says frankly, "Para sa akin, I think it's a really special award dahil, sabi ko nga, when I reach my fifties or sixties, and I look back do'n sa mga contribution ko in this industry...parang it's nice to reminisce your younger years in the business, knowing na years 2007, 2008, and 2009, parang pinakamaraming nanonood ng pelikula mo. It's a really special award sa akin, dahil ang trabaho naman namin is kung gaano karami 'yong gusto naming ma-reach do'n sa ginagawa namin, di ba?"
ADVERTISEMENT - CONTINUE READING BELOW
His next two projects, while not extraordinary successes like You Changed My Life, both came close to the impressive P140 million mark, one closing in on that number and the other surpassing it. The mother-and-gay-son drama In My Life (2009)—for which he won 2010's best-actor honor at the Star Awards—scored P137,459,053 million. Last February's reunion with Bea Alonzo, Miss You Like Crazy, a less-flighty-than-usual romance, registered a P149,100,000-million gross in its seven-week run.
And thus did John Lloyd Cruz safely secure his stature as The Box-Office Kid.
While one might argue that the success of these five films did not rest on John Lloyd's shoulders alone, he was the one clear common ace in all of them.
Curiously, he has been unseen on primetime since Betty La Fea ended in April 2009, but his flourishing endorsement career makes his absence from the small screen a little less glaring.
His television commercials, or TVCs, for Biogesic and Greenwich Pizza, easily two of the most visible TV ads of the moment, make his fans miss him less. These two brands, along with that of the direct selling company Natasha, renewed their contracts with the actor early this year.
ADVERTISEMENT - CONTINUE READING BELOW
His handler, Nenette Roxas, told YES! in late May that four more endorsement contracts were up for renewal—Swatch, Joel Cruz Scents, Lucky Me! Pancit Canton, and the cellular phone company Cherry Mobile.
At press time, he had just been launched as the official endorser of Jack & Jill's line of Magic snacks.
When YES! asked him at the launch how he dealt with the pressure of being the face of so many brands, he answered, "Well, hindi lang naman sa 'kin 'yong pressure, 'no. S'yempre, no one naman can do it on his own...you can't do it alone. Nandito lang naman tayo para tumulong. Meron tayong opportunity para makatulong do'n sa brand, pero kung 'yong pressure, hindi naman talaga 'ko pressured e."
While he clearly likes to downplay his role in a brand's success, there is no diminishing the actor's reputation as the moment's go-to-guy in the high-stakes business of celebrity endorsements.
ADVERTISEMENT - CONTINUE READING BELOW
Currently, apart from his 16 live deals, he is awaiting his management's verdict on which offer, from two major brands belonging to the same product category, will win the John Lloyd seal of approval.
In short, with or without a teleserye, John Lloyd will remain highly visible. But has there really been a dearth of John Lloyd on television, in print, and online—even without the commercials?
For instance, Betty La Fea may have wrapped up two summers ago, but the romance that was reported to have begun on that teleserye, between the actor and co-star Ruffa Gutierrez, kept the angel-faced heartthrob on everyone's radar in the months that followed. The actor's love life, ever since his controversial relationship with singer-actress Ciara Sotto in the early 2000s, has always been a source of public fascination, probably because he mostly keeps mum, even as he carries on with his amorous dalliances.
As we write this, it has been three straight days of John Lloyd-related headlines from ABS-CBN's The Buzz, SNN, and TV Patrol to TV5's nightly Juicy!
ADVERTISEMENT - CONTINUE READING BELOW
At the press launch for his Magic snacks endorsement, the questions from the press may have varied in phrasing, but they essentially asked the same thing: Are John Lloyd Cruz and Shaina Magdayao an item?
If you've followed this reticent Romeo long enough, then you know that, as response, he dangles the phrase "give us a little more time."
Showbiz audiences tend to be impatient with a star who only likes to talk about his opinions and actorly craft—and who insists on keeping his private affairs private. But they seem to have made an exception of John Lloyd Cruz.
"I guess I'm just really blessed," he tells YES! the evening he hosts a dinner for us in his new home, when we ask if he's really satisfied with how his career is going. "You can be satisfied, pero there will always be worries. You'll never know kung hanggang kailan ka gugustuhin or kakailanganin. I guess I'm just really blessed na when you look at my track record, parang you can't let me go. Di mo 'ko puwedeng i-dispose, di ba? Pero buti na lang gano'n, kasi kung ang pagbabasehan lang e mukha at katawan natin-not even talent-e maraming talented diyan. Kaya talagang I really owe it to my audience, to my supporters."
ADVERTISEMENT - CONTINUE READING BELOW
While a hint of insecurity about his career creeps into that statement, John Lloyd seems resolved to keep his focus on the more productive, positive aspect of his job.
The decision to have his house photographed for a magazine feature, for example, an idea he was previously so against, is his way of giving back to his fans-a gesture of sharing a bigger piece of his private self to an audience that in many ways has provided him with the beautiful structure he is standing on.
"Dati, sinasabi ko, ayoko talaga," he admits. "Ayokong ipakita 'yong space ko. Ayokong ipakita 'yong ginagalawan ko sa bahay." But he now realizes it's payback time: "Noong naramdaman ko na it's time to give back to my supporters, unang pumasok sa isip ko, 'Sige na nga.'"
Indeed, on the evening of our visit, not only is he gracious enough to give us a tour of his impressive new home, he also seems ready to talk to us about everything that's being talked about in his personal life.
ADVERTISEMENT - CONTINUE READING BELOW
Dressed in a well-pressed white long-sleeved shirt and black tailored shorts, he seems to take pleasure in laying out the white plates and the flatware himself for his guests who have come a half hour too early.
He orders food-baked oysters and seared slivers of duck meat—from Ninyo, a favorite restaurant near Katipunan Avenue, Quezon City, but doesn't mind bringing out, when we ask for it, the Kentucky Fried Chicken that we have brought with us.
He brings out the wine and asks if we prefer the Cabernet or the Merlot. This is the first time he's entertaining a big group in the dining area who are not family, and still his demeanor is relaxed, more open and forthcoming than usual.
His mother, Aida, joins us. And so, too, does his father, Luisito, whose entrance from the grand living-room stairs merits an announcement from the evening's host. "Kita mo, alam niyang may bisita, bababa 'yan naka-boxer-shorts," John Lloyd mutters, clearly more amused than embarrassed by his dad's carefree sartorial sense. "Minsan, nagsa-slide pa 'yan diyan," he jokes.
ADVERTISEMENT - CONTINUE READING BELOW
Mom and dad, who share the house with their son, are quiet presences this evening, and join the conversation only when asked—not like the cool and suave host seated at the dining table's kabisera, who personally stands up from his chair to personally fill our wine glasses. "Ano ba 'tong gabing 'to, off the record?" he asks, jesting.
While there are answers he will request us not to record on tape, he generally indulges us with new admissions and revelations, and drops hints here and there, sometimes more than he intends to. He is thoroughly engaged throughout the dinner, as well as in the post-dinner drinks by the pool. He speaks confidently about his career, his family, his dreams, even his much talked-about issue with drinking. He speaks hesitantly only when the subject turns to the women in his life-but he does talk about them, eventually, after a little prodding.
ADVERTISEMENT - CONTINUE READING BELOW
He speaks about the house, too, a structure done in his preferred French Mediterranean style, built on five cuts of land in a middle- and upper-middle-class subdivision off Antipolo's Marcos Highway. It's a small representation of the 27-year-old star's labors, a landmark in his journey from the quiet little kid living in his grandmother's house to Philippine entertainment's current top gun.
Inspired by the airy, spacious abodes he has seen in Los Angeles's Orange County, the house is also a small testament to how his profession has exposed him to different worlds and lifestyles.
"Basically, no'ng na-expose ako sa trabahong 'to, batang-bata pa 'ko-13, 14. So kumbaga, 'yong paglaki ko, pagtanda ko, 'yong growth ko dito, hindi lang as an actor, hindi lang professionally, but also 'yong growth ng lahat ng aspeto ng pagkatao ko—meaning my personal style, my influences, my choices, decisions, my dedications in life—lahat 'yan through the years, nagbago."
ADVERTISEMENT - CONTINUE READING BELOW
Admitting that these changes are reflected in his taste today, he says, "So, malaking representation ang isang bahay. It has to evolve in a way na magpapakita ng growth kasi, kung hindi, parang mahirap yata imaginin yun."
IT BEGAN WITH A CHASE. The story of how John Lloyd Cruz was discovered may sound fairly common in showbiz: he was spotted by a talent scout in a mall. But the timing of that sighting was a bit out of the ordinary.
It was the summer of 1997, at the height of the Jojo Veloso controversy involving leaked VHS tapes. Jojo Veloso is the talent manager who allegedly videotaped the auditions of prospective male models, asked them to strip down to their underwear, and then proceeded to touch their privates—allegations that Jojo has steadfastly denied. At any rate, the 13-year-old John Lloyd, out on a movie date with two friends at the Sta. Lucia Mall, in Cainta, Rizal, was immediately suspicious of the tall, muscular guy following his group.
ADVERTISEMENT - CONTINUE READING BELOW
"Baba ako sa escalator, baba rin siya," John Lloyd recalls. "Nakikita ko siya mula do'n sa dulo ng mall. Akyat kami, akyat din siya."
The pursuer caught up with John Lloyd and company anyway, when they stopped to buy tickets for a movie (which John Lloyd remembers perfectly: Peque Gallaga's Magic Kingdom).
The stranger introduced himself as Reggie Pecayo, a talent scout, and asked for the boys' contact numbers. Three days later, the Cruzes heard from Pecayo. Soon after, he showed up at the Cruz home.
John Lloyd and his family were then still living in the smaller portion of a modest two-structure home, owned by his paternal grandmother, in the busy, tricycle-rattled street of Doroteo in Santolan, Pasig.
Unlike the young men in the alleged Jojo Veloso videos, John Lloyd Cruz did not have to strip to jumpstart his career. But in his first job as an actor, in a case reenactment for the legal-advice show Compañero y Compañera, he would play, ironically enough, a boy sexually molested by an older man.
ADVERTISEMENT - CONTINUE READING BELOW
The P1,500 paycheck for that first gig sparked an idea in the TV neophyte. "Naisip ko," he recalls, "kung meron akong P1,500 every week, meron akong P6,000 every month. Malaki na 'yon!"
While the family wasn't exactly hard up—his parents, after all, could afford to send him and his older brothers to a private school—business was down in the marble trade that his father Luisito was running for the Cruz patriarch. John Lloyd knew that earning a little extra cash for his family wouldn't hurt. The Compañero outing was followed by other guest stints, and then a TVC.
His first commercial was a Fibisco ad where the only thing he had to do was play cute. "Nilagay lang ako sa isang parang lazy Susan na set," he recalls. "Pinaikot lang ako do'n, gano'n lang." That gano'n lang gig paid him a then—whopping, at least to the young John Lloyd, P10,000.
ADVERTISEMENT - CONTINUE READING BELOW
"Wala sa isip ko mag-artista,"he makes clear. "Ang naisip ko noon, 'yong paycheck."
But even with a lack of real interest in a showbiz career, by July of 1997, John Lloyd, then already 14, found himself being launched as part of ABS-CBN's Star Circle Batch 5.
Together with batch members Marc Solis and Baron Geisler, he completed the dance trio called Koolits. But the threesome, even with their regular ASAP appearances, never really took off. Along the way, for John Lloyd, there was the steady guesting job in Palibhasa Lalake, and a starring role in a 1997 film called Nagbibinata, a rather forgettable teen flick where he shared equal billing with Patrick Garcia and co-Koolits member Marc Solis.
It was only when he was recruited to complete the all-teen cast of the youth drama Tabing Ilog that the lanky, young rookie earned a relatively significant following. In that Sunday afternoon series where he essentially played himself—a quiet, implosive, down-on-his-luck loner—John Lloyd also faced the challenge of not looking stupid in the company of the show's veteran supporting cast. Through constant exposure to seasoned co-actors, John Lloyd discovered he could actually look at acting as more than a paycheck machine.
ADVERTISEMENT - CONTINUE READING BELOW
"Matindi ang support namin," he says. "All the veterans around, sina Pen Medina, Caridad Sanchez, may mga gano'n kami, Daria Ramirez. So talagang nakakatuwa. 'Yon 'yong pinaka-training ground ko talaga.
"I found myself loving the craft. Nagkaro'n ako ng wild and great appreciation sa acting. And I took it seriously. Sabi nga ni Tita Caring [Caridad Sanchez], acting is life. So how will you imitate life? I was basically studying life and its content. So, interactions, emotions."
Then, analyzing himself coldly, he adds, "Kahit sarili kong emotions, inaaral ko. Kahit na minsan I'm at the peak of my own emotion-totoong emotion ko na 'to—talagang at the back of my head, 'A, gano'n pala 'yong pakiramdam.' Medyo sick, pero gano'n siya."
Before it reached its fifth year, Tabing Ilog came to a close. But even as John Lloyd was taping its last episodes on location in Pagsanjan, he had already begun working on the primetime TV drama Kay Tagal Kang Hinintay.
ADVERTISEMENT - CONTINUE READING BELOW
With an army of powerhouse actors led by Lorna Tolentino, the teleserye, which premiered in 2002, gave John Lloyd the opportunity to further sharpen the skills he had learned under the stalwarts of Tabing Ilog. Playing Lorna's long-lost son who would grow up to be a fierce young lawyer, John Lloyd stepped up to the plate and became the next serious player to watch.
Kay Tagal Kang Hinintay was a phenomenal hit at that time, but now it is no doubt remembered for being the vehicle that launched the John Lloyd Cruz-Bea Alonzo love team.
Then already being built up as the next matinee idol, John Lloyd may have done fine left alone with his good looks and the acting chops that were steadily getting impressive. But when the fresh-faced mestiza Bea, then only 15, came into his orbit, she sprinkled the necessary magic dust that lightened up the guy's rather gloomy TV persona. As the feisty law student who would win the young lawyer's heart in the primetime drama, Bea softened the bespectacled, angry character that John Lloyd, then 20, played and brought out his inner charm.
ADVERTISEMENT - CONTINUE READING BELOW
"When I first saw her, sa pictorial ba yun or sa taping, sabi ko talaga, 'Who is this young girl?' 'Kala mo ang tanda ko na," he recalls, laughing. "Actually, my exact words were 'Who is this kid? Ang bata naman nito.' This girl na full of awkwardness pa, pero kitang-kita na 'yong drive. She really wanted it, e."
It took a while before they spoke of anything outside of work, and even longer before they exchanged cellphone numbers. "When we started getting good breaks—'yong magagandang projects started landing on our hands—parang unti-unti, parang nare-realize ko, 'Aba, tumatagal tayo a! Tumatagal tayo na mas magagandang projects 'yong nagagawa natin.' Kami naman ni Bea sobrang proud, since Day One—ang maipagmamalaki namin is wala kaming supporters or fans na pinaasa, na para bang dinis-illusion mo, na pinapakagat mo lang, o pinapakilig. I think 'yon 'yong core ng teamup namin, e, kaya siya nagtagal."
ADVERTISEMENT - CONTINUE READING BELOW
Now on its seventh year, the John Lloyd-Bea love team has chalked up seven movies and four teleseryes. Theirs is a rare screen partnership that continues to have a strong hold on its audience despite the fact that, behind the cameras, they have never been a romantic item.
"Malaki kasing part ng success ng lahat ng ginawa ko, movies especially, ano siya, e—material-driven talaga, e," John Lloyd explains.
There was a long moment in the past when John Lloyd was obsessed with getting out of the romantic-lead mode and getting into more offbeat characters, the kind played by Hollywood actors Sean Penn and Daniel Day Lewis.
John Lloyd would talk about his dreams of exploring darker characters in interviews, and would voice out this longing to his Star Magic managers and Star Cinema bosses. But during the making of one of his movies with Bea, the memorable and highly successful One More Chance, the film's director, Cathy Garcia-Molina, suggested to John Lloyd a new way of seeing things.
ADVERTISEMENT - CONTINUE READING BELOW
Direk Cathy told him that the bigger challenge was to play every leading-man role that comes his way—but to put a fresh take on each character, so that each one becomes individual and memorable. "If you will play a killer, or a mental patient, a person with autism, natural, iba 'yong role," Direk Cathy later tells YES!, recalling her conversation with John Lloyd. The actor listened.
"So now," she continues, "mas may conscious effort to be more watchful of the mannerisms of his characters. Sasabihin ko sa kanya, iyak-Popoy 'yan"—referring to John Lloyd's love-ravaged character in One More Chance—"o kaya, very Palits 'yong ginawa mo dito"—recalling his role in Close to You (2005), where John Lloyd's character, before becoming a happy-go-lucky everyman in love with his best friend, had been reed thin as a youngster.
While it is the talent agency Star Magic that oversees John Lloyd's overall career, which covers his television and print exposure, plus the people, products, and events that are associated with his name, it is the film-production company Star Cinema that maps out the direction his acting career will take, careful to maintain his big-screen bankability.
ADVERTISEMENT - CONTINUE READING BELOW
With the actor having just come from heavy drama with In My Life, and serious romance with Miss You Like Crazy, the film company has now lined up two light projects for him: a film with his co-Kanto Boys members Vhong Navarro, Billy Crawford, and Luis Manzano, and the inevitable reunion with Sarah Geronimo, the second sequel to the continuing saga of the Miggy-Laida publisher-assistant romance that began in A Very Special Love. "Sa ayaw man o gusto ng kahit na sino," John Lloyd says with a smile, "may Part 3 'yan."
John Lloyd adds, however, that he also has a say on where the movie company will take him: "Mostly talaga, call ng artista, e. Kasi what they do, ilalatag lang sa 'yo. 'O, gusto mo ba 'tong gawin?' So, parang nasasa 'yo pa rin talaga, e."
He is also privileged to join script discussions and to contribute ideas to forthcoming films—which is impossible to do in teleseryes where scripts land on the actors' laps the week those scripts will be shot. "Sa pelikula, parang babasahin mo muna, 'tapos tatanungin ka, 'Ano, kumusta 'yong script?'"
ADVERTISEMENT - CONTINUE READING BELOW
Ah, the power of box-office bankability.
Star Cinema's TV arm is also producing his much-delayed return to the teleserye scene. This July, he is starring opposite Angel Locsin in Imortal, a drama-fantasy series inspired by popular culture's current obsession with all things Twilight. When we asked him about the project in mid-May, when he had yet to see a single script, he didn't seem unduly excited about the new soap. When asked what his role was, he blandly answered, "Vampire." As weeks passed, his enthusiasm grew.
During the YES! shoot, he had just received the soap's first week's worth of scripts. ("The eight draft!" he said, amazed). By early June, he had a conversation with Chito Roño who clued him in to how difficult it was to direct the soap's first three taping days. John Lloyd, not expected on the Imortal set until the third week of June, has already begun reading the script. ("Madugo," he describes it. "Medyo madugo.")
ADVERTISEMENT - CONTINUE READING BELOW
These days, he is totally excited about his role in the soap. "This character punong-puno ng angst talaga. Kung may word pa ngang mas mabigat sa angst..." he says. He adds that, on the surface, his character is a man without baggage, but that, deep inside, the guy has a very dark past and a seething grudge against his father. "So, it's a character that deals with so many things in his past, at 'yon na 'yong motivation niya kung ano siya ngayon, kung ano ang gusto niyang marating."
THE WOMEN. When John Lloyd says he barely has the time to shop these days, we take his word for it. Besides, judging from the size of his walk-in closet, it looks like he has amassed enough clothes and personal effects to last him for the next five years.
The closet's tall cabinets, in dark wood, fill the stretch of two walls. Plus, there is a smaller storage of the same material in between the full-length mirror and the bathroom door. Still, the floor space is generous enough for the owner to walk around in.
ADVERTISEMENT - CONTINUE READING BELOW
If this room were a woman's, it could easily fit eight to ten ball gowns standing. But with its stately interiors, high ceiling, wooden floors, and alternating eggshell and bronze curtains, this is neither a girl's nor the usual young bachelor's modern space. It is a refined gentleman's dressing room. Or more like an older gentleman's-certainly a couple of decades older than the then 26-year-old who conceived it.
Just as John Lloyd has acquired enough shirts to cover his back for the next half decade, he has built himself a closet he could change in up to his cigar-smoking, cognac-sipping years.
As we watch his personal stylist Rex Atienza prepare the actor for the YES! shoot's fourth layout, folding a sleeve of John Lloyd's striped polo shirt up to just beneath his elbow, fixing the lower half of his dark jeans so that it stands just so, it is easy to imagine the scene as taking place in an expensive tailor's atelier. But the actor doesn't seem to take as much delight in the moment as those who are watching him. Dressing up, he says, doesn't bring out the same magic that it used to.
ADVERTISEMENT - CONTINUE READING BELOW
"Mas madali kasi kapag prepared na clothes," he says. "Kasi, kung ako lang-unang-una, parang wala na akong time to actually shop. And ikaw pa 'yong magmi-mix-and-match. It can take so much of my time. Parang at this point ang dami pang kailangang ayusin."
The remains of his adventurousness in style, however, are still fairly evident in this room. Among the selection of footwear on the floor are a pair of leopard-skin slip-ons and Lanvin sandals with multi-textured straps. Hanging on the sides of a rack are around 20 belts, in various skins-leopard, calfskin, and blue, yellow, pink patent leather. In truth, these are relics of a past life. He occasionally mixes only a few of them into his wardrobe today, and only for public appearances.
For the occasions when he goes out and he is not the artista, a basic roundneck tee suffices, or a conservative pinstriped polo shirt paired with the usual, roomier blue jeans.
ADVERTISEMENT - CONTINUE READING BELOW
"Daddy, in short," he jokes.
Hence, the need for a personal stylist, who pulls out pieces from John Lloyd's own wardrobe, or from designer stores such as Paul Smith or the Shangri-La Plaza Mall's homme et femme store, and who does the mixing and matching for him for his public appearances.
But Rex Atienza came into the picture only in late 2008 to handle the actor's wardrobe in Betty La Fea. John Lloyd's image of being a clotheshorse actually began earlier, in late 2006, right about the time he started dating the stylist and then-associate fashion editor of Preview, Liz Uy.
The actor's talent handler Nenette Roxas recalls the days when her ward didn't feel the need to dress up, his wardrobe consisting only of basic shirts and slacks, unfortunately just running along the colors of black-lots of it-and white.
"Ang sabi nga ng mga kasama ko, sina Lulu [Romero, Star Magic talent handler for Piolo Pascual], 'Nette, sabihan mo naman si Lloydie, tumatanda hitsura niya.'" When Nenette relayed the message to John Lloyd, all he said was: "E, tita, ito talaga kulay ko."
ADVERTISEMENT - CONTINUE READING BELOW
And then Liz came into the picture. Says Nenette: "Siguro, dahil sa tulong ni Liz, nagkakulay." The handler began noticing the subtle introduction of pink belts and bright stripes in the actor's wardrobe. All of a sudden, the black daddy trousers had been replaced by the skinny jeans and bitin pants. The formal black leather shoes became shiny patent slip-ons.
But the fashion stylist's touch went over and beyond the actor's sartorial concerns. Of all the women he has been with, Liz has had the most influence on John Lloyd. "Siya yata ang pinaka-influential," he admits.
When he speaks of her now, it is almost with a tone of reverence. In the five times that we meet with John Lloyd for this story, it is his time with her that he refers to most often. That includes a vacation in New York when they only had $2,500 to spend and so they stayed in his brother Allan's apartment, and the time when his parents met hers and he was so in awe of her family.
ADVERTISEMENT - CONTINUE READING BELOW
He tells us during the dinner he hosts for YES!, "Likas silang mabait. Kahit parents ko, family ko dito, kilala 'yong parents in Liz. Wala kaming masabi. Sobrang bait nila... Si Liz, [pag galit na galit sa isang tao] iiyak na lang pag di na kaya."
Then he adds: "I'll die saying nice things about her."
But we are getting ahead of the story of his romantic entanglements. During the YES! cover shoot, between changing outfits and sitting for layouts, we corner him to talk about his past relationships. Then, catching him on the phone on another day, we ask him for more of the same.
John Lloyd's first girlfriend in showbiz was Tabing Ilog co-star Kaye Abad, when he was 14 and she was about the same age. But before they met, he was already a veteran of three relationships. He had his very first girlfriend when he was only 12. The girl, a neighbor in Santolan, Pasig, was three years older.
ADVERTISEMENT - CONTINUE READING BELOW
Of that period in his younger life, he says now, the romance couldn't have been anything serious. "It was real at that time," he says. "I'm sure there was love. Nag-exist 'yong love talaga between myself and the girl. Pero ewan ko. Parang, how can you call it real love kung you were too young to understand what really happens when two people fall in love, and actually express or be able to express what love is?"
The girl that came after Kaye was not from showbiz. The relationship lasted seven months. "Pag inaalala ko siya ngayon, parang naalala ko lang, punong-puno ako ng insecurity. Puro away." Still, that relationship left an indelible mark. "Talagang tumatak 'yon. Pero noon, ewan ko, napaka-immature ko noon. I wouldn't go to work dahil nag-aaway kami. Gano'n 'yong konsepto mo, parang napaka-childlike, napaka-childish."
It is his relationship with singer-actress Ciara Sotto that he considers the first serious one. It was sweet young love in the beginning.
ADVERTISEMENT - CONTINUE READING BELOW
"I still remember looking at the stars in the sky," the actor says, recalling the moments when he and Ciara would sit on the steps outside the Sotto house in White Plains, Quezon City. "And then it became passionate." But he will say no more about the emotions of that time. "It's hard to describe something if the girl has a husband na," he says.
Of his early romances, the one with Ciara was probably the most dramatic in the way it was played out in the media—especially after her rumored attempt to take her own life after she and John Lloyd had a brief falling-out in 2003.
In truth, she took three tablets of Dormicum sleeping pills simply to give her body immediate sleep—in order to make it to the taping of her then-weekly series Buttercup three hours later.
In the YES! report about the June-23 incident, we wrote that the singer-actress was rushed to the hospital where "the doctor explained that the sleeping pills were still in effect and that there was nothing else to do but let them wear off. The doctor's diagnosis: plain and simple fatigue."
ADVERTISEMENT - CONTINUE READING BELOW
Intriguingly, in her birthday celebration on ASAP the next month, Ciara would tell one of her guests, cousin Mico Sotto, over live television: "Sana ikaw na lang ang boyfriend ko, kasi ipinaglalaban mo girlfriends mo."
But a few days after she spoke those words on television, John Lloyd was at the Rockwell Power Plant Mall to grace her July private birthday celebration, which was also attended by Ciara's family. "The 20-year-old John Lloyd arrived at the party at around 10 p.m.," reported YES! in its September 2003 issue. "He handed Ciara a bouquet of flowers and planted a loving kiss on her cheek. They were so sweet to each other that it was impossible to imagine their nearly two-year romance would be on the rocks."
Among all his relationships, the one with Ciara lasted the longest, although John Lloyd won't say exactly how long, and when it ended, or how.
"Ang sasabihin ko lang about our relationship... Actually, eto puwede kong sabihin sa kahit sinong naka-relasyon ko: I will only remember the good times and the beautiful memories that we shared. Hindi na 'ko para alalahanin ko pa 'yong mga nagawa kong hindi maganda, nagawa niyang hindi maganda. So, di ba, it's easier to move forward, e, pagka may acceptance na. Nangyari na 'yon, e. Ginusto n'yo man o hindi n'yo ginusto, nangyari na. And I'm pretty sure it all happened for a reason."
ADVERTISEMENT - CONTINUE READING BELOW
After Ciara, there was a short flirtation with Heart Evangelista. That fueled the rumor mills for a while, but in true John Lloyd fashion, nothing was said, denied, or confirmed to the press. He says during the YES! shoot: "We dated for... I can't remember anymore... before she dated Echo"-referring to Jericho Rosales who started going out with the young actress in late 2005.
So how long did Heart and John Lloyd date? "I guess months yata. I wasn't ready to get into a relationship, kasi kakatapos lang ng... God, my memory!"
How the Heart-John Lloyd dating was nipped in the bud, he won't say: "Hindi dahil sa inoobliga ko 'yong sarili ko na huwag magsalita. Kaya lang, bilang lalake, I can only wish them well. Kung paano 'ko nagbigay ng respeto sa kanila, sa lahat sa kanila, hanggang ngayon hindi naman nawawala 'yon. I mean, I'm not perfect, and I am very far from being one, and may mga bagay tayong nagawa noon na sana hindi nangyari. But you know, it takes two to... I guess it takes two to tango. Mahirap lang minsan na lahat ng sisi, they blame it all on you."
ADVERTISEMENT - CONTINUE READING BELOW
Not that the blaming caused John Lloyd to steer clear of a lady who had caught his fancy.
Because there was that one time at the Hong Kong International Airport when, armed with a newly bought video camera, he found his gaze starting to linger on this svelte, morena-skinned tsinita that his lens had chanced upon. He recalls: "'Tapos, nakauwi kami ng Manila, nakita ko siya ulit. Nakunan ko siya ulit." He thought her to be Japanese and christened her Michiko. And then he saw her again one evening at the Embassy club at The Fort, Taguig. "Sabi ko sa pinsan ko, 'Nakita ko si Michiko, nakita ko si Michiko!' So ayun. Hanggang sa nakilala ko siya sa ibang place. Hanggang sa, ayun... Then I told her the story."
A story that Liz Uy-John Lloyd's magnetic Michiko-didn't buy at first. "But when I told her kung ano 'yong suot niya, 'tapos kung ano 'yong kotse nila, naniwala siya."
ADVERTISEMENT - CONTINUE READING BELOW
In the February 2007 cover story for StarStudio magazine, John Lloyd described this meeting as "too magical to tell." In the same article, the star was quoted as saying, when asked to elaborate on his newfound happiness, "It's a constant celebration of joy in my life."
Although he still limited himself in that story to a few sentences, never divulging specific details, his statements were almost bursting with unadulterated affection. He said then, speaking of Liz: "Buo na 'yong values mo, pero may darating na tao, parang aalagaan 'yong values mo, 'yong inner being mo, your core. Pa'no kang magsisisi? Pa'no kang... wala kang... Ang sarap! Ikaw din naman, matututo ka along the way na... Makikita mo 'yong totoo, 'yong totoong beauty sa mundo. 'Yong totoong mundong dapat mong makita. Hindi pa siya gano'n katagal, pero 'yong natutunan ko, 'yong napulot ko, 'yong naibahagi ko-hindi lang sa kanya, pero sa ibang tao din-mas gumanda. Para bang, para bang... Now I'm living in a more beautiful world."
ADVERTISEMENT - CONTINUE READING BELOW
Two years after that magazine story came out, rumors of the couple breaking up began floating in the press. In a report posted on February 22, 2009, YES! Magazine's online affiliate, PEP (the Philippine Entertainment Portal, www.pep.ph), asked Liz to comment on the insistent talk. Liz, who rarely gives interviews, replied: "Wala po, walang reaksiyon, dahil hindi naman totoo."
That was then.
Today, John Lloyd won't go on record on how the romance came to an end, and when, but says that it lasted three years and a half. "Hindi siya part ng past ko," he tells YES! "We're friends." Still, he would rather not talk at length about Liz or what transpired between them. "It's harder for me to talk about her, lalo na, hindi na kami. Kasi, malay mo kung ayaw niya 'yong pinag-uusapan."
By April of last year, what was previously just insider whisperings about a new woman in John Lloyd's life surfaced before the public when PEP came up with its first story linking the then 25-year-old John Lloyd to the then 34-year-old Ruffa Gutierrez, his co-star in Betty La Fea.
ADVERTISEMENT - CONTINUE READING BELOW
The rumors of a romantic entanglement reached fever pitch when a photograph purportedly showing John Lloyd and Ruffa entering a hotel in Beverly Hills together, luggage in tow, appeared on PEP in late June 2009. Before this, John Lloyd had told the entertainment website, in a June 20 interview: "Magkaibigan lang kami. Tapos." The comment was made following a statement by Annabelle Rama, Ruffa's mother, challenging the actor to own up to his relationship with her daughter.
Type the names John Lloyd Cruz and Ruffa Gutierrez on the PEP search engine, and out will come a long list of stories dedicated to the John Lloyd-Ruffa saga.
From April 2009 to December that year, PEP reported on its every single development: Ruffa reportedly storming out of her parents' house; the dinner at the Gutierrez home, hosted by Ruffa, graced by her parents, John Lloyd, and his bosses at Star Magic, Johnny Manahan and Mariole Alberto; Ruffa hosting a private screening of John Lloyd's film In My Life at Greenbelt's My Cinema in September; Ruffa's private 35th birthday party where John Lloyd was the "special guest," with broadsheet society columnist Maurice Arcache reporting on the party..
ADVERTISEMENT - CONTINUE READING BELOW
Through all of it, however, John Lloyd insisted that there was nothing going on between him and Ruffa other than plain, good old friendship. And Ruffa, in interviews and responses to questions thrown at her on The Buzz, the show that she co-hosted at the time, could only echo John Lloyd's statement.
During his dinner with YES!, John Lloyd initially says, when asked what transpired between him and Ruffa: "I guess it's something na parang only mature people can understand." But after a few more probing questions, the actor, while still refusing to give a categorical answer on what his relationship was to the talk-show host, finally hints that it was more than friendship.
Asked how long that more-than-friendship period lasted, he answers:
"Less than a year."
And it started on Betty La Fea, right?
"Yeah."
When did it end and why?
"Wow," he says, followed by quiet laughter. "I need to go away."
ADVERTISEMENT - CONTINUE READING BELOW
He stays put, of course. But only to say that: "Ang sa akin, alam naming dalawa kung ano 'yong nagkaroon kami, kung ano 'yong pinagdaanan namin as friends or as more than friends, 'yon na 'yon. 'Yon na ang importante."
During the YES! cover shoot, days after the dinner, we ask him a few more questions about Ruffa in between outfit changes and sitting for Rene Mejia's camera. In the dining room, shortly before he is called on to pose for the photograph that will be this story's opening spread, we ask, more directly this time, if what went on between him and Ruffa went beyond friendship.
"Of course," he answers.
We ask him to describe it.
"Definitely masaya."
And since he has already told us that in all his relationships he prefers to recall only the beautiful moments, we ask him to talk about his and Ruffa's share of beautiful moments together.
ADVERTISEMENT - CONTINUE READING BELOW
Long pause. "This is tricky," he says, smiling.
Just the good memories, we reiterate.
"Yeah," he agrees. Longer pause.
The good memories. Name just one, we carry on.
He laughs his modest, mischievous laugh.
We count the seconds: 27.
Finally: "Hiiirap." He laughs, and is whisked away to the front porch for the final-layout photo shoot.
A few minutes later, the pictorial is a wrap. John Lloyd returns to his bedroom and quickly changes into a more comfortable outfit-shorts and a white roundneck shirt with an image of Albert Einstein. In the small, quiet anteroom between his bedroom and walk-in closet, he faces the recorder while leaning on a wall close to the main door.
He begins with a statement he would rather not see printed, about his relationship with Ruffa, what it was and what it wasn't. But he allows us to publish this quote: "It was sincerely, truly, genuinely special. She's very fun to be with. Para sa 'kin... As a woman, she's one of a kind. She can be your greatest friend. She can be your greatest lover. Iba."
ADVERTISEMENT - CONTINUE READING BELOW
He is serious, intense, quietly taking delight in the memory. "She knows how to take care of a man," he goes on. "I only have good words, or nice words, to tell about her." Then, as if to sum it all up: "Yeah, kahit it didn't last for long, definitely it was memorable."
With all the women in his life, the question must be asked: What, aside from the obvious good looks, gets the girl?
"I think, ako, mae-enjoy ako ng partner ko because maraming ginagawa ang girls na nae-enjoy ko. I love shopping. I love going to groceries. I love going to the spa, salon. Ano pa ba?
"Basically, I'll be a good friend," he continues. "I'll be your best friend. Basically, gano'n ako. Gusto ko 'yong binebeybi ako, pero gusto ko rin 'yong nag-aalaga. And I'm very malambing, sabi nila. Yeah, I guess. Ang weird lang na sa akin nanggagaling. Pero nae-enjoy ko... Actually, hindi ko nae-enjoy, I don't take note of it naman, pero sa tingin ko, kahit naman sino, gusto 'yong malambing 'yong lalake. Because, typically, ang guys hindi showy, o hindi affectionate, di ba? Pero ako yata, para yata akong pusa, e."
ADVERTISEMENT - CONTINUE READING BELOW
After romancing a succession of lovely and famous females, John Lloyd looks like a male who breaks hearts-badly. But if he is to be believed, his heart has been broken as many times-as badly.
"'Yan kasi, e, ang business na ito talaga, it's all about perception," he says to YES! minutes after his Magic Flakes presscon. "Pero, 'di ba, 'wag tayong magpa-deceive do'n sa ano, sa perception ng karamihan. Pero ewan ko, mahirap na magsalita, pero, 'di ba, pagka lalake ka, you don't talk about things...na kung paano ka nasaktan ng isang babae. Hayaan mo na magsalita ang mga babae, pero ikaw, huwag na huwag kang magsasalita. Hindi tama."
His tone reflective, the heartthrob gives it straight: "Oo naman, nasaktan na tayo."
Recalling a past love whom he does not identify, he describes how heartbreak can devastate him. "Para akong namatayan. I couldn't function. Hindi ako makapag-report sa shoot. Literal, hindi ako maka-function. Si Tita Nenette, no'ng hindi ako nagrereport no'n, pinuntahan niya 'ko sa bahay. Nakalubog ako sa bathtub. Wearing my clothes from last night. Grabe."
ADVERTISEMENT - CONTINUE READING BELOW
Lightening up, he adds, "Ganoon naman talaga, you know, in life may kapalit. You get what you give. I was so passionate, ang kapalit niyan medyo passionate din ang balik sa 'yo, di ba?"
He continues, clearly talking about lessons learned from a past already examined, "While you can't blame the other party, kailangan mong tignan 'yong-at some point, nagkamali rin ako. Gano'n lang talaga, masakit pag nando'n ka pa sa moment na 'yon, pero gano'n, di ba, kagaya no'ng sabi ko" -referring to an earlier off-the-record statement about a past relationship and how it ended-"when a person falls in love, 'di ba parang hindi naman pinipili 'yon, e. Hindi mo 'yon pinili. It's not like you made it happen, di ba? 'Yong connection, 'yong energy, na na-create between you and the person, it's something you can't create. So, when a person falls out of love with you, huwag mo siyang sisihin—it's as normal as falling in love."
ADVERTISEMENT - CONTINUE READING BELOW
And then, maybe realizing how serious he has allowed himself to be in an afternoon that began with talk of cracker snacks, he says to no one in particular, "Sobra, ano ba 'to? Penge ngang beer!"
CAUTIONARY MEASURES. When John Lloyd decided to join showbiz, he signed up for the paycheck. Not for the vaudeville act. Not for the intrusion to his private life. He was a boy who snickered at actors who did song-and-dance numbers on television. It took the grown-up guy a few years before he could get comfortable facing a roomful of media people in a press conference. Those close to him say he has always been a loner, a bit moody. He himself admits that, as a kid, he had a tendency to be detached from his surroundings.
Sometimes he still feels he is not fit for showbiz.
"Lagi kong sinasabi, I can't do what they do," he tells us when we meet him one Sunday in May after ASAP. He seems under the weather on this particular afternoon, his face somewhat grayish. He has, he says, the residue of the flu virus, which he apparently picked up after he got back from the Heartthrobs 2010 concert tour in the U.S. last April.
ADVERTISEMENT - CONTINUE READING BELOW
He picks a quiet spot on the second floor of the ELJ Communications Center building in the ABS-CBN compound, away from the madness of production people, handlers, co-actors, and hangers-on walking in and out of dressing rooms and the studio. "Hindi ko ma-imagine 'yong sarili ko... Hindi naman sa sinasabi ko na may mali sa ginagawa nila. Ang sinasabi ko lang is may mga tao who would do almost anything and everything para sa image nila."
But image, too, seems to have increasingly become a reality for John Lloyd. Especially now, with the number of his endorsement contracts. He seems more cautious now about the statements he makes, and he takes more time to process his thoughts, always wary of being misinterpreted.
"At this point, I'm being very careful na rin," he tells us when we convey our observation. "Sabi nga nila... na it's all about perception in this business. Madalas, kung ano 'yong totoo, ano 'yong sense, 'yong pinaka-sense ng sinasabi mo-madalas nami-misinterpret, and dinadala ka niya sa hindi magandang sitwasyon."
ADVERTISEMENT - CONTINUE READING BELOW
It is not just the things he says that he is careful about these days. It's also the places he's seen in, the people he's seen with. Naturally affected by the ruckus caused by a tweet made last January by entertainment talk show host Raymond Gutierrez, Ruffa's younger brother, about a certain "JLC" who "can't stand straight here" in the Makati club Fiamma, John Lloyd confesses during the dinner with YES! that his public display of indulgence that evening was a major lapse in judgement.
"Sa mga nakakaalam, sa mga nakakakilala sa akin, wala 'yon.
I mean, sabi ko nga, once in your life, maybe twice, maybe a few times, magkakamali ka, and sa akin kasi, ano 'yan, e-decision 'yan, e, when you allow yourself to drink beyond your limitations... So, meaning, nagkamali ka. Hindi ko naman puwedeng sabihing hindi ko alam naparami ang inom ko. Hindi. That's just B.S."
ADVERTISEMENT - CONTINUE READING BELOW
During our Sunday interview after ASAP, he sounds more regretful, even repentant, about that evening when he may have drunk more than usual in public. Asked if he still goes out to the clubs in the evening like he used to, he says: "I realized na I can live without it. Alam mo, basically, parang I've found my own concept of what should relax me or give me a good time, without the pretensions and worries. Basically gano'n lang naman, e. I'm not sure if it comes with age."
He continues: "Di ba, as you mature, malalaman mo na, e, what's for you. And then I realized maybe it's not for me, going out, clubbing." That's something he has been doing for a long time, a "very, very long time," he says, smiling, as if recalling his past as a night owl. But now comes this new realization. "Ewan ko, parang I was given signs and realizations na maybe it's not for me. Hello, mabubuhay naman ako na walang gano'n. And actually mas okey ako ngayon!"
ADVERTISEMENT - CONTINUE READING BELOW
He says he still enjoys going out, though—to movies, dinners. He asks if we've tried this restaurant near Malacañang called Cocina de Tita Moning's. He lavishes praise on the place: "Hayop. Masarap 'yong food, maganda 'yong experience. Kung pa'no sila mag-serve no'ng 1930s, gano'n ang gagawin nila sa 'yo." He went there once with friends, among them Rowell Santiago, husband-and-wife Manu Sandejas and Agot Isidro, and ABS-CBN executive Jeff Remigio. It is this more adult, more refined group he goes out with these days, he says: "Ang pinakamaganda ro'n e I learn a lot from these people. And these are intelligent people, masarap sila kasama."
On some nights, he hangs out with his co-presenters in ASAP—Vhong Navarro, Billy Crawford, Zanjoe Marudo, among them-in some joint on Katipunan Avenue. Which establishment exactly, he'd rather not say. Asked what his drink of choice these days is, he keeps quiet. "Kasi, alam mo sa business na ito, it's all about perception, e," he says, repeating himself. "Pag sinabi mong umiinom ka, iba na 'yong dating mo."
ADVERTISEMENT - CONTINUE READING BELOW
He applies the same cautiousness when the subject turns to the lady he is seeing at the moment, the 21-year-old actress Shaina Magdayao, one of his co-hosts on ASAP. The most he will say about Shaina is that, yes, she has been to his house. Yes, she has met his parents. And "Kami ni Shaina, we're in a good place right now. And I think it's safe to say na talagang we really bring out the best in each other at this point. That's all I can share."
He may be careful with his words, but their public displays of affection have become a common sight backstage on ASAP, according to insiders. He also doesn't mind that pictures of them together are showing up in the tabloids or on the Internet. In the first photo of the two of them together that appeared on the PEP website early this year, while in a bike store in Makati City, the couple even faced the cameras, and flashed smiles.
ADVERTISEMENT - CONTINUE READING BELOW
John Lloyd introduces Shaina to YES! when we see her in his house on the afternoon of the cover shoot. She can't stay long, though, because she has an appointment to attend to. John Lloyd tells us he has asked her to come back if she finishes early. And she does come back. She hangs out mostly with his mom, and with his cousin Igoy's partner, who she seems to have become close to, while John Lloyd joins us for drinks. Later in the evening, when his mom has disappeared into her room, and Igoy and his wife have left, John Lloyd suggests that we transfer to the foyer to join the actress. We agree.
He takes the chair next to Shaina's, who this evening is dressed in a gray V-necked knit dress, her hair in a neat ponytail. At one point, as in a wordless how-are-you, he presses his left hand lightly on her left leg. She smiles. They barely exchange words with each other, although it's not clear if this is because they're intimate enough to be comfortable with the silence or because there are reporters present. Quietly, they watch an old NBA game on television, barely minding what's left of the afternoon's feast.
ADVERTISEMENT - CONTINUE READING BELOW
It's been a long day for the actor and he seems spent. It is also a humid evening, weighed down even more so by the silence, and it propels us to ask out of nowhere: "So how did you two...?" We trail off, careful not to put any labels. John Lloyd smiles an exhausted smile, as if to signal, if politely, that it's late and he deserves a break from the interminable questions.
Taking his hint, we make small talk instead. We ask if she has joined him in any of his biking trips. She says she hasn't, and laughs at her own cluelessness about biking. He looks at her and smiles-as if saying, if wordlessly again, that it's okay for her not to know the sport. She smiles back-and the young woman with the childlike face glows, prettily, happily.
We tell ourselves: they look good together, they like each other, there's more to this than rumor.
ADVERTISEMENT - CONTINUE READING BELOW
"It's interesting 'yong trabaho namin," he is saying days earlier, when we see him after the ASAP show. "Talagang it will test your character's strength and 'yong pagiging solid ng identity mo. It's a very complicated thing, very intriguing, very interesting... pero mahirap din siyang alagaan or i-maintain."
He continues: "Kung naiintindihan mo talaga 'yong lahat-lahat, 'yong labas-masok ba ng trabahong pinili mo, madali siyang gawin, e. Pero minsan kasi, di ba, a part of your being human-parang minsan hindi sila nagkakasundo, e."
When we ask him again if he is content with how his career is going, he says: "Kasi, kung contentment 'yong pag-uusapan, wala 'kong problema, e. Wala akong problema, okey ako. Pero siyempre, kailangan mo lagi i-consider 'yong, di ba, what's to come, dahil sa bilis ng turnover ng mga bagay-bagay ngayon, you can never be too complacent. Mahirap. Kumbaga, kahit na sabihin mong kontento ka, dapat iniisip mo pa rin 'yong mga magiging moves mo and kung ano'ng mangyayari around you and behind you."
ADVERTISEMENT - CONTINUE READING BELOW
There are days, he says, when he thinks it's possible to leave all this-the fame, the job, the fortune-and live a different life.
"Kahit parents ko, nagsasabi, 'Kung gusto mo tumigil magtrabaho, may gusto kang gawing iba, okey lang, puwedeng-puwede." They are referring to their son's long-time dream of working as a United Nations volunteer. "Puwede na 'kong tumigil magtrabaho, e. Alam mo 'yon? So ano'ng ginagawa ko? Ba't ako nandito? Well, siguro, to be brutally honest about it, eto lang 'yong alam kong gawin, and eto lang 'yong nae-enjoy kong gawin. Hanggang dito pa lang umaabot 'yong courage na meron ako in my heart."
FAMILY MAN. For John Lloyd Cruz, there seems no other safe place but home. Here, he is surrounded-quite literally-by family from almost all sides of the corner property.
Just across the main gate is a white two-story home where his brother Gil lives with his wife and three children. (Gil is the eldest of the three Cruz kids. Second child Allan is based in New York.) The corner house to the left belongs to John Lloyd's cousin Bon, daughter of his Tita Mate-or Maria Teresa Cruz Adona-who lives just beside John Lloyd. On the next street lives the family of his Tita Dina Cruz Avila, and three blocks away, his Tito Manolo Cruz. (Mate, Dina, and Manolo are the siblings of John Lloyd's father Luisito.)
ADVERTISEMENT - CONTINUE READING BELOW
The Cruzes had lived around the area even before the only celebrity in the family decided to build a house right in the center of what now seems a Cruz compound. In 2004, the actor had already built, for himself and his family, a house in the same village many streets away. But when Mate, who works as executive assistant to the president of Sta. Lucia Realty and Development, learned that a huge chunk of the corner lot beside hers was being sold, she encouraged her famous nephew to grab the opportunity. "Kung may pera ka," she told him, "bilhin mo na." And he did. He sold the existing house, and used the money to help build this new home.
The Sunday when we follow John Lloyd on his biking trail-from the hills of San Mateo, we go in convoy with his BMW, and with his cousins Igoy and Alexis, all the way to Antipolo City-the actor invites YES! for the first time to his new address, and we share lunch with Mate and select relatives on his father's side. On this hot summer afternoon, on John Lloyd's back porch, we are able to take part in the Cruz family's long-held tradition: Sunday lunch of home-cooked meals laid out on banana leaves.
ADVERTISEMENT - CONTINUE READING BELOW
The table, set for a party of about 12, is laden with inasnang inihaw na liempo, fried tawilis, sinampalukang manok, and ginataang hipon. His dad, shirtless, is pouring patis over a bowl of bagoong isda for his sawsawan. His mom, fresh from her second shower on this hot day, comes in with her hair still dripping with water. Everyone eats with bare hands, including John Lloyd.
It's a whole lot different from the dinner he will host for us a few days later for the YES! interview, during which he's all cool and suave. During the family lunch, he is quiet, almost shy, letting his old folks navigate the afternoon banter. He participates in their discussion, about neighbors and relatives, but mostly John Lloyd the Celebrity has disappeared. The only indication that an artista is among us at the table is the feast's single bowl of brown rice, from which John Lloyd cups small amounts with his bare right hand.
ADVERTISEMENT - CONTINUE READING BELOW
John Lloyd grew up in this kind of setting. Back when the Cruzes all lived around a small compound on Doroteo Street, barangay Santolan, Pasig, they all came together for these feasts. It was only when John Lloyd's grandmother died in 1998, and when the children started moving out of the area, that the Sunday lunches came to a full stop.
"There was a time na medyo nagkalat-kalat kami, 'yong hindi kami nagkikita madalas," John Lloyd says. "Siguro 'yon 'yong parang start ng peak ko. 'Tapos, nagkatrabaho 'yong ibang mga cousins ko, kaka-graduate lang. 'Tapos, 'yong isang cousin ko, nag-abroad."
But now that they live close to each other again, John Lloyd says there is a conscious effort on his and his cousins' part to bring the Sunday-lunch tradition back.
"Kasi kami 'yong mas nakakatanda sa ibang cousins namin. We tell them 'yong importance ng family, 'yong pagiging malapit sa isa't isa, kung ano 'yong magagawa no'n in the future, or in the present time."
ADVERTISEMENT - CONTINUE READING BELOW
Gathering around food, however, is not just a Sunday practice for the Cruzes. Not when John Lloyd is around. Says Gil of his brother: "Pag may time na open siya—like, siyempre, like, uwi siya nang maaga, 'Maghanda ka diyan ng ano, dinner tayo! Nag-take-out ako, dinner tayo lahat.' Gusto niya, nando'n lahat."
When John Lloyd talks about the values that keep him grounded, it is easy to see he traces it to his family. "I guess bago ako na-expose sa trabaho ko, bago pa ako naging artista, I think nage-exist na 'yong core mo as a person," he explains at the YES! dinner. "It's about the things you want to protect in your life and your choices and your decisions. So it's the thing that matters most. Dumaan man ang success, ang failures, dumaan man ang hirap or ginhawa in the future, parang you'll be able to protect yourself."
ADVERTISEMENT - CONTINUE READING BELOW
It is refreshing to watch John Lloyd, a successful young bachelor, taking obvious delight in being surrounded by kin. Whenever a negative writeup comes out in the papers, on television, or online about him, it is not just his image he worries about and protects. "Hindi lang sa akin kundi sa pamilya ko din," he says.
When his mother was diagnosed with breast cancer two years ago, he avoided talking about it in the press. "Ang pinakaiwasan ko lang at that time is 'yong pag-usapan siya," he says. "I don't wanna tell the world na may sakit 'yong mommy ko. Unang-una, maraming tatawag sa kanya, maraming mga concerned na kaibigan, mga concerned na relatives na mag-ooccupy pa ng time niya, e, kailangan niya ng speedy recovery."
He was in shock when his mom told him of the doctor's diagnosis. "But I think you could not tell from my face then," he says. The family also avoided being dramatic about it, he adds. "'Tsaka hindi 'yon makakatulong."
ADVERTISEMENT - CONTINUE READING BELOW
The ordeal was nevertheless a difficult one, especially when he saw his mom after her chemo sessions. "Mahirap," he recalls. "Mahirap na makita 'yong nanay mo sa gano'ng situation. Dahil grabe, especially after chemo. You're at your weakest, and talagang totally susceptible sa lahat ng infection, sa lahat ng sakit. Sobrang weak talaga. You can actually tell, tingnan mo lang 'yong pasyente. She lost her hair, halos kalahati ng weight niya."
He says his mother is still not cancer-free: "Pero ang laki ng 'pinagbago. Laki ng in-improve. Okey na siya ngayon."
Gil says of his brother: "Talagang inuuna niya 'yong pamilya. Napaka-responsible."
Gil also says it's not just family that his brother is helpful to. "Alam mo, ang maganda diyan, hindi iba ang maghahanap. Siya ang maghahanap sa taong tutulungan niya. May pupunta diyan sa harapan ng gate, hihingi ng tulong. Sino 'yon para tulungan niya? Hindi lang sa mga kamag-anak-pati sa ibang tao. Hindi siya 'yong, kung hindi niya kilala 'yong bisita, hindi papakiharapan. Siya 'yong mag-aasikaso."
ADVERTISEMENT - CONTINUE READING BELOW
With his avid followers, John Lloyd is the same solicitous and helpful person. In the secluded corner he has picked for the interview after ASAP, we have to stop our conversation thrice so he can accommodate fans who want a minute with him, maybe to hold his hand, or to have their pictures taken.
"Ang sarap sana to give them more time," he says after speaking to a fifty-something woman visiting from the U.S., who he says produced a show for him and Bea in Spokane, Washington, D.C., seven years ago, and who remains in touch through his handler, Nenette Roxas.
Later, a group of fans ask if they can steal him for a few minutes. We take a short break while he accommodates their requests.
For a video greeting, he fixes his hair, adjusts his posture, then says, jokingly, "Hi, Anne, it's Piolo," speaking into a small camera, held by a guy named Luis who's standing in front of him. "Kasama ko si Luis. Hindi 'yong ex ni Angel na Luis." Then he proceeds to give Anne, whom he has never met, a short happy-birthday message.
ADVERTISEMENT - CONTINUE READING BELOW
For yet another request, this time a video greeting, a sort of perk-upper for a group of Greenwich Pizza employees at the beginning of a company seminar, he stands behind a white wall, inhales deep, and brightens up for the camera. "Settle down, settle down," he says, coolly. "Ako lang 'to. Mr. Pogi ng Antipolo."
And then one final request, another video greeting for a daughter whose mother is in the hospital being treated for breast cancer. But before he faces the camera, John Lloyd talks to the daughter, asks what stage the cancer is. "Okey lang 'yan," he tells her, and proceeds to give words of encouragement, much like the ones he received from friends when his own mother went through the same ordeal.
The girl, in floral dress, shy and frail-looking, quietly nods. Finally John Lloyd aims his gaze on the camera. "Hi, Tita Eva," he says. "Kumusta po? Nandito po 'yong anak n'yo." He walks a few steps and takes the girl's hand, and the camera follows them. They stand side by side, and he puts his left arm over her shoulder. "Ikakasal na po kami," he jokes, speaking directly to the camera with a naughty smile. "Seven months na po siya pregnant, pero hindi lang ho halata kasi nasa likod."
ADVERTISEMENT - CONTINUE READING BELOW
When we resume the interview, after we commend him for the gesture he has just shown his fans, he tells us: "It's easier to do things kapagka buo sa puso, pag maluwag sa puso mo. Sobra. Mas nagbibigay siya ng mas magandang meaning. Mas nagagamit mo 'yong oras mo kahit na kagaya no'ng ginawa ko. Like, napakaiksing greetings sa mga tao na hindi ko pa nami-meet face to face. Pero nakaka-relate ka dahil sa sincerity ng moment, nakaka-relate ka dahil napakatotoo, napaka-meaningful."
His face is somehow magically lighter, stripped of its earlier aura of gray, as he speaks.
"Ako, alam ko, e. Instantly, alam ko kung may gagawin akong may negative or may ibang energy na humihila pababa. Alam mo 'yong gano'n? Pero pagka maluwag na maluwag sa dibdib mo, ang sarap gawin. Ang sarap-sarap gawin."
As if to add to this John Lloyd Cruz moment, there is that news of his third box-office king award. And his turning a year older this June 24. We ask what it means to him-his turning 27. And almost without thinking, he blurts out, "Buhay na buhay 'yong quality, 'yong word na quality. Not every aspect, but in many aspects of my life. Quality in what I do, quality in my family life. Quality in the time that I give my family and my friends. Quality in the relationships that I get into. At 27, parang, 'yon iyong parang...quality ng outlook in life. That's why I got into fitness. I'm taking care of my body, my fitness, my health. Parang lahat talaga kinunsider mo na at 27."
ADVERTISEMENT - CONTINUE READING BELOW
Sounding like a man who has done away with the baggage and can now mind what really matters, he says, hands moving animatedly, his face smiling: "Ang sarap. Ang sarap lang, kasi ngayon, at this point, parang I'm not into doing things na feeling ko kailangan kong gawin. Hindi kailangan, e-gusto ko! Like, ito 'yong gusto kong gawin."