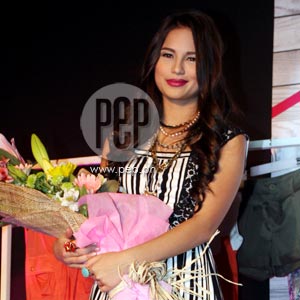 IMAGE 0
---
Despite being chosen as the image model of Love, Bayo—a collection of fun, chic clothing for Filipina teens—Jasmine Curtis-Smith continues to see herself as "one of us" when it comes to fashion.
"I'm still learning how to dress myself," said the Filipina-Australian beauty in an interview with PEP.ph (Philippine Entertainment Portal) at her launch party held September 28 at the AmberUltra Lounge in Taguig.
"I'm only 17 so, I was like 'Oh, my god, how do I dress up?' I don't wanna be too pa-girl naman or I don't wanna be too mature.
"One time, when I went out for dinner, I dressed up a bit too mature for my age. That was one of the things I was struggling with."
Normally, Jasmine would just wear simple clothes.
"I usually just wear a very loose top and then shorts and then either sneakers or tsinelas or flats."
But being in showbiz, she is forced to explore and expand her fashion sensibilities.
She feels very lucky to be endorsing a fashion brand which allows her to do just that.
"[The collection] is more girly and, you know, I'm still trying to experiment with that side.
"So, when I found out that I was [going to endorse] I was, like, 'Okay, perfect.' Like, it's not that hard for me to look for girly clothes.
"It's not hard for me to mix up prints because they're already there.
"And it's more adaptable for people who are in the middle stages of maturity—that awkward transition period.
"You know, you're not a little girl anymore, but you're not yet a woman.
"Perfect siya kasi it gives you guidelines or sensible tips on how to dress your age."
With her biggest fashion dilemma close to being solved, what is her advice to other girls who may have the same styling woes?
ADVERTISEMENT - CONTINUE READING BELOW
"For one, I just want to make it clear that I'm not the biggest fashionista.
"But for me, I make sure that if I'm not sure with an outfit, I play it safe.
"So, go for the basics like a black dress. But I make sure that the black dress naman fits me.
"Otherwise, if I don't wanna play it safe, I wanna try something else, I make sure that I consult my friends—if they think it looks good or if they can suggest something else.
"Also, if you don't wanna be too pa-bagets, wear something that's still in the same ballpark. But play it up with something from a more mature line.
"Para naman it's like two things combined but they don't overpower each other."